Astros win fifth straight behind power, pitching
Ambriz closes out nail-biter; Corporan, Pena belt home runs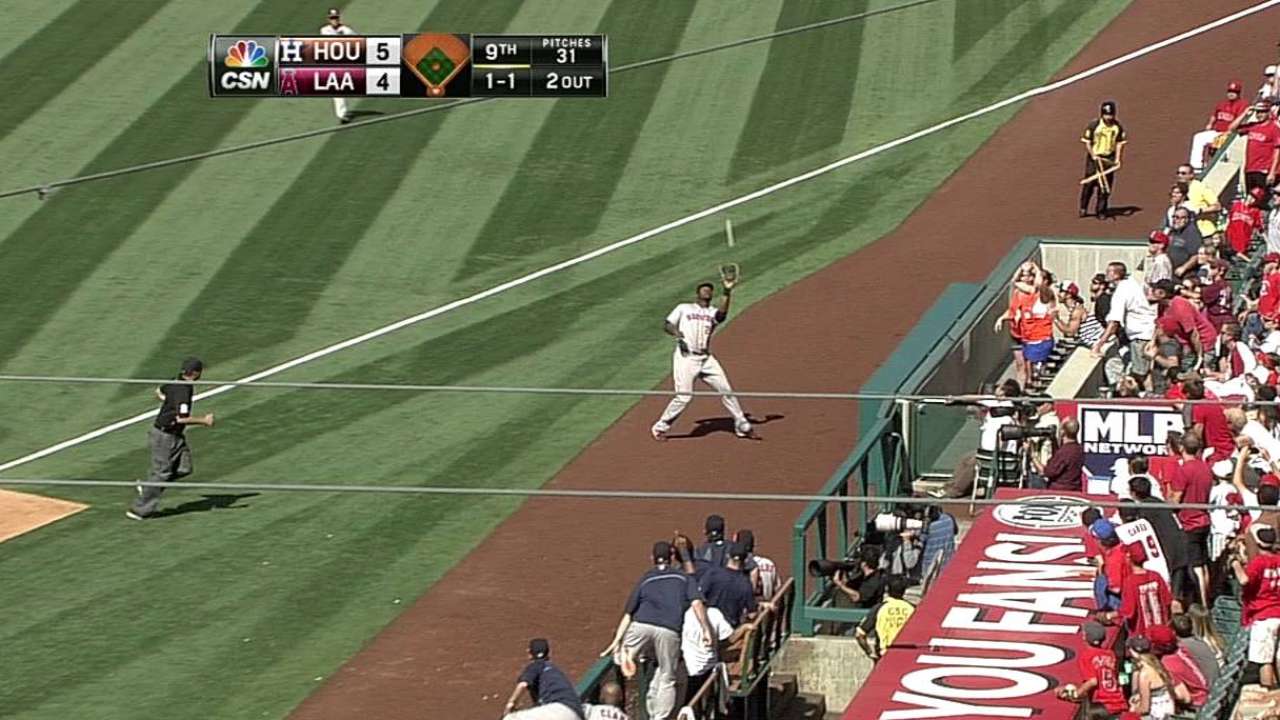 ANAHEIM -- For the second straight day the Astros used strong pitching and timely home runs to beat the Angels.
Chris Carter's home run was the difference in Saturday's pitching duel, but on Sunday the Astros used a pair of solo home runs, a solid start from Jordan Lyles and a gritty bullpen effort to defeat the Angels, 5-4, at Angel Stadium.
"We're playing really good ball," Astros manager Bo Porter said. "Right now we're winning those break points and it's causing us to win the ballgame. I think guys are really locking in to the situations and executing at the times in which we really need them to execute."
While the Astros have recent experience playing in tight games -- winning eight of their past 12 games decided by two runs or less -- Sunday's win could have been more comfortable.
Houston entered the bottom of the ninth with a 5-2 lead, but Brad Peacock walked Alberto Callaspo and gave up a two-run homer to Hank Conger. Down to a one-run lead, Porter turned to Hector Ambriz for the finale three outs.
"It's always good to win one-run ballgames," Porter said. "It was nail-biting time there. I thought Ambriz did a great job. I tried to do everything I could to stay away from him, our bullpen has been getting taxed, but once Peacock gave up that two-run homer, we knew we couldn't stay away from him and he did a tremendous job coming in there to close that game out."
The Astros have now won 10 of their past 16, extended their season-high win streak to five and won the first three meetings in a four-game set with the Angels.
"The Astros have put together some good baseball the last three days," Angels right fielder Josh Hamilton said. "They've made some great plays on the field, pitchers did their job, and they got some key hits at the right times. That's playing baseball. That's what's got to happen to win. They did it, and we didn't."
Catcher Chris Corporan extended his career-best hitting streak to six with a solo home run in the first and Carlos Pena -- who is 5-for-11 in the series against the Angels -- hit a solo shot of his own to begin the fifth.
While the home runs have powered the offense, the pitching has certainly held its own, as the Astros entered Sunday with a 3.53 ERA in the past 16 games.
On Sunday, Lyles continued that trend, throwing 102 pitches over 5 2/3 innings and limiting the Angels to just two runs on six hits.
"It's contagious," Porter said. "When you're in that five-man rotation and you see the guys in front of you go out and continue to put the team in position to win, [you want to do the same]."
Lyles' streak of three straight starts in which he only allowed one run came to an end when Mark Trumbo hit a solo home run in the sixth, but the right-hander was still able to contain the Angels' offense.
"They put some good swings on some balls," Lyles said. "In the sixth, I tried to force the issue and not walk Trumbo to lead off the inning. I was going to go to him 3-1, but left it over the plate and he put a good swing on it. But, overall 'Corp' called a good game and I just followed his lead."
Left-hander Travis Blackley extended his scoreless streak to 5 1/3 innings as he pitched a perfect inning in relief of Lyles.
Angels left-hander C.J. Wilson was charged with three runs in 7 1/3 innings. In addition to the solo home runs, Wilson surrendered a run in the sixth when Astros center fielder Brandon Barnes doubled and scored on J.D. Martinez's single.
Clinging to a one-run lead in the eighth, the Astros had a chance to tack on some insurance after Barnes singled and Jose Altuve doubled. With two runners in scoring position and one out, Angels right-hander Michael Kohn relieved Wilson to strike out Corporan and Martinez.
However, the Astros were presented with another opportunity in the ninth and didn't waste it. Carter and Pena led off the inning with a pair of singles and scored on Matt Dominguez's single.
The current streak has renewed confidence in the Astros, and after three consecutive victories against a team many projected to contend, Houston feels it can play with anyone.
"We can beat anybody in this league," Ambriz said. "We can go out and compete with anybody."
William Boor is an associate reporter for MLB.com. This story was not subject to the approval of Major League Baseball or its clubs.