Belt's go-ahead double makes winner of Gaudin
In first start since '09, righty helps Giants snap seven-game road skid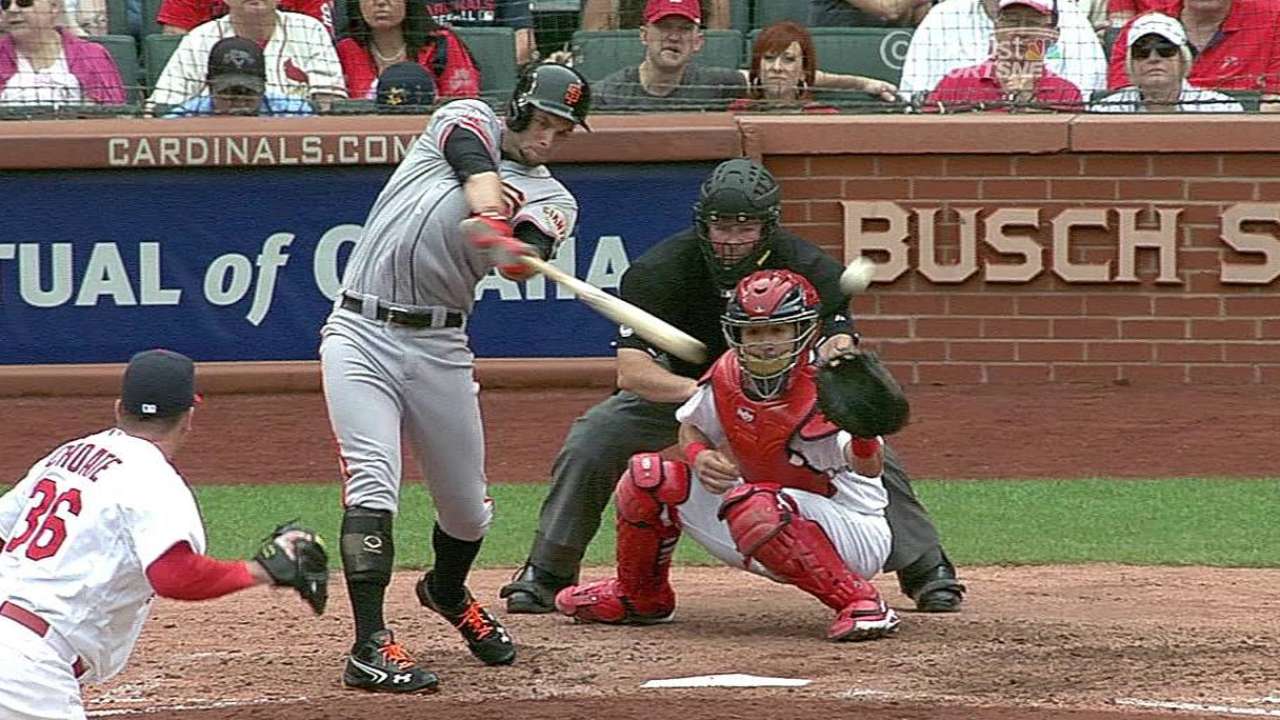 ST. LOUIS -- The Giants' 4-2 victory Sunday over the St. Louis Cardinals provided a welcome disruption of their twin slumps.
San Francisco not only ended its seven-game road losing streak, but also received a strong performance from a starting pitcher. Well, he's not officially a starter, but it's difficult to fathom that Chad Gaudin won't claim that role.
Gaudin left the bullpen to work six innings -- nearly twice as many as his 3 1/3-inning season high as a reliever -- and gave the Giants a rare effective start away from home.
The right-hander allowed both St. Louis runs and only four hits in his first start since he defeated Kansas City as a member of the Yankees on Sept. 28, 2009. He earned the decision thanks to Brandon Belt, who delivered a pinch two-run, tie-breaking double in the seventh inning.
Asked whether Gaudin, who replaced the injured Ryan Vogelsong, would receive another start, manager Bruce Bochy referred to the off-days on the Giants' schedule -- three between Monday and June 10 -- and indicated that could eliminate the need for a fifth starter in the near future.
But, Bochy added, "It's fun to watch him, the way he commanded the ball and kept it down."
Said Gaudin, who registered San Francisco's fourth quality start in 19 games, "Whatever they need me to do. That's what I signed here for."
Whether Gaudin joins the starting rotation full time, he bolstered a staff that has uncharacteristically struggled this year. Entering Sunday, Giants starters ranked next to last in the National League with a 4.93 ERA. They were even worse on the road, where their ERA was an unsightly 6.28.
The latter statistic will continue to loom over the Giants through June, given their preponderance of visits to the homes of formidable NL opponents. After this week's two-game mini series against Toronto, the Giants will embark on a nine-game journey to face West division-leading Arizona, ascendant Pittsburgh and East-leading Atlanta.
June ends and July begins with another three-city trip, this one to Los Angeles, Colorado and Cincinnati.
Bochy acknowledged that the club's road ERA is "a little bit of a concern, sure, particularly since we're heading into a tough stretch being on the road as much as we are. It's got to pick up really soon. This is a critical month for us, and it starts with the pitching."
Gaudin's fastball touched 94 mph in the first inning. He maintained that velocity throughout his 79-pitch stint.
Gaudin confessed that by the time he departed, "I was gassed." But he lapsed only in the fourth inning, when David Freese hit a two-out, two-run homer.
"I think he moved the ball around well," catcher Buster Posey, who tied a career high by going 4-for-4, said of Gaudin. "He definitely pitched off his fastball. One of the few mistakes was to Freese. It was still down, just in the middle of the plate."
Freese's drive tied the score, 2-2, but only temporarily. With one out in the seventh, St. Louis rookie left-hander Tyler Lyons surrendered a single to Brandon Crawford and walked Gregor Blanco. Both came home on Belt's drive to the left-center field gap off Randy Choate. Belt defied the lefty-on-lefty percentages by connecting off Choate and improved his season batting average to .286 (10-for-35) against southpaws.
Choate lamented the high 1-1 fastball that Belt crushed.
"When you make a mistake, especially at this level, they're going to hit you, even if it's left on left," Choate said. "You're lucky to get away with a mistake. I left it up, he's a good hitter and he just went right with it and put it in the gap."
Bochy praised Belt by saying, "We're going to need him. With [Pablo] Sandoval and [Angel] Pagan out of the lineup, we need the other guys to step up and elevate their game."
Other Giants did just that. Crawford provided stellar defense at short, denying base hits to Allen Craig leading off the second inning and Yadier Molina with two on and two outs in the third.
The latter play reverberated all afternoon, since it not only robbed St. Louis of a run but it also got the valuable Molina ejected from the game. Crawford threw to first base from his knees to retire Molina, who flung his helmet to the ground and was immediately tossed by first-base umpire Clint Fagan. Cardinals manager Mike Matheny also was ejected after helping restrain Molina, who reacted with stunning fury after being tossed.
Matheny implied that Molina's ejection altered the game's complexion.
"It's frustrating, because that changed the game for us," Matheny said. "Now, I'm not saying that if he stays in the game, we win. But I'm saying that that wasn't necessary. That's all there was to it."
Giants third baseman Joaquin Arias and left fielder Andres Torres made slick plays behind Jeremy Affeldt for the first two outs in the eighth inning. After Matt Carpenter singled, Sergio Romo relieved Affeldt to record his first four-out save of the season and 15th overall.
Chris Haft is a reporter for MLB.com. This story was not subject to the approval of Major League Baseball or its clubs.