Corbin raises record to 9-0 in victory over Cubs
Left-hander allows four runs over seven innings with five strikeouts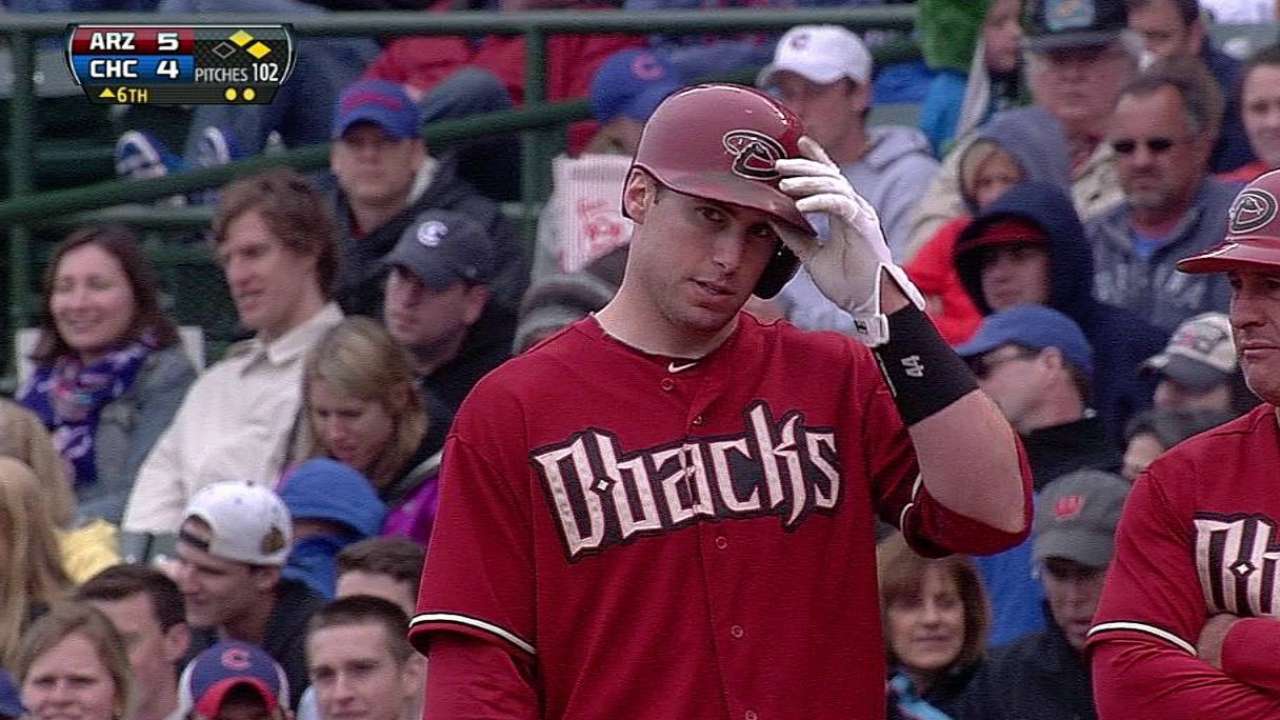 CHICAGO -- Patrick Corbin lacked a finishing touch on Sunday, but the D-backs left-hander found a way to win with an assist from his offense.
The D-backs roughed up Edwin Jackson en route to an 8-4 victory over the Cubs on a chilly afternoon at Wrigley Field.
Just a little over 12 hours after they left Wrigley following a rain-delayed game, the two teams were back at it. The rain had given way to cold temperatures, with the thermometer reading 47 degrees at game time.
It was not enough to cool down Corbin (9-0), who won his seventh straight start, despite failing to record a quality start for the first time all season.
Corbin and Brandon Webb are the only two pitchers in franchise history to start a season 9-0 and no D-backs pitcher has ever opened 10-0.
"He pitched good for us," D-backs manager Kirk Gibson said. "Gave us a chance to win."
Corbin was not sharp at the outset, as he walked two and hit a pair of batters in the first inning. The wildness resulted in a 1-0 Cubs lead without the benefit of a hit.
"We had a chance that one inning to bust it open and ended up getting one out of it," Cubs manager Dale Sveum said.
The Cubs would have other opportunities, as Corbin was not able to hit his spots like he normally does.
"The whole game, he didn't have good stuff," catcher Wil Nieves said. "His slider wasn't there, his fastball was cutting. He kept us in the game. He didn't feel good at all, but he battled and gave us an opportunity to win the game."
The D-backs took advantage of a dropped fly ball by Julio Borbon in center and a wild pitch by Jackson to score three runs in the second to take a 3-1 lead.
The Cubs chipped away at Corbin, who struggled to get the final outs of the fourth and fifth innings.
After retiring the first two batters in the fourth, Darwin Barney doubled and Jackson followed with a single to pull the Cubs to within 3-2.
Then, in the fifth, after the D-backs had gone up 4-2, the Cubs managed to tie the score.
Corbin once again got the first two batters of the inning, but a double by Alfonso Soriano and a two-run homer by Scott Hairston tied the game at 4-4.
"I think I was just rushing with my delivery a little bit, cutting off most of my fastballs and I wasn't locating too well," Corbin said. "That was basically it. Early on, I wasn't really locating at all, cutting my fastball. I mean, I walked two guys and hit two guys. That's never good. I think after that, I kind of settled in a little bit, threw some more changeups. The one ball I left up for the [Hairston] homer was just down the middle."
Jackson was unable to keep it tied, however, as the D-backs scored three runs in the sixth, thanks to an RBI single by Paul Goldschmidt and a two-run single Cody Ross to take a 7-4 lead.
"The offense, they score eight runs a game, we should win every time," Corbin said. "That just makes it a lot easier. You go out there and give up a run, you're kind of down a little bit and they come back and put a couple runs on the board for you it helps a lot.
"I just wanted to go out in that sixth inning and shut them down and put a zero on the board and just limit our bullpen to three innings today."
The D-backs, who lead the National League West by 2 1/2 games, scored 20 runs in winning the final two games of the series against the Cubs, and they'll likely need to keep that going this week when they open a four-game series in St. Louis against the Cardinals.
"It's good to win these last two games here and just go with the right feeling to St. Louis and just hopefully keep playing like we are," Nieves said. "Hitting is contagious and we did it yesterday late in the game and continued today, But when your confidence is up you just grind at-bats and get good at-bats and put good at-bats together.
"When this happens like what happened the last two days, it's a good feeling, it gives us a good feeling going forward."
Steve Gilbert is a reporter for MLB.com. Read his blog, Inside the D-backs, and follow him on Twitter @SteveGilbertMLB. This story was not subject to the approval of Major League Baseball or its clubs.