Jackson's frustration mounts in loss to D-backs
Allows five earned runs over 5 2/3 innings; Hairston hits 100th homer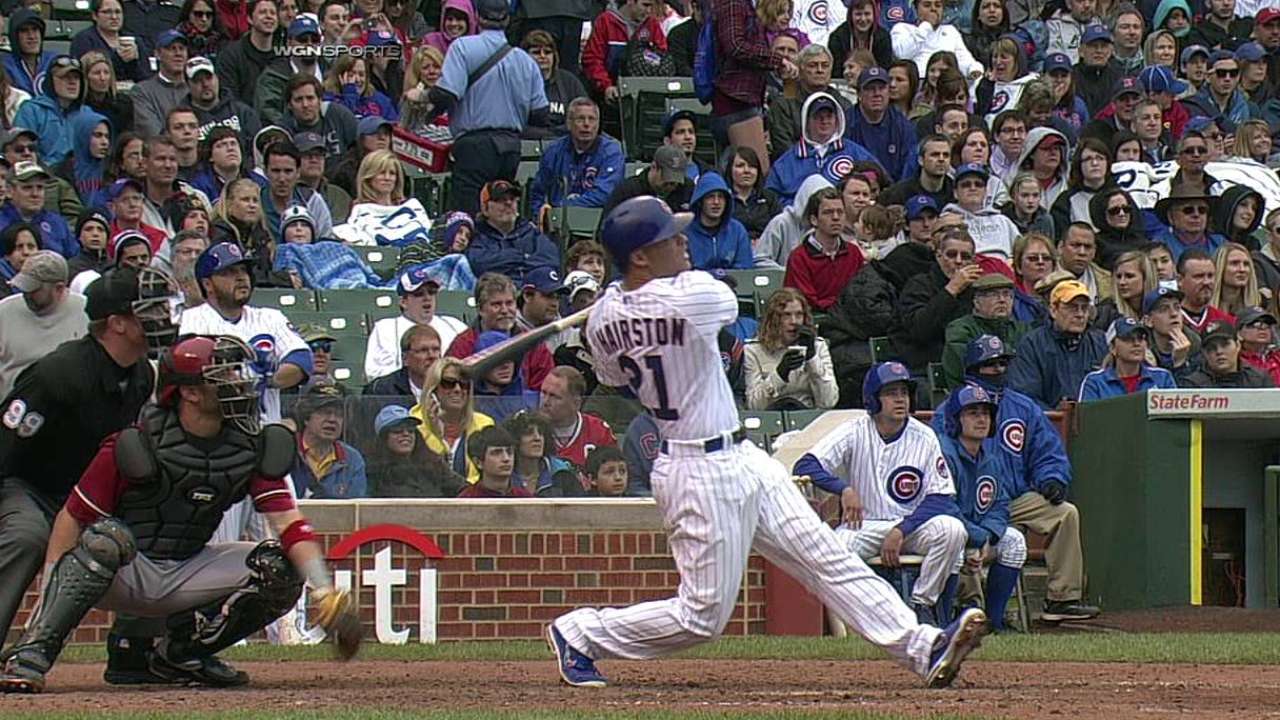 CHICAGO -- Edwin Jackson has had worse seasons, and he's definitely had better, but right now the Cubs right-hander is frustrated.
Jackson served up seven runs over 5 2/3 innings to the D-backs, who took advantage of an error and romped, 8-4, on Sunday at Wrigley Field. Gerardo Parra and Cody Ross each hit two-run singles, and Wil Nieves added a pair of RBI singles to help Patrick Corbin remain unbeaten at 9-0.
"It's probably one of the most frustrating seasons I've been through," said Jackson, who has one win in 11 starts. "It's disappointing when you feel like you're not going out to help the team have a chance to win a game. I'm a way better pitcher than I've shown.
"It hasn't been anything about confidence. I just haven't been getting the job done. I've been through a lot of up-and-down seasons, but this has been a pretty frustrating season to say the least, and it's shown in the stats and numbers and everything."
The right-hander's previous two starts had been interrupted by rain. On Sunday, it was unseasonably cold, with a game-time temperature of 47. He gave up 12 hits -- all singles except a double by Cody Ross in the third -- and walked three. Not even a defensive shift could help. The Cubs moved third baseman Cody Ransom to the right side of second and had second baseman Darwin Barney in shallow right, but Jason Kubel still lined a single between them in the fifth.
"He hasn't really caught any breaks," Barney said of Jackson. "This is what he does for a living, he's a competitor, he'll come back ready to pitch the next time and he'll say the same thing. We're going to see better things out of him, that's for sure."
The Cubs hope so. They made a four-year, $52 million commitment to Jackson this offseason. He is now 1-7 with a 7.87 ERA in nine starts at Wrigley Field.
"The last few outings, he's pitched with conviction and today I think could've been a whole [different] ballgame if that fly ball was caught," Cubs manager Dale Sveum said.
The Cubs took advantage of Corbin's early mistakes to load the bases in the first. The lefty hit two batters and walked another, then walked Dioner Navarro to force in a run.
In the Arizona second, Nieves and Cliff Pennington singled, and Corbin lofted a ball to center. Julio Borbon closed his glove before he caught the ball for an error, and the bases were loaded. Parra then hit a two-run single, and Didi Gregorius was safe on a fielder's choice as Jackson fielded the ball and threw awkwardly to second for the force. Shortstop Starlin Castro saved Jackson with his acrobatic catch. Corbin scored on a wild pitch to take a 3-1 lead.
"I think dropping a routine fly ball got things set in the wrong direction," Sveum said. "Obviously, you still have to make pitches after that, but the bottom line is, those kind of things change outings, they change the course of a ballgame. He ended up an out away from having a pretty nice ballgame."
Jackson didn't blame Borbon.
"Errors are part of the game," Jackson said. "We have to be able to pick up our defenders. Our team did a great job coming back and battling against one of the best pitchers in the game right now, and I did a terrible job of holding that game close enough for us to come back and win with two quick outs in the sixth inning. I have to do a better job of executing pitches and keeping hitters off balance."
Jackson helped himself with a RBI single with two outs in the fourth, but Nieves hit a two-out RBI single in the fifth to make it 4-2. Chicago tied the game in the fifth when Alfonso Soriano doubled and Scott Hairston followed with his fifth home run and 100th of his career.
"The one ball I left up for the homer was just down the middle," said Corbin, who started the day with a 1.71 ERA and gave up a season-high four runs. "I think other than that I was all right. Our offense put some runs on the board too, which helped. Every time I gave up a run or something they came back with some runs, which is great."
With two outs in the sixth, Gregorius and Martin Prado singled, then Paul Goldschimidt hit a RBI single. Sveum checked on Jackson, but left him in, and the right-hander walked a batter before Ross lined a two-run single to right to make it 7-4.
The Cubs could have changed the tone in the first. The bases were still loaded after Navarro's walk made it 1-0 and Ransom launched a fly ball to center, but the wind kept it in the ballpark.
"The pieces are here, and it's just a matter of having better timely hitting throughout the season," Barney said.
Sveum said he likes how Jackson is pitching. The right-hander just needs to have things go his way.
"Right now, it's not about me throwing strikes, it's just quality strikes," Jackson said. "I felt that today I came out and made some pitches and they had an inning where they had an error, and I got behind and got a ground ball and it was through the hole. I had ground balls and they were just through holes.
"When things are going bad, everything goes bad. When things are going good, you can make the same pitches and they go right at someone."
Carrie Muskat is a reporter for MLB.com. She writes a blog, Muskat Ramblings, and you can follow her on Twitter @CarrieMuskat. This story was not subject to the approval of Major League Baseball or its clubs.