Rays' contagious hitting showcased in rout of Tribe
Team posts 14 hits as Escobar, Longoria homer, combine for five RBIs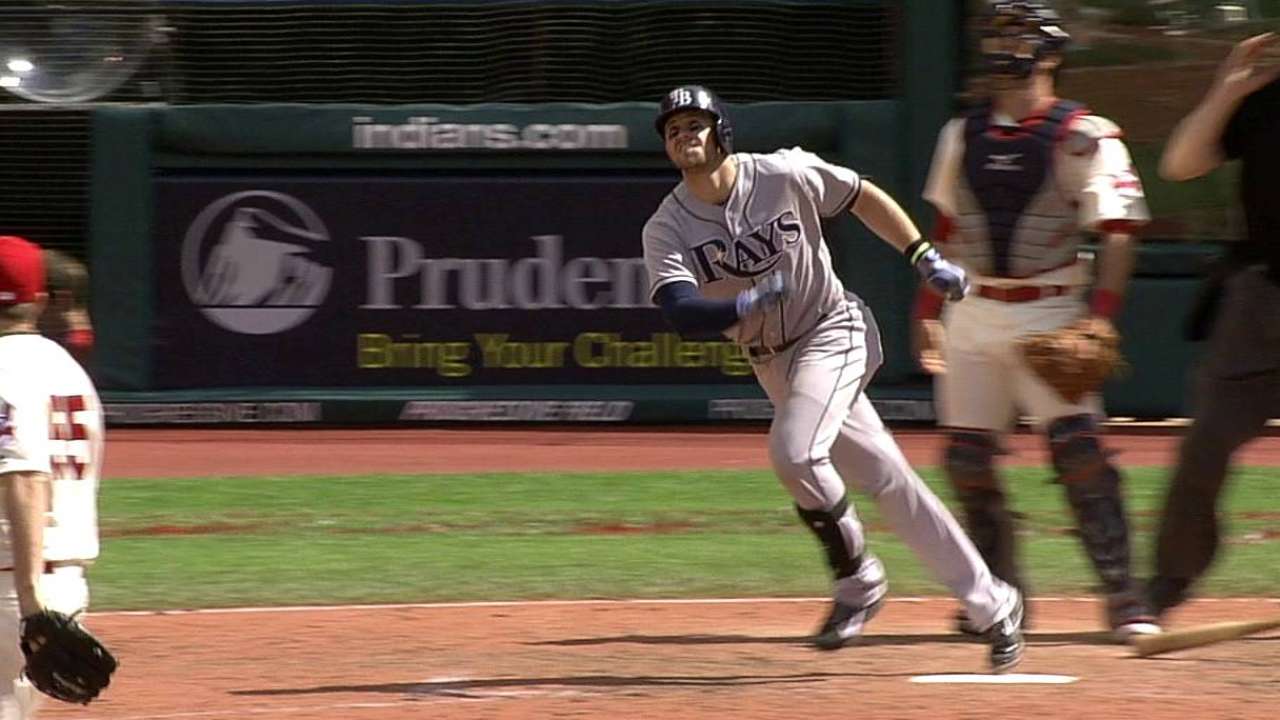 CLEVELAND -- It's an epidemic spreading throughout the Rays' clubhouse, and no hitter appears immune.
"We have this nice little thing going on in the dugout or in the clubhouse where, from an offensive perspective, we believe we can score some runs, and it's kind of contagious," said Tampa Bay skipper Joe Maddon.
Unlike Rays squads in years past, this troop has thrived off of its potent offense. Tampa Bay leads the Majors in offensive output since April 17, a stretch during which the Rays have compiled a 27-16 record.
Maddon's bunch put their bats to use again on Sunday, when they scored early and often to claim the rubber match of their three-game set in Cleveland. The 11-3 triumph gave Tampa Bay its seventh win in its last eight contests.
"One through nine, we feel pretty good about scoring runs right now," Maddon said.
Seven of the nine batters Maddon plugged into his starting lineup tallied at least one hit, and the Rays scored in six of the nine innings. The hitting phenomenon has spread like a flu.
"That's the old cliche, and it applies," said left fielder Kelly Johnson. "At some point in April when some guys started hitting, it kind of amped up everyone else. I think there's plenty of talent and potential, but it's nice to see when guys come together as a team and start finding that groove."
James Loney delivered a two-run double with two outs in the first. The ball appeared to carom off the glove of center fielder Michael Bourn. Evan Longoria singled home Matt Joyce in the third, and Jose Lobaton plated Sam Fuld with a single in the fourth.
Cleveland closed the gap to 4-3 with four hits off Jeremy Hellickson in the fourth, including a double from catcher Yan Gomes that landed at the base of the wall in right-center between Fuld and Joyce. Mike Aviles followed with a two-run single on a pitch Maddon considered the only poor toss Hellickson made all afternoon.
"It's vintage Hellickson. That's what he does," said Indians third baseman Mark Reynolds. "He keeps you off balance with his changeup, throws his heater when he has to. I've faced him so many times in my career. He's frustrating to face. He doesn't give in. That's why he's good."
The Rays didn't waste any time responding. In the fifth, Johnson singled, advanced to second on a groundout, stole third base and scored on an errant throw by Gomes. Yunel Escobar collected three hits, including a two-run homer to center field in the sixth.
In the eighth, Ryan Roberts contributed a pinch-hit RBI single and Johnson tacked on the Rays' ninth run with a sacrifice fly. Later in the inning, Longoria greeted rookie reliever Matt Langwell with a two-run tater to right. It marked the third baseman's first round-tripper since May 11.
"He was playing the fade today. It was kind of nice," Maddon said. "He ended up about pin-high. It was great just to get that, so he doesn't have to think about that kind of stuff."
The 14-hit effort provided more than enough backing for Hellickson, who held the Indians to three runs over five frames. The right-hander wasn't pleased with the trio of two-out runs he surrendered in the fourth, but he battled back to retire Nick Swisher and Reynolds with two on and one out in the fifth to stave off a Tribe rally and protect Tampa Bay's 5-3 advantage.
He exhaled when the surging offense proceeded to put the game out of reach.
"Our offense is unbelievable right now," Hellickson said. "I don't really need to say much else. They're scoring a lot of runs for us and making our jobs a lot easier."
The bottom third of Maddon's batting order -- Fuld, Lobaton and Escobar -- walloped Cleveland pitching for a combined seven hits.
The Rays, who will relax during Monday's off-day before commencing a three-game set in Detroit on Tuesday, have crossed home plate seven or more times in seven of their last 16 tilts.
It's an offensive infection for which opposing pitchers don't seem to have a cure.
Zack Meisel is a reporter for MLB.com. Follow him on Twitter @zackmeisel. This story was not subject to the approval of Major League Baseball or its clubs.