McAllister struggles, exits early in loss to Rays
Righty gives up five runs in 4 1/3 frames, his shortest outing of season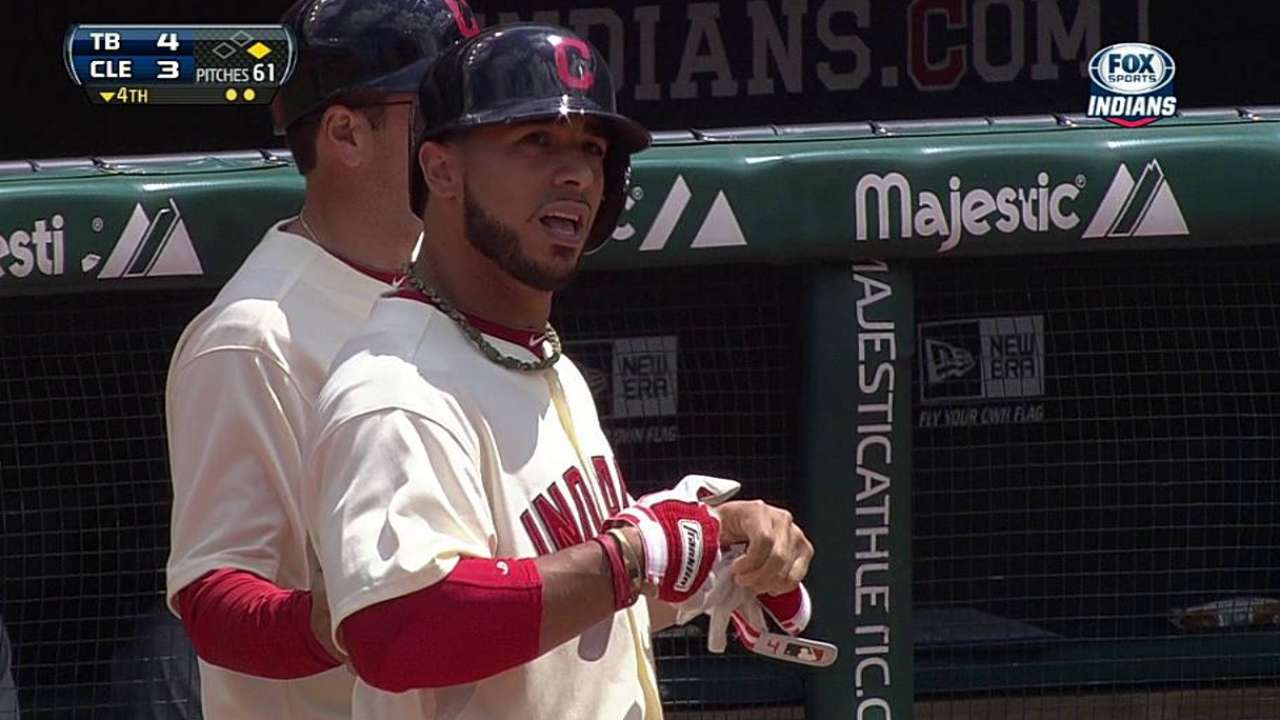 CLEVELAND -- Terry Francona said before Sunday's game that he felt like a flower after being run over by a truck. Considering that his club was about to begin its second consecutive day game -- this after a Friday contest that lasted until 3 a.m. -- he had reason to be tired.
Maybe he felt more irritable, too.
Francona was tossed in the fifth inning for arguing balls and strikes during a Nick Swisher at-bat. It was his first ejection of the season. His starter, Zach McAllister, didn't seem to like the strike zone enforced by home-plate umpire Bill Welke, either. He walked four batters in a rough performance that marked the end of an impressive personal streak that dated back to last season, as the Rays took the series and the contest, 11-3.
"I just thought his strike zone was -- I thought he was inconsistent," Francona said. "I went back and looked at the pitches, and I said [to Welke], 'I feel stronger now than I did when I was yelling at you from the dugout.'"
McAllister came into his Sunday start having held opponents to three earned runs or fewer while lasting at least five innings in 12 straight outings. The right-hander didn't meet either of those standards against the Rays, who knocked him out of the game after he'd allowed five runs in 4 1/3 innings.
"It definitely means something," McAllister said of the streak. "It means that you're being consistent out there and giving you team a chance to win, which is always important. At the same time, it's not something I go out there and think about when I'm pitching."
For the first time in his career, McAllister (4-5) did not register a strikeout. His ERA rose to 3.43 in the loss. Though the strike zone might have been an issue, the righty admitted he had trouble with his command.
"I fell behind hitters and put guys on base, and when you do that, things happen," he said. "You give up runs, and they are able to have a little bit of an advantage.
"I felt [like] every inning I was battling out of a jam, which is never a good feeling as a pitcher. But today was one of those days where it was just a battle for me, and I came up short."
Tampa Bay put up a pair of runs in the first inning, when James Loney doubled in Matt Joyce and Kelly Johnson.
After taking a break in the second frame, the Rays scored in each of the next four. Evan Longoria singled in Joyce in the third, then Jose Lobaton's infield single plated Sam Fuld -- whose triple was aided by contact with the right-field ball boy -- an inning later.
"It just seemed like it was kind of a labor all day," Francona said, referring to McAllister. "He had to work for everything.
"Rather than let him, because he'll compete so much, rather than let him stay out there for 110 [pitches] -- I don't doubt he could probably figure out a way to keep us right in that game -- I just think sometimes you get him out a little earlier, before he has to really work, so his next outing will be, you know, he'll be back to being Zach."
After falling behind by four runs early, the Indians busted out in the fourth inning to come within one. With two outs, Yan Gomes doubled home Mark Reynolds with a shot to right-center. He scored in the next at-bat -- along with Carlos Santana, who had bunted his way on -- as Mike Aviles ripped a single up the middle.
That was all the offense Cleveland could muster against Rays starter Jeremy Hellickson, who gave up three runs on nine hits in five innings. Hellickson (3-2) struck out four and lowered his ERA to 5.59
"It's vintage Hellickson. That's what he does," said Reynolds, who went 1-for-4 with a run scored and a pair of strikeouts. "He keeps you off balance with his changeup, throws his heater when he has to. I've faced him so many times in my career. He's frustrating to face. He doesn't give in. That's why he's good."
In the top of the fifth inning, Johnson stole third and came home on a throwing error by Gomes. Johnson took off from second base, and Gomes unleashed a wild throw into left field. An inning later, Nick Hagadone gave up a two-run homer to Yunel Escobar to put the Rays up, 7-3.
Tampa Bay plated four more in the eighth inning, beginning when Rich Hill gave up a run-scoring single to Ryan Roberts and a sacrifice fly to Johnson. Soon after came the Major League debut of Tribe reliever Matt Langwell, who gave up a two-run shot to Longoria on his second pitch.
"He'll handle it. He'll be fine," Francona said about his young hurler. "It's probably a good way to get your feet wet, and now you can go out, try to compete a little bit without having to think about your first time doing this or whatever."
Francona earned his first ejection of the year in the bottom of the fifth inning. After a pitch that appeared to be outside to Swisher was ruled a strike by Welke, the skipper came out to make his case.
At one point, McAllister had taken issue with Welke's strike zone, as well. It's also possible that Cleveland was upset with the umpires for allowing Fuld to stay at third after his third-inning triple hit the ball boy.
Though the Tribe has lost nine of the past 13 games, Rays manager Joe Maddon thinks fans around these parts have plenty to be excited about.
"They're a very good ballclub," Maddon said. "I know they've had a little bit of a tough spot, but they've been playing pretty well. I like their lineup a lot. I like what they're doing a lot."
Sunday's loss gave the Indians a 3-2 record on their homestand, with both defeats coming against Tampa Bay. They hit the road for nine games in New York, Detroit and Texas starting on Monday.
"It's been tough," Reynolds said. "We're definitely running on fumes, two day games in a row after that midnight start. But we'll get on the plane, get some sleep, go to New York and hopefully have some fun up there."
Mark Emery is an associate reporter for MLB.com. This story was not subject to the approval of Major League Baseball or its clubs.