Rotation or relief? Decision looming for Williams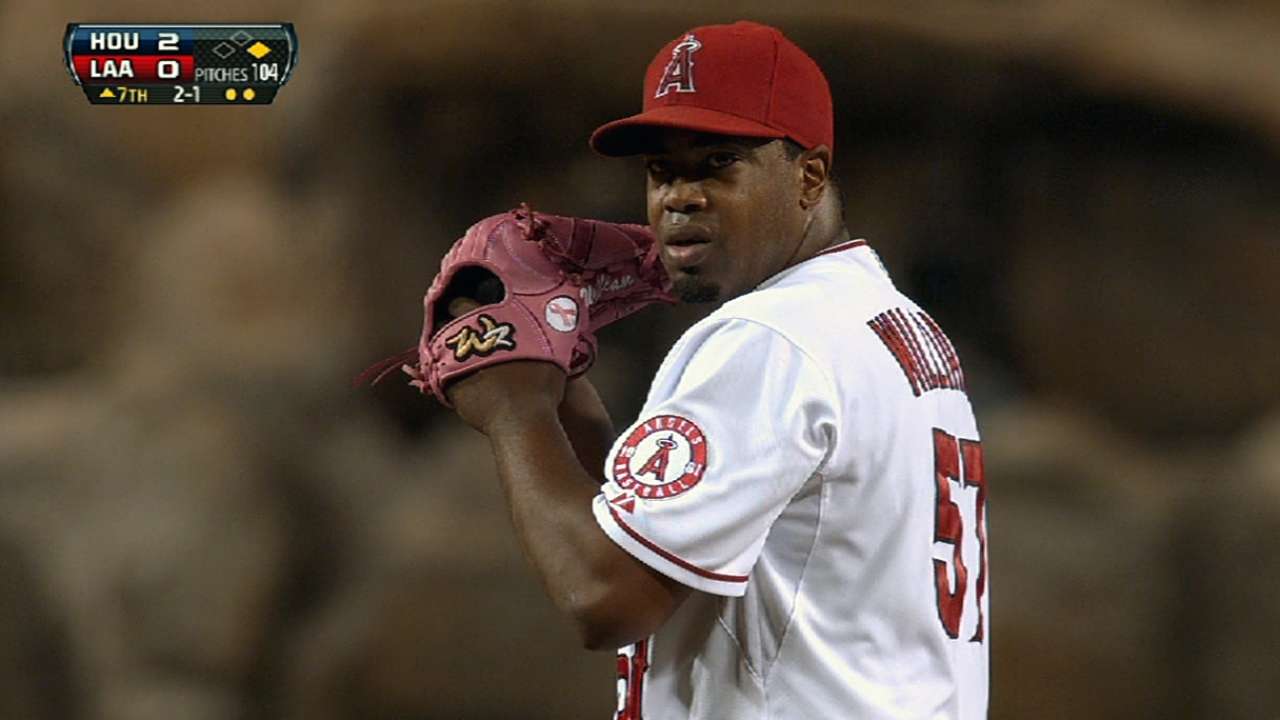 ANAHEIM -- A younger Jerome Williams, he can admit now, wouldn't have been very good at handling this predicament -- performing well as a starting pitcher, but nonetheless faced with the real possibility of being relegated back to long-relief duty.
"If I was younger in this situation, I don't know what I would've done," Williams said Sunday morning, mere hours after pitching seven innings of two-run ball against the Astros the night before. "I would've probably flipped out. But now, I understand the game. I understand what needs to be done to have a winning team. If it calls for me to go to the bullpen, then I have to do it. I have to help the team win some way."
Decision time looms for Angels manager Mike Scioscia, who either hasn't decided how to pare his rotation down from six to five or doesn't want to reveal that decision just yet.
What he did reiterate on Sunday was that the Angels will go back to the traditional five-man staff after Thursday's off-day, which could mean Williams' start Saturday was his last in the foreseeable future. The 31-year-old right-hander has maintained a 3.08 ERA while starting the last six turns through the rotation. In his past five outings, he's pitched at least six innings and given up no more than two runs.
In short, he's done everything needed to do to stay in the rotation.
"Of course I want to stay in the rotation, but if it falls on me to go to the bullpen, I'll go to the bullpen," Williams said.
"It's about doing what I need to do to be successful and to help a team win. I think I've been doing that lately. Hopefully I can stay in the rotation. If not, so be it. I'll do my thing in the bullpen. It's not going to change my mindset or anything."
Joe Blanton, who starts Monday's series finale against Houston, is perceivably on the bubble but has given up a combined five earned runs in 13 1/3 innings his last two times out and has generally pitched better than his numbers -- 1-8, 5.94 ERA -- would indicate. Another question mark could be Tommy Hanson, who missed nearly four weeks on the restricted list before giving up five runs (four earned) in 6 1/3 innings on Friday.
And then there's Williams, who began the season as a long reliever and could be the victim of a cruel numbers game.
"I can tell you exactly what I think we're going to do now, and it can change 24 hours from now because of some things," Scioscia said. "I don't think it serves a purpose to say what you're going to do a week before you really are going to do it. And there are some things obviously that need to play out and need to filter down."
Alden Gonzalez is a reporter for MLB.com. Read his blog, Gonzo and "The Show", and follow him on Twitter @Alden_Gonzalez. This story was not subject to the approval of Major League Baseball or its clubs.