Davis drills 20th homer as Orioles rally past Tigers
McLouth's hit caps rally in seventh; Gausman sharp in home debut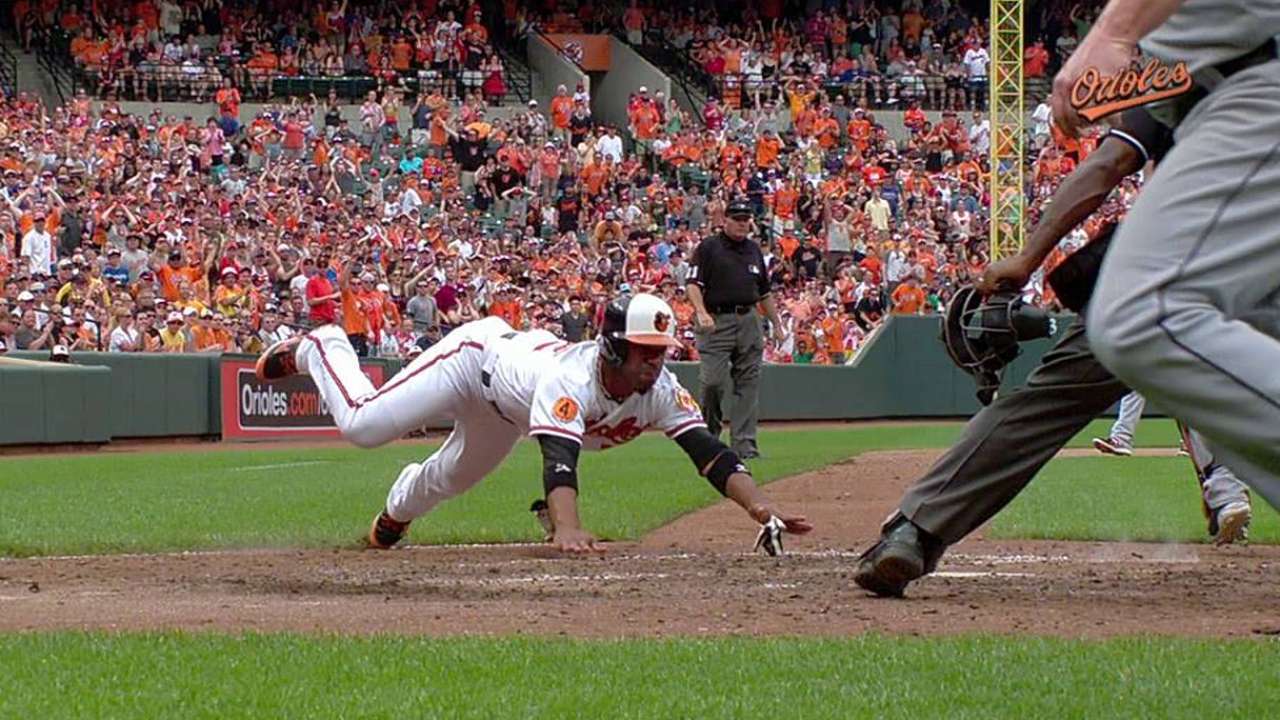 BALTIMORE -- The Orioles, quiet for the first six innings against Tigers starter Rick Porcello, broke out in a three-run seventh to close the homestand with a 4-2 win on Sunday afternoon at Camden Yards.
It was the second come-from-behind victory in three days and sealed a series win for the O's in front of 39,182 fans.
It was also the first time touted prospect Kevin Gausman showed he belonged in the rotation. In his home debut, the 22-year-old stifled one of the top offenses in the Majors.
After nine innings in which Gausman gave up 11 earned runs and four home runs, the rookie right-hander engaged in a pitchers' duel with Porcello.
He wound up with a no-decision, but his team rallied in the seventh to get him off the hook for the loss in his best start to date.
"I thought he had a much better angle today," manager Buck Showalter said. "[Pitching coach Rick Adair] and he made a couple adjustments getting back to what he was doing in the spring ... You could tell right away he had a better angle, some depth to his fastball."
"I'm real proud of him. I know it meant a lot to him," Showalter said.
Gausman said he mixed in a straight changeup and a split-change, and tweaked his mechanics during his side sessions this week "to get on top more and have more of a downward plane on the ball," he said. "Get back to getting ground ball outs."
And the changes appeared to pay dividends. Of the 18 outs Gausman recorded, 12 were on the ground and four were strikeouts, including catching reigning Ameican League MVP Miguel Cabrera looking to end the sixth.
In his six-inning outing, Gausman held his own against Detroit, which entered Sunday tied with Baltimore for the second-most runs scored in the Majors. The lone blemish on his line was a Prince Fielder solo home run in the fourth. In his third career start, Gausman gave up five hits, struck out four and didn't issue a walk.
"I felt comfortable today," Gausman said. "I felt like today was the most polished and calm I've been out there since I've been up here. I don't know if it had something to do with [pitching at home], or I was just comfortable with my mechanics and all that.
"Obviously, it was fun and I made my debut today here, so that was something I'll never forget. The fans were awesome. It was a great atmosphere."
He left trailing, 1-0, but the O's took Gausman off the hook with a three-run seventh in which they sent eight men to the plate, and unraveled what had been a solid outing for Porcello.
Chris Davis led off the seventh with his 20th home run of the season, which broke up Porcello's 16-inning scoreless streak and brought Baltimore within one run.
After Chris Dickerson and J.J. Hardy singled, Danny Valencia pinch-hit for Ryan Flaherty and tied the game, driving in Dickerson with a soft line-drive single. It was just the second hit in 19 pinch-hit at-bats for the Orioles this season.
"Put the ball in play, to be honest," Valencia said of his approach to the at-bat. "I knew he had good stuff. I actually saw both of his pitches, he threw me a fastball first pitch and a slider second pitch. I was hoping to put it in play and get the run in."
Chris Snyder followed and bunted right back to the pitcher, Phil Coke, who forced Hardy at third base. But Nate McLouth put Baltimore up when he drove home Alexi Casilla, who was pinch-running for Valencia, with a broken-bat single up the middle.
"It was awesome. Sitting in here watching Danny Valencia came up with a huge hit right there," Gausman said. "I think it just works out perfect. Buck is so smart. He brings up Danny to pinch-hit. Sure enough when he gets on base, he brings in Alexi at second base right there, and he comes up big later in the game. It's fun to watch."
Casilla added an insurance run in the eighth with an RBI double to left, scoring Davis.
Closer Jim Johnson came on in the ninth and notched his 18th save in 22 opportunities. Brian Matusz, who gave up a run on three hits in the seventh, picked up the win.
The outing was a welcome boost for Gausman, who left pitches up in the strike zone his first two outings. He said he never lost confidence after the two shaky outings, and credited Showalter and Adair with consoling him and reinforcing the notion that he belonged in the big leagues.
"I thought he [Gausman] looked a lot more comfortable today," Davis said. "He was working the ball down, he was mixing a lot of his pitches and he was throwing strikes, and that's the biggest thing. If he can throw strikes and get ahead of guys, his stuff is good enough to beat them. That's what he did today."
Davis said although Baltimore lost big at home Saturday, the resilience displayed by taking two of three from Detroit in come-from-behind fashion proves this Orioles team is for real.
"I think we can play with anybody," Davis said. "I think that's kind of the way we feel in the clubhouse. It was a good team that we just beat. Obviously after the loss [Saturday], you want to bounce back and get the win and win the series, but when we play our game and don't try to do too much, we can compete with anybody."
Derek Wetmore is an associate reporter for MLB.com. Follow him on Twitter @DerekatDotCom. This story was not subject to the approval of Major League Baseball or its clubs.