Profar's jack helps Rangers claim rubber game
Homer in pivotal eighth with two out spoils Royals' comeback bid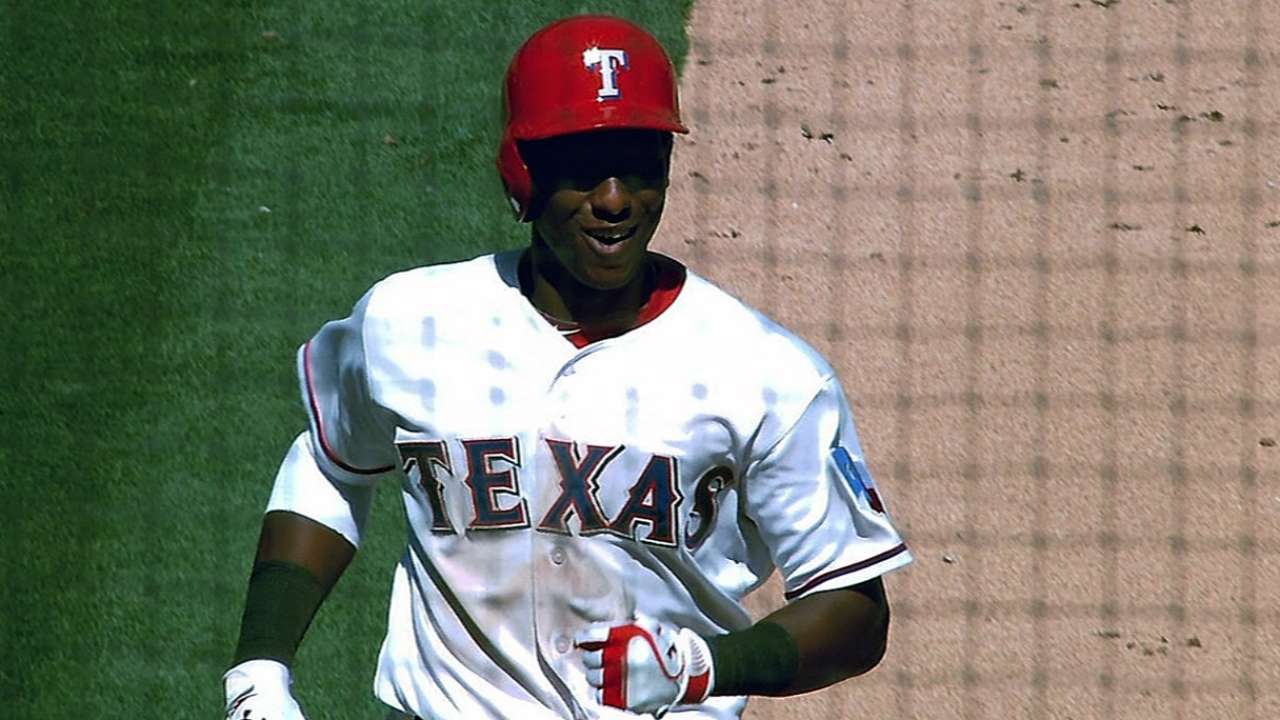 ARLINGTON -- Rangers manager Ron Washington said before Sunday's game against the Royals that Jurickson Profar isn't intimidated by the moment.
Little did he know that a few hours later, Profar would help the Rangers pull out a 3-1 win in the rubber game of the series at Rangers Ballpark.
Profar's solo shot off of Royals reliever J.C. Gutierrez with two out in the eighth broke a 1-1 tie. Profar battled down 0-2 in the count, taking a ball and fouling off a pitch before connecting for his second home run this season.
"I think those opportunities, like when he hit a home run, is what that young kid lives for," Washington said. "I don't think anybody in the ballpark expected that."
Profar sparked the Texas bats, as Elvis Andrus followed with a single to center field -- his first hit in three games to snap an 0-for-12 skid. Andrus stole second, but advanced to third on an error by catcher George Kottaras. David Murphy's line-drive single to center plated Andrus to give the Rangers a two-run lead.
"I was trying to get on base and get something started," Profar said. "You're just trying help the team and do the best you can to help the team. The worst you can do is get an out, so why feel pressured?"
Rangers starter Yu Darvish and his counterpart Ervin Santana didn't allow an earned run, but they both received no-decisions.
Darvish allowed three hits in seven shutout innings. He also struck out six and walked two on 99 pitches. Santana had an unearned run in seven innings. He allowed three hits and two walks, but struck out five on 108 pitches.
Santana's unearned run occurred in the first when the Rangers jumped out to a 1-0 lead. Andrus reached second on a two-base error by Alcides Escobar to start the game, then advanced to third on Murphy's flyout before scoring on Lance Berkman's groundout to third.
The Rangers didn't get a hit off of Santana until the fourth, when Nelson Cruz singled with one out. Santana struck out Mitch Moreland and got Jeff Baker to ground out to end the inning.
"He was phenomenal today," Royals manager Ned Yost said. "He was a little more effectively wild today. His strike-to-ball ratio was about even and he's usually pounding strikes. Today, he was just a little more wild and it was effective for him because they couldn't sit on anything."
Darvish struggled to keep his pitch count low to start the game, throwing 68 pitches through four innings. He gave up a walk and consecutive singles to start the second. Craig Gentry saved Darvish and the Rangers from a possible big inning when he caught a fly ball from Jeff Francoeur and threw home to nail Billy Butler at the plate for a double play to help kill a bases-loaded rally in the second.
"If it wasn't for Gentry, I think I would've struggled a lot more," Darvish said through an interpreter. "I knew after that play, I could regroup myself. As long as I stayed confident and patient, I would get through those innings."
Darvish struck out Kottaras after Gentry's play, but he reached first base on a wild pitch. It was one of two wild pitches for Darvish, who got out of the inning on a flyout by Chris Getz.
Darvish put two on to start the fourth on a walk and a hit by pitch. He worked his way through the inning with men on first and second -- striking out Lorenzo Cain. Darvish got Francoeur to fly out and struck out Kottaras to end the inning. It started a stretch where Darvish retired 12 of the final 13 batters he faced, but he left the game after the seventh.
Darvish told Washington that he felt a little fatigued, and Neal Cotts came on in the eighth.
"I wasn't going to send him back out there if he was feeling fatigued," Washington said. " ... He was fighting himself all day. Sometimes, you go out there and those types of things happen. He's a warrior. He got us into the seventh inning in a 1-0 ballgame. He pitched around a lot of opportunities that the Kansas City Royals had. It just goes to show you right there, even when he's not at his best or feeling at his best, what he's capable of doing."
Cotts gave up a leadoff double to Alex Gordon in the eighth. Gordon scored two batters later, when Eric Hosmer reached first on a fielder's choice to tie the game at 1. Tanner Scheppers (4-0), who replaced Cotts, got out of the inning and picked up the win. Closer Joe Nathan worked a 1-2-3 ninth for his 17th save.
Master Tesfatsion is an associate reporter for MLB.com. This story was not subject to the approval of Major League Baseball or its clubs.