Bonderman struggles in return to mound
In first start since '10, veteran right-hander allows seven runs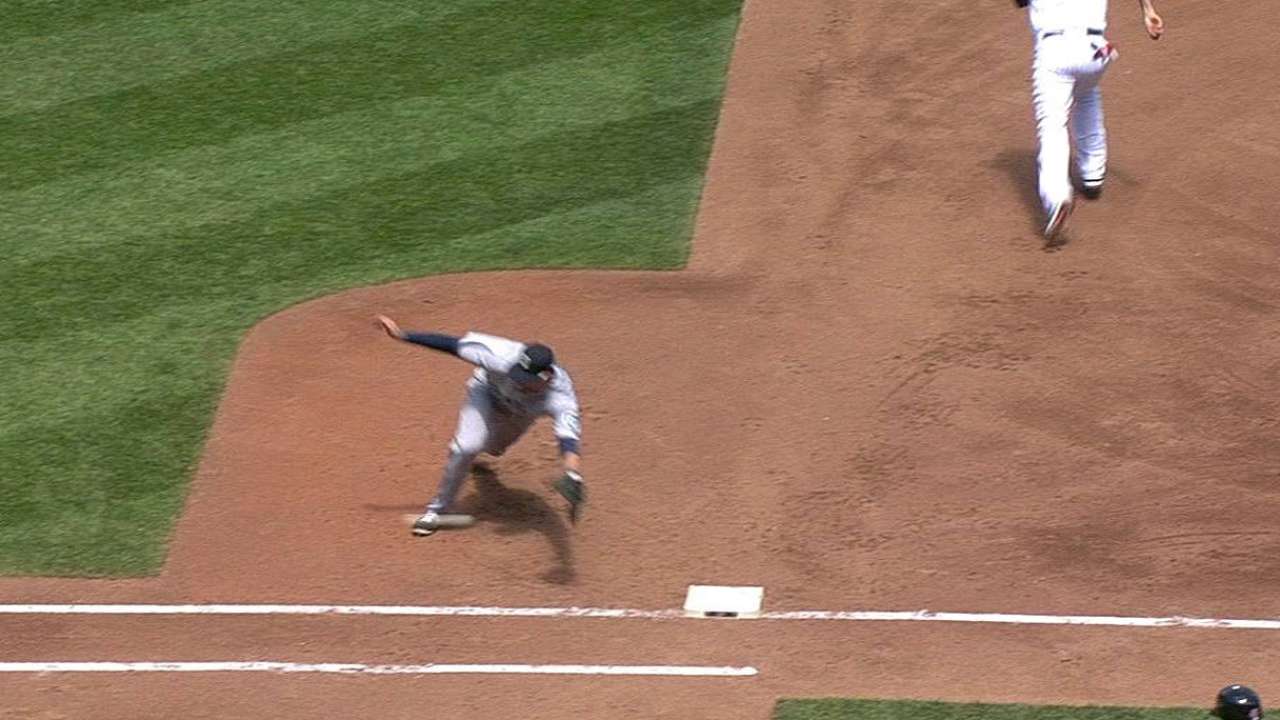 MINNEAPOLIS -- Jeremy Bonderman, making his first Major League start in 975 days, gave up seven runs in 4 2/3 innings on Sunday as the Mariners dropped a 10-0 decision to the Twins at Target Field.
Bonderman, added to the roster earlier in the day after spending two months with Triple-A Tacoma, allowed nine hits -- including three home runs, a triple and three doubles -- before being replaced by Hector Noesi after throwing 87 pitches.
"I felt really good actually, I just made some mistakes and left some balls up," Bonderman said. "Obviously, at this level you can't do that. It wasn't a very good day."
Bonderman's last Major League start was Oct. 1, 2010 with the Tigers, the team he spent the first eight years of his career with and helped to the 2006 World Series. Since then, he's undergone elbow and shoulder surgeries and spent time with his family in Pasco, Wash., before deciding to take a shot at a comeback.
"It was a lot of fun to walk out there and get back on the field and try to help the team win," he said. "It was just fun to get back out there, but obviously you have to pitch better than that."
Manager Eric Wedge said Bonderman would remain in the rotation for his next start, which is scheduled for Friday against the Yankees at Safeco Field.
"He just has to go out there and take what he learned from this and make the adjustments," Wedge said. "He can't let this one beat him up. It's his first time back in a while and that's significant, too. Have some good work days and go out there and just be better next time."
After a 1-2-3 first, Bonderman gave up a leadoff home run to Ryan Doumit and then three doubles in a three-run second.
The 30-year-old right-hander got through the third without damage, but then allowed Chris Herrmann's first career home run in the fourth and a two-run shot by Josh Willingham in the fifth as the Twins kept piling on.
"This is a veteran guy, so for him to get back up here, you have to tip your cap," said Twins skipper Ron Gardenhire. "He was three years out of the big leagues, so to come back up here and pitching -- and we've seen him many times -- is a special thing. Unfortunately for him, we swung the bats good today and beat the ball around. But it's a good story for him to come back after all he went through."
Bonderman had gone 2-4 with a 4.52 ERA in 11 starts in Tacoma and had a June 1 opt-out in his Minor League contract, so the Mariners brought him up to see if he could bolster a rotation that has struggled at the back end in the first two months of the season.
He replaced rookie Brandon Maurer, who was optioned to Tacoma earlier in the week after posting a 2-7 record and 6.93 ERA in 10 starts.
"I never knew if I'd ever get back," Bonderman said. "I just wanted to work hard and leave it all out there so I didn't have anything to be disappointed in, or to look back and say I could've done this or I could've done that. I just appreciated being out on that field again. It's not something you can take for granted. You just have to find a way to be better."
Wedge feels there's a pretty simple solution as Bonderman didn't pitch the same way he had even this spring when he was attempting to make the rotation.
"I just thought he was up," Wedge said. "When we saw him this spring, when he missed, he missed down or he missed in or out. Today he was missing up and over."
Noesi didn't have much better luck against a Twins team that has won seven of its last nine games to improve to 25-29. The young right-hander gave up three runs on seven hits -- including Minnesota's fourth home run, a solo shot by Brian Dozier in the seventh -- in 2 1/3 innings of relief.
The Mariners didn't provide any counter offensively as Twins southpaw Scott Diamond glided through six shutout innings on four hits and improved to 4-4 with a 4.66 ERA.
Designated hitter Kendrys Morales went 2-for-4, raising his average to .300, though he was thrown out trying to stretch a single into a double in the fourth. The Mariners also had three singles in the first off Diamond, but didn't score after Jason Bay lined sharply into a double play.
It was a tough day on the heels of Saturday's 5-4 meltdown when closer Tom Wilhelmsen lost a 4-2 lead in the ninth, but veteran Raul Ibanez said there can't be any lingering effects as the team returns home.
"There shouldn't be," said Ibanez, who turned 41 on Sunday. "Yesterday's over. Today's over. We need to get after it tomorrow and put together another nice run here. I'm a firm believer in creating your own breaks. As a team, I think we have that mindset, create our own destiny. If we want things to change, we have to change them, and we're very capable of doing that."
Seattle finished up its five-game road trip at 2-3 and brings a 24-33 record back to Safeco Field for a 10-game homestand against the White Sox, Yankees and Astros.
Greg Johns is a reporter for MLB.com. Follow him on Twitter @GregJohnsMLB as well as his Mariners Musings blog. This story was not subject to the approval of Major League Baseball or its clubs.