Bucs' bullpen flexes its muscle in extra-innings win
Holds Reds scoreless over final 10 frames to set stage for rally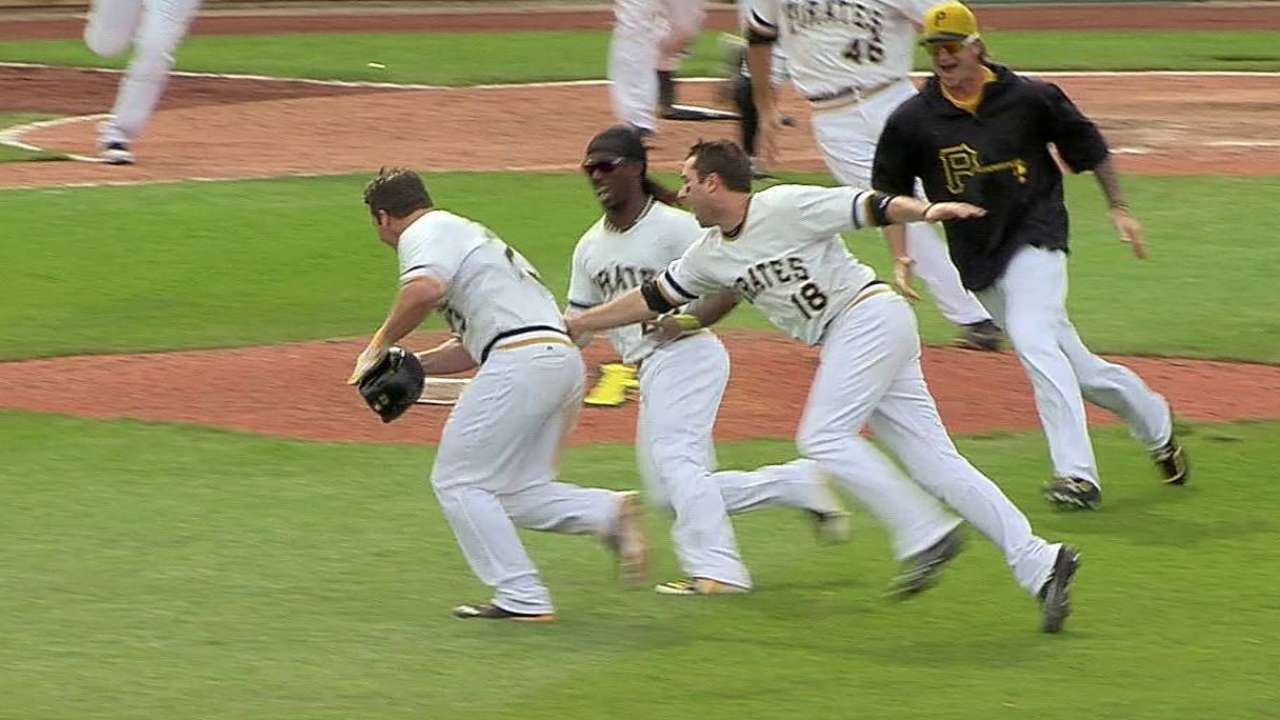 PITTSBURGH -- The Pirates were on the verge of going under water for the third time -- the danger sign, as any lifeguard knows -- when instead Garrett Jones went in the water.
Jones became the second player to hit a drive on the fly into the Allegheny River on Sunday, and it was as significant as it was impressive -- a two-run blow with two outs in the eighth that tied the Reds at 4 and set up the Bucs' dramatic 5-4 walk-off win in the 11th on Travis Snider's two-out RBI single.
But everyone -- Jones and Snider included -- knew that the true lifeguards of the occasion were the men who paraded out of the Bucs' bullpen when starter Jeanmar Gomez had to leave after one inning with tightness in his right forearm and elbow.
Vin Mazzaro, Bryan Morris, Mark Melancon, Jason Grilli and Justin Wilson pooled their talents to blank the Reds for the final 10 innings on five hits.
"Definitely the players of the game, that bullpen," Jones said. "They just shut it down and kept us in the ballgame. So, yeah, it feels good to get a win for them."
"The bullpen's been picking us up all year," Snider said, "giving us opportunities to go out late and win games."
Not like this, though. The Pittsburgh bullpen already led the Majors in every significant category, from wins to ERA to opponents' average. Then this.
"They reset the bar, and probably pushed it to where it's never been," said Pirates manager Clint Hurdle. "The resolve the club showed, the bullpen in particular ... when they came off the field, I tipped my cap to them."
Like Detroit manager Jim Leyland before him, Reds skipper Dusty Baker had a hard time believing any group of relievers could place such a chokehold on his lineup.
"I know their bullpen is good, but our team is better than not to score any," Baker said. "Over the next 10 or 11 innings, we had very few hits. It was just an overall bad ending."
Some walk-off celebrations seem almost contrived, a jaded group going through obligatory theatrics. This one was fueled by the emotion of an unbelievable win.
"Believable!" Hurdle corrected, repeatedly. "It was a believable win -- because we believed we could do it."
With one out in the 11th, Russell Martin reached on shortstop Zack Cozart's throwing error. Alfredo Simon walked Pedro Alvarez to move Martin into scoring position and, after Jordy Mercer flied out, Snider lined his game-winner over second baseman Cesar Izturis' head.
What seemed doomed to be a lost weekend turned toward the copacetic on that one swing of Jones' bat.
Jones woke up the Bucs, the 29,407 in PNC Park -- if not the entire city of Pittsburgh -- with his 463-foot splash shot off Jonathan Broxton. The only other ball that went into the drink on the fly -- 31 others have bounced in -- was struck on July 6, 2002, by Houston's Daryle Ward off Kip Wells.
"It was definitely an anger-and-frustration swing," said Jones, who a couple of innings earlier had been fanned by Cincinnati starter Mat Latos with runners on second and third and only one away.
Jones' sixth homer, with Andrew McCutchen aboard on a two-out infield single, culminated a remarkable game-long comeback from the 4-0 deficit hung on Gomez before he could get an out in the first inning.
Latos had left Cincinnati in position for a sweep, going six innings and allowing three hits -- including a solo homer by Alvarez in the second and McCutchen's RBI single in the sixth.
The Gomez whom fans saw in the first inning bore no resemblance to the pitcher they saw over his first six starts -- particularly on Tuesday in Detroit, where he blanked the Tigers through seven innings on three hits.
This version of Gomez had given up more than that before getting an out, and fell into a quick 4-0 hole on Cozart's RBI triple, run-scoring singles by Jay Bruce and Xavier Paul, and Devin Mesoraco's sacrifice fly.
The reason for the disparity soon became clear, as Gomez did not return to the mound for the second inning, removed due to the issues with his pitching arm.
"We knew two outs into our half of the inning that he couldn't continue," Hurdle said. "He tried getting loose, and he couldn't."
Enter Mazzaro for three innings, then Morris for three even more impressive innings: nine-up, nine-down, only 27 total pitches required.
"The worst-case scenario was for Jeanmar to come out of the game early," Morris said. "Our job at that point became to get as many outs as we could -- as fast as we could -- to move through the game. I know my goal was to pitch to contact as early in the count as I could so I could go multiple innings, because that's what we needed."
The last nine innings of this game unfolded following home-plate umpire Bob Davidson's warning to both benches about tight pitches.
The umpiring crew clearly had been put on alert in wake of Cincinnati second baseman Brandon Phillips getting hit by a Tony Watson pitch in the eighth inning of Saturday's game. Phillips suffered a right forearm bruise expected to sideline him for several days, and the possibility of retaliation was in the air.
That likelihood was heightened when Gomez plunked Cincinnati leadoff hitter Shin-Soo Choo. As if on cue, with two outs and none on in the bottom of the first, Latos plunked the Bucs' own second baseman, Neil Walker, with a fastball into his lower back.
That led to Davidson's warning, which ended any extra-curricular activities.
Tom Singer is a reporter for MLB.com and writes an MLBlog Change for a Nickel. He can also be found on Twitter @Tom_Singer. This story was not subject to the approval of Major League Baseball or its clubs.