Reds squander early lead in extra-innings loss to Bucs
Miss chance at a sweep to fall into a tie for second in the NL Central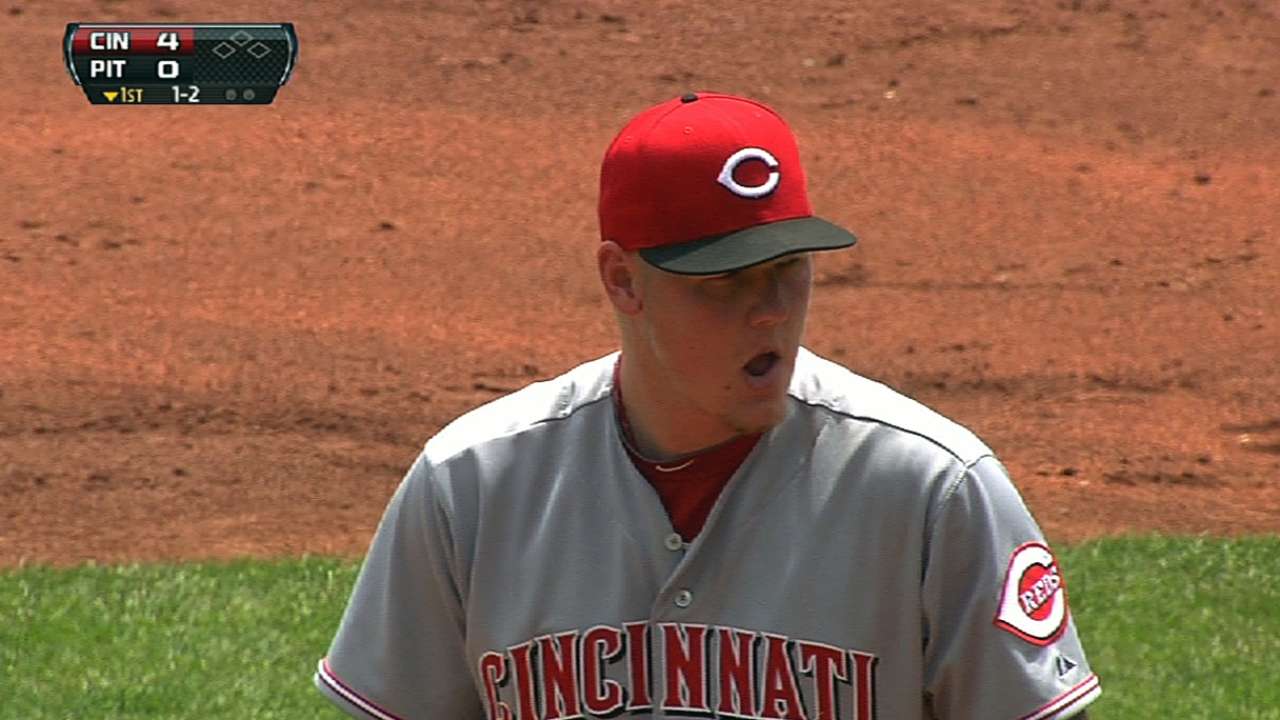 PITTSBURGH -- The Reds and pitcher Mat Latos may have wanted to gain a measure of revenge on behalf of Brandon Phillips against the Pirates on Sunday for his plunkings over the past two days.
But, the real and lasting satisfaction that could have been gained from sweeping a series got away in rather ugly fashion: a 5-4 Reds loss to the Pirates in 11 innings that culminated with Travis Snider's walk-off RBI single against Alfredo Simon.
"Many things happened during that game," Reds manager Dusty Baker said. "We have to put our foot on their throat when we get them down."
The Reds blew the 4-0 lead they had after the first inning, as Pittsburgh inched back over the course of the afternoon. The Bucs' bullpen pieced together 10 scoreless innings once starter Jeanmar Gomez left with right forearm tightness.
"The resolve the club showed -- the bullpen in particular -- throughout the day, they came off the field and I tipped my hat to them," Pirates manager Clint Hurdle said.
Cincinnati had a 4-2 lead in the eighth, and setup man Jonathan Broxton had two outs after Neil Walker hit into a double play. Andrew McCutchen then hit a sharp roller to the left side. Todd Frazier attempted a diving play to knock the ball down, but he could not pick it up and it went for an infield single.
On a 2-1 Broxton pitch, Garrett Jones hit a towering shot that exited PNC Park for a two-run home run. Jones became only the second player to ever hit a ball on the fly into the Allegheny River, and the first since Houston's Daryle Ward in 2002.
"I was throwing a cutter, in," Broxton said. "He got to it in a hurry."
It was Broxton's third blown save of the season, but the first since April 14 at Pittsburgh on a day that Latos also started. In that game, the Reds blew a 5-0 lead, and Broxton gave up six runs in the eighth as the Pirates took a three-game sweep.
"You go in there and try to win today and not worry about the past," Broxton said. "We were going for the sweep today, and we had it until I came in and gave it up."
Baker did not consider bringing in lefty closer Aroldis Chapman to face the lefty-hitting Jones.
"Well, it's a manager's decision," Baker said. "You can't put in Chapman all the time. I was saving Chapman [to save] the win. It's easy now to say [he should have faced Jones]."
Latos missed a shot at having a 6-0 record, after he pitched six innings and allowed two runs on three hits with two walks and seven strikeouts.
In the bottom of the first inning, both benches were warned after Latos drilled Walker with a two-out first pitch. It was likely retaliation for Phillips being hit each of the last two nights, with latter forcing him out of Sunday's game with a left forearm contusion.
"Things happen, the ball slips," Latos said. "I'll say if you're that type of person that's counting that, it's 6-2 them so far this series."
Although Shin-Soo Choo was plunked in the fourth for his Major League-leading 17th hit-by-pitch -- and the Pirates' Starling Marte was hit in the eighth and 10th innings -- none of those appeared to be intentional and no ejections were issued.
Choo was also hit by a pitch to begin the game, and he scored the first run when Zack Cozart hit a triple through the gap in left-center field. After a Joey Votto walk, Jay Bruce hit an RBI single to right field. Frazier's single was next, followed by Xavier Paul's RBI single to right field that scored Votto and loaded the bases.
From there, Gomez did some decent damage control, however, and only allowed a Devin Mesoraco sacrifice fly that made it 4-0. The top of the first inning ended when Cesar Izturis grounded into a double play to second base and Gomez exited with tightness in his right forearm.
The Pirates' bullpen stifled the Reds with some strong work, as Vin Mazzaro and Bryan Morris each worked three scoreless innings. Cincinnati left the bases loaded with two outs against Mark Melancon in the eighth. Nine of the Reds' final 10 batters were retired by Jason Grilli and Justin Wilson.
"Our offense, obviously in the first inning, we felt great," Cozart said. "Any time you put up four ... you've got to keep adding on. Other teams, you keep letting them stick around, they're going to rally."
That rally culminated in the 11th, during Simon's third inning of work. Russell Martin hit a one-out grounder to shortstop, but reached on a throwing error by Cozart.
"I just threw it high. It was a bad play," Cozart said.
Pedro Alvarez followed with a walk to put the go-ahead run into scoring position. With two outs, Snider lined a single into right field. Bruce's throw to the plate was up the line, as Martin slid home with the unearned run. It was the first run Simon had given up since April 27.
Instead of a sweep, the Reds finished a 2-3 road trip to leave town with a bad taste in their mouths and tied with the Pirates at 35-22 for the third-best record in baseball.
"I know their bullpen is good, but our team is better than that not to score any," Baker said. "Over the next 10 or 11 innings, we had very few hits. It was just an overall bad ending."
Mark Sheldon is a reporter for MLB.com. Read his blog, Mark My Word, and follow him on Twitter @m_sheldon. This story was not subject to the approval of Major League Baseball or its clubs.