Brown, Lee dominant as Phillies claim series finale
Hot-hitting outfielder ends double shy of cycle; Lee fans 11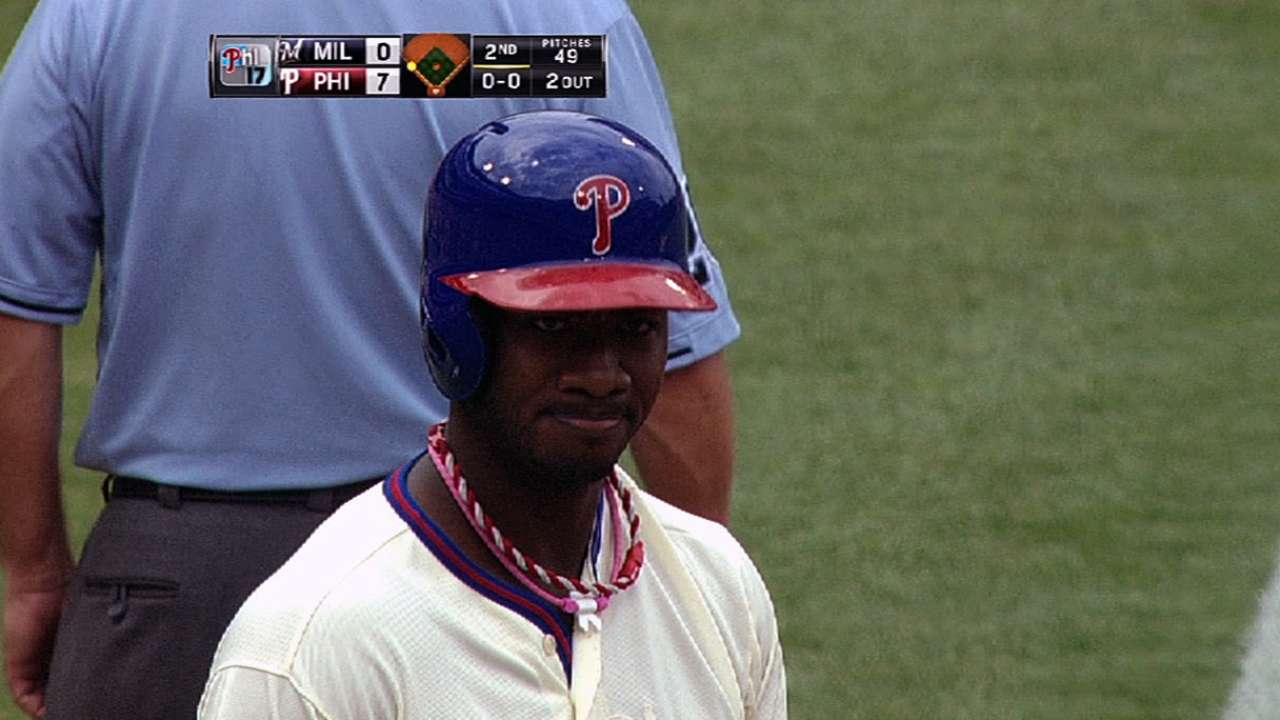 PHILADELPHIA -- There's a calendar hanging just inside the home clubhouse door at Citizens Bank Park. Before Sunday's series finale against the Brewers, two days into June, last month was still displayed.
Which is fitting because, for Domonic Brown and Cliff Lee, it's like May never ended.
Brown, whose 12 homers were the most for a Phillies hitter in that month since Cy Williams had 15 in 1923, came up a double short of hitting for the cycle. That included a three-run homer in the first inning that ignited the team to a 7-5 win over Milwaukee that ended their losing streak at three.
Brown also drove in a run with a triple in the second. His 16 homers for the season lead the National League and his 40 RBIs are tops on the club.
"I've had some stretches before where I've gone pretty good," Brown said. "I'm just trying to keep it going and I'm trying to continue to improve. I'm trying to keep my stroke small and not trying to do too much, and I think I'll be fine."
Brown singled in his third at bat, but he missed his chance for the cycle when he walked in the seventh. The odd part is that it was his first unintentional walk since April 30, but that demonstrates that his focus is having good at-bats and trying not to swing at pitches he doesn't think he can handle.
"I wasn't [thinking about the cycle]," Brown said. "I heard the fans chirping about it a little bit. Then I thought about it a little bit, but if I had a chance to go three on a ball hit in the gap, I'm going for three for sure."
Lee was 4-0 in his last five starts in May with a 1.15 ERA. He dominated the Brewers for seven innings, allowing just three hits and striking out a season-high 11 before beginning to cramp up in the eighth on a muggy afternoon, during which the announced temperature at first pitch was 90 degrees.
"I guess I was a little dehydrated. Something. I don't know what the deal was," Lee said. "It's happened in Texas. Obviously, the heat is part of it. I tried to do everything I could to hydrate and it didn't seem to matter. It still happened.
"I wanted to stay in there and keep pitching, but at the same time I knew I wanted to be smart and use my head a little bit. It is what it is. It was frustrating, no doubt about it. I'd rather be in control of the game."
That allowed the Brewers to get back into the game. Lee gave up four hits and a run with two outs in the eighth, then left the game for reliever Justin De Fratus. The young right-hander walked pinch-hitter Aramis Ramirez to load the bases, and then gave up a long line drive down the left-field line to catcher Jonathan Lucroy that was first ruled a grand slam. After a review of the video replay, the call was changed to a triple, but three more runs scored.
That put the Brewers back into the game, but at least the Phillies had closer Jonathan Papelbon to come in and nail down the save in the ninth. Except they didn't. Manager Charlie Manuel revealed after the game that Papelbon was sick and that setup man Mike Adams was unavailable after pitching in three of the previous four games.
That left it up to left-hander Antonio Bastardo, who allowed the first three batters he faced to reach base in the ninth, then pitched out of trouble after allowing just one run. When pinch-hitter Martin Maldonado flew out to center to finally end it, shortstop Jimmy Rollins stood motionless until the ball settled into Ben Revere's glove.
Lee has been the Phillies' stopper all season. Sunday was his ninth start after a loss, and he's 6-1 with a 2.27 ERA in those games.
Though getting a big early lead didn't change Lee's approach, which is always to throw as many strikes as possible, it did allow him to relax a little. And Brown drove in four of the Phillies seven runs in the first two innings against Brewers starter Mike Fiers.
Brown came up with two outs and two on in the bottom of the first and drilled a 3-1 pitch into the seats in right field. That not only got the Phillies on the board and kept the inning alive, but Fiers allowed two more runs before finally retiring the side.
With two outs, a runner on first in the second inning and a run already in, Brown hit a sinking line drive that skipped past right fielder Norichika Aoki for a triple, ending Fiers' day. Manager Ron Roenicke replaced him with Alfredo Figaro.
Brown has noticed pitchers starting to make adjustments on him.
"I think they're mixing it up a little bit better now," Brown said. "[Saturday] I was standing away and the guy was hitting his spots away. I went and looked at the video and they were trying to go away, but I kind of forced them to try to throw a couple pitches in there, because I'm on the plate a lot. I guess they're hoping I make a mistake and maybe pop one up.
"That 3-1 count, I moved in a little bit closer just to see if I could bring that ball closer to me. I know I'm pulling the ball pretty good right now, so I'm forcing them to throw a pitch in there that I can drive."
May is over, but Brown and Lee just might have a little something to remember it by soon. The National League Player and Pitcher of the Month winners will be announced on Monday.
Paul Hagen is a reporter for MLB.com. This story was not subject to the approval of Major League Baseball or its clubs.