Fiers runs into hot water; Crew can't finish comeback
Shaky outing leaves questions about future of Milwaukee rotation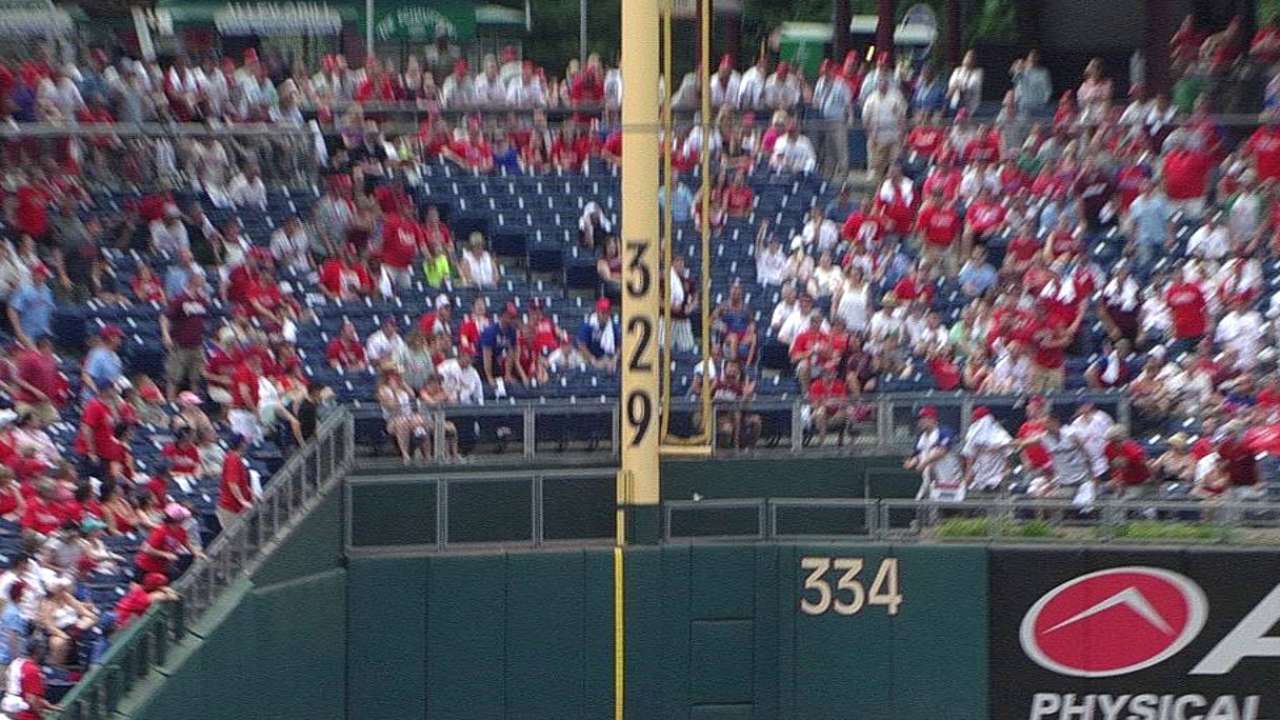 PHILADELPHIA -- So much for that budding Brewers winning streak.
A day after Wily Peralta delivered seven innings and the Brewers won consecutive games for the first time in more than a month, right-hander Mike Fiers recorded only five outs and surrendered seven early runs in what would be a 7-5 loss to the Phillies at Citizens Bank Park.
Considering the way Cliff Lee carved through his first seven innings on a steamy and overcast Sunday afternoon, the final score was stunningly close. The Brewers scored their first four runs in the eighth inning off Lee and reliever Justin De Fratus, and it was very nearly five. But Jonathan Lucroy's grand slam became a three-run triple after a replay review, and after scoring again in the ninth but leaving the bases loaded, Milwaukee fell short in a bid to sweep the three-game series.
Fiers left no doubt: This loss was on him.
"We battled back, and it shows this team is not out of it," Fiers said. "This team still battled through at-bats, and late in the game we almost tied the game or went ahead. It makes it even worse on me, just to think I kind of ... I don't even know the word to say.
"Kind of gutless. A gutless performance. Not really bearing down and making pitches to get the outs I needed. We could have won this game. We definitely could have won this game, and I made it a lot harder than it should have been."
Milwaukee did win a series for the first time in April, but returned home having further strained a bullpen that has been excellent but hard-worked in this stretch of 33 games in 34 days -- and would have been strained even further Sunday if not for Alfredo Figaro's 3 1/3 efficient innings of relief. Club officials will have to decide what comes next for Fiers, whose ERA rose to 7.25 after he surrendered seven runs (five earned) on seven hits in 1 2/3 innings.
Fiers wants badly to be a starting pitcher in the Major Leagues, but said, "I'm not making a good case for myself. With a performance like that, it's embarrassing to me."
Change could be coming.
"We'll discuss that [Monday]," Brewers manager Ron Roenicke said. "We talked a little about it right now when I talked to Gord [Ash, the team's assistant GM], but we'll talk about that a little bit tomorrow and figure out what we want to do there."
The Brewers had already been discussing fixes for their leaky pitching rotation before Sunday. Options include Figaro, who has already made one spot start, or a callup from the Minor Leagues.
Hard-throwing Johnny Hellweg made his second consecutive quality start on Friday for Triple-A Nashville. At Double-A Huntsville, Jimmy Nelson pitched eight innings with 10 strikeouts on Thursday, and he is 5-3 with a 2.89 ERA.
Hellweg is already on the 40-man roster. Nelson is not, but he will have to be added later this year to protect him from the Rule 5 Draft.
In his last 13 Major League starts, including three starts and three losses this season, Fiers is 3-9 with a 7.76 ERA. In those games, he has surrendered 81 hits, including 15 home runs, in 60 1/3 innings.
Six of the seven runs against Fiers on Sunday scored with two outs, including all five runs in the first inning, as the Phillies combined to hit for the cycle after Fiers retired the first two batters he faced. Domonic Brown's three-run home run was the big blow, and Erik Kratz added an RBI double and Freddy Galvis an RBI triple before the nine-batter rally was over.
Roenicke said Fiers lacked "life and conviction on his pitches."
"You can see it in a guy when he's confident," Roenicke said. "Last year when he came up, he was confident. He knew he could throw the fastball by people, he knew he could throw his changeup, curveball."
Lately, Fiers has looked like a different pitcher. Take the pitch to Brown, a cutter on the inner part of the plate to a scorching-hot hitter who, according to Fiers, feasts on balls there.
"Balls in and up, [Brown] has been crushing it for the past month now," Fiers said. "For me to go in there, it has to be way in, and it wasn't and he made me pay."
The Phillies tacked on two unearned runs against Fiers in the second inning after shortstop Jeff Bianchi's error, and a 7-0 deficit appeared to spell doom against Lee. The left-hander surrendered only three hits in his first seven scoreless innings before allowing four hits and getting knocked out of the game with two outs in the eighth.
He left two runners on base, both of whom scored when Lucroy hit a bases-loaded laser down the left field line that struck the top of the fence and was initially ruled a grand slam. Upon review, the homer was erased and Lucroy was put at third base. Yuniesky Betancourt then lined out to center field to end the inning.
In the ninth against Antonio Bastardo, in for a save situation because Jonathan Papelbon was ill, the Brewers put runners at second and third with one out but could not score. Pinch-hitter Martin Maldonado flew out to center to end the game.
Bastardo notched his first save, and Lee settled for winning his fifth straight decision and reaching double-digit strikeouts (11) for the 24th time in his career.
"I wouldn't say I was relieved, but I was definitely happy the game was over," Brown said.
Maldonado batted in the three-hole that belonged to Ryan Braun at the start of the afternoon. Braun was lifted in sixth-inning double switch with Lee cruising and the Brewers down 7-0, when Roenicke wanted two innings from Tom Gorzelanny. Braun has been grinding through thumb, neck and back issues.
"At that time, you're trying to get through the game with your pitching," Roenicke said. "You're hoping you can make some kind of run offensively, but when you have Lee up there, it's usually going to be a tough task."
Adam McCalvy is a reporter for MLB.com. Read his blog, Brew Beat, and follow him on Twitter at @AdamMcCalvy. This story was not subject to the approval of Major League Baseball or its clubs.