Steady bats back Maholm as Braves best Nats
Early homers, timely hitting late help lefty to seventh win of year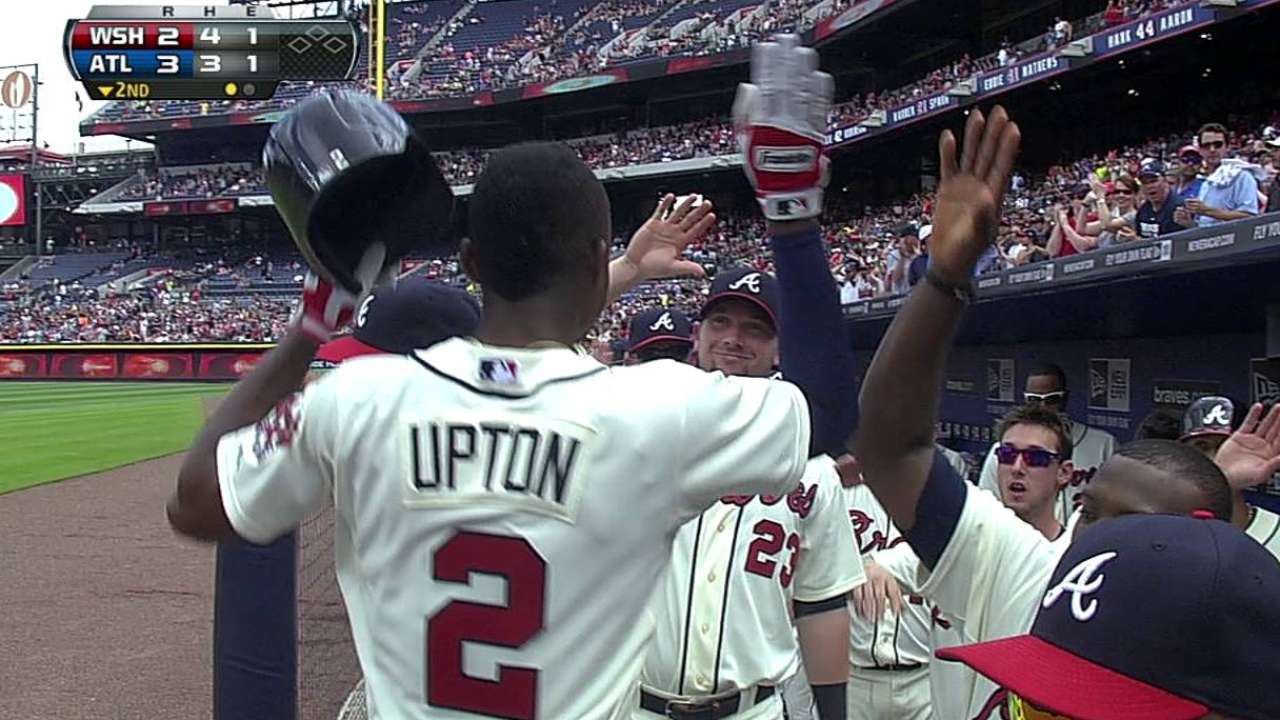 ATLANTA -- Just because the Braves have gotten critical contributions from up and down their lineup in recent weeks doesn't mean the players many expected to be cornerstones of the offense before the season began can't steal the show every once in a while.
A solo home run by B.J. Upton, a three-hit afternoon by his brother Justin, and a bases-loaded double off the bat of cleanup hitter Freddie Freeman helped lift Paul Maholm and the Braves to a 6-3 win over the Nationals to extend Atlanta's lead in the National League East to 6 1/2 games.
For B.J. Upton, Sunday's 1-for-4 showing at the plate was a small confirmation that the Braves' prize free agent acquisition from this past offseason may have turned a corner after a befuddling start to the 2013 season that led to extra hitting sessions and tinkering with his swing. In his first at-bat since delivering a walk-off single on Saturday night, B.J. Upton sent a 1-0 fastball from Nationals rookie Nathan Karns over the left-field wall for his fifth home run of the season to break a 2-2 tie in the second inning.
The go-ahead blast marked the first time B.J. Upton has recorded an RBI in back-to-back plate appearances this season.
"It's getting there," B,J. Upton said. "Like I said last night, we still got some work to do, but I'm definitely feeling a lot better up there. Hopefully, it only gets better as the season goes on."
"Sometimes he just takes the ball up the middle, like the first hit he had [Saturday night], a little dribbler that gets you going," Braves manager Fredi Gonzalez said. "Game-winner yesterday and a home run today, and hopefully he'll roll off 10 or 12 games like this."
The Braves touched Karns for seven hits, sparked by Ramiro Pena's two-run home run in the first inning, but they couldn't separate themselves until Karns yielded to the Nationals' bullpen. Left-hander Zach Duke walked Reed Johnson and Andrelton Simmons to lead off the sixth inning, then intentionally walked Justin Upton to face Freeman, who took the second pitch he saw the other way, just inches shy of a grand slam.
The ball appeared to bounce off the front corner of the top of the wall in left field. After a short video review, the umpires confirmed Freeman's two-run double.
Freeman has been a steady contributor in Atlanta's feast-or-famine offense in recent weeks. The Braves' first baseman is hitting .333 with three home runs and 12 RBIs in the past 15 games, but it certainly helps that the bats around him have found a rhythm of late.
"Wouldn't you feel good?" Freeman said of his protection in the batting order. "Especially when Justin's on every time, it seems like today, they know they can't make a mistake to me because they're going to have Evan [Gattis] behind me. And you got [Brian McCann], you got [Dan Uggla], you got B.J. It's a tough lineup, one through eight."
After Simmons led off the first inning by reaching on a Ryan Zimmerman throwing error, Pena sent a belt-high fastball over the right-field wall for his fifth career home run and third of the season. The two-run shot gave the Braves' utility man eight RBIs in his past 13 games, a stretch over which he is hitting .419.
"He set the tone right off the get-go with the two-run homer, and we never looked back, really," Gonzalez said. "We're lucky to have him. I think he's a perfect National League player."
Maholm made things harder on himself in the second inning, as the middle of the Nationals order got to him for three consecutive hits and two runs to level the score. Maholm had a chance to end the inning but could not handle Freeman's throw as he ran to cover first for what would have been the third out, allowing Ian Desmond to score.
Maholm recovered to allow just one hit over his final four frames, a Desmond solo home run in the sixth that cut the Atlanta lead to 4-3. Maholm is now tied with Mike Minor for the team lead with seven wins.
"They strung some hits together," Maholm said of his second inning. "I didn't make the play at first, and they were able to tie the game, but with B.J. coming through in the bottom half, I just tried to go out there and get some quick outs and some ground balls."
Anthony Varvaro and Luis Avilan came out of the bullpen to keep the Nationals off the basepaths in spotless seventh and eighth frames, and Craig Kimbrel recorded his 17th save with a perfect ninth to put the Braves' next closest challengers for the division lead further in the rearview mirror.
"The bullpen, for me, was the whole series, going back to the Toronto series," Gonzalez said. "They've done their job. We've been able to add up some runs and got some wins."
Eric Single is an associate reporter for MLB.com. This story was not subject to the approval of Major League Baseball or its clubs.