Late D-backs slam ends Cubs' win streak
Marmol allows homer in eighth after Samardzija strikes out 11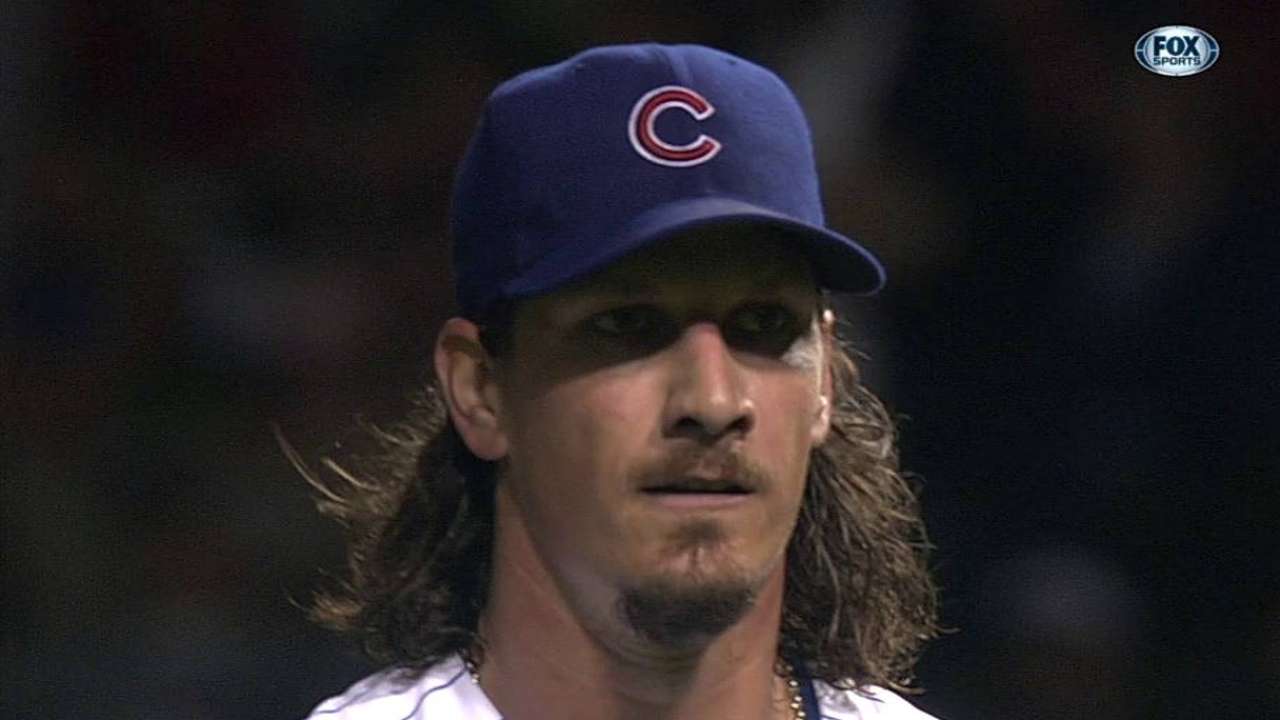 CHICAGO -- There was a long rain delay, two questionable calls by the first-base umpire and a manager's ejection. But in the end, the Cubs' 12-4 loss to the D-backs on Saturday night at Wrigley Field was bout two numbers.
Eight walks issued by Cubs pitchers. Three hits recorded by Cubs hitters.
"That's not going to win too many ballgames," Cubs manager Dale Sveum said.
No, it won't, especially when those eight walks lead to four bases-loaded opportunities for an opponent.
After escaping two bases-loaded jams early, the Cubs were unable to do so when they needed it most, as D-backs first baseman Paul Goldschmidt launched a tie-breaking grand slam off Carlos Marmol (2-3) in the eighth inning to make it 8-4.
"He's a good hitter," Marmol said. "I left one up there and he took advantage."
The loss, snapping the Cubs' five-game winning streak, came after the game was delayed two hours and 21 minutes by rain.
Marmol walked Willie Bloomquist and Didi Gregorius and allowed a double to Gerardo Parra before Goldschmidt's slam.
"Just looking for a pitch up in the zone, trying to stay out of the double play, get something up in the air get the runner in and luckily I was able to put a good swing on it and get it out of there," Goldschmidt said.
It was the second consecutive inning the Cubs were bitten by walks. Starter Jeff Samardzija left in the seventh after issuing two free passes and reliever James Russell walked another before Arizona's Jason Kubel erased Chicago's 3-1 lead with a bases-clearing double.
"The bottom line is, you walk eight guys, you're not going to win too many games, no matter what," Sveum said.
Samardzija, who struck out 11 in 6 1/3 innings -- including six straight at one point -- escaped bases-loaded jams in the second and fifth innings. But those situations drove up his pitch count to 115, the second highest of his career.
"Samardzija threw the ball really well," D-backs manager Kirk Gibson said. "The one thing we did good against him, we worked the count and got his pitch count up so he couldn't finish the game. Then when we got into their bullpen we got some big hits."
The D-backs tacked on four runs in the ninth and knocked out 17 hits in all -- the most Chicago has allowed this season -- to cement the lopsided victory.
"I think the outcome of this game is a little skewed, just with how we played and how the game went," Samardzija said. "It just got away from us there toward the end, but we were right there battling with them the whole game."
Cubs right fielder Nate Schierholtz's homer in the seventh off D-backs starter Ian Kennedy (3-3) tied the game at 4-4 before Arizona's late-inning fireworks. Kennedy had retired 17 straight after the Cubs put up a three-run first inning, which erased Parra's leadoff homer on the second pitch of the game.
Then the Cubs dealt with a couple of questionable calls by first-base umpire Toby Basner.
First, D-backs catcher Miguel Montero was called safe on an infield single when it appeared that Samardzija -- running to cover first -- beat Montero to the bag.
Sveum argued the call -- which replays showed to be incorrect -- and again had issue with Basner in the second.
D-backs center fielder A.J. Pollock hit a one-out chopper to second baseman Darwin Barney, who routinely fired to first baseman Anthony Rizzo. Basner called Pollock safe. Video replays showed the ball beat Pollock to the bag, though the play was closer than it initially appeared.
Sveum came out to argue and was ejected for the second time this season.
Sveum watched the rest of the action -- including the walks -- in the clubhouse video room.
"You're going to have these kinds of losses. You've got to have a resilient team," Sveum said. "We've been playing really good baseball and once again we beat them for seven innings and played really good. Walks are big. Especially if you have eight of them."
Cash Kruth is a reporter for MLB.com. Follow him on Twitter at @cashkruth. This story was not subject to the approval of Major League Baseball or its clubs.