Goldschmidt strikes back at Cubs with slam
Blast in eighth breaks tie; Kennedy allows four runs in seven innings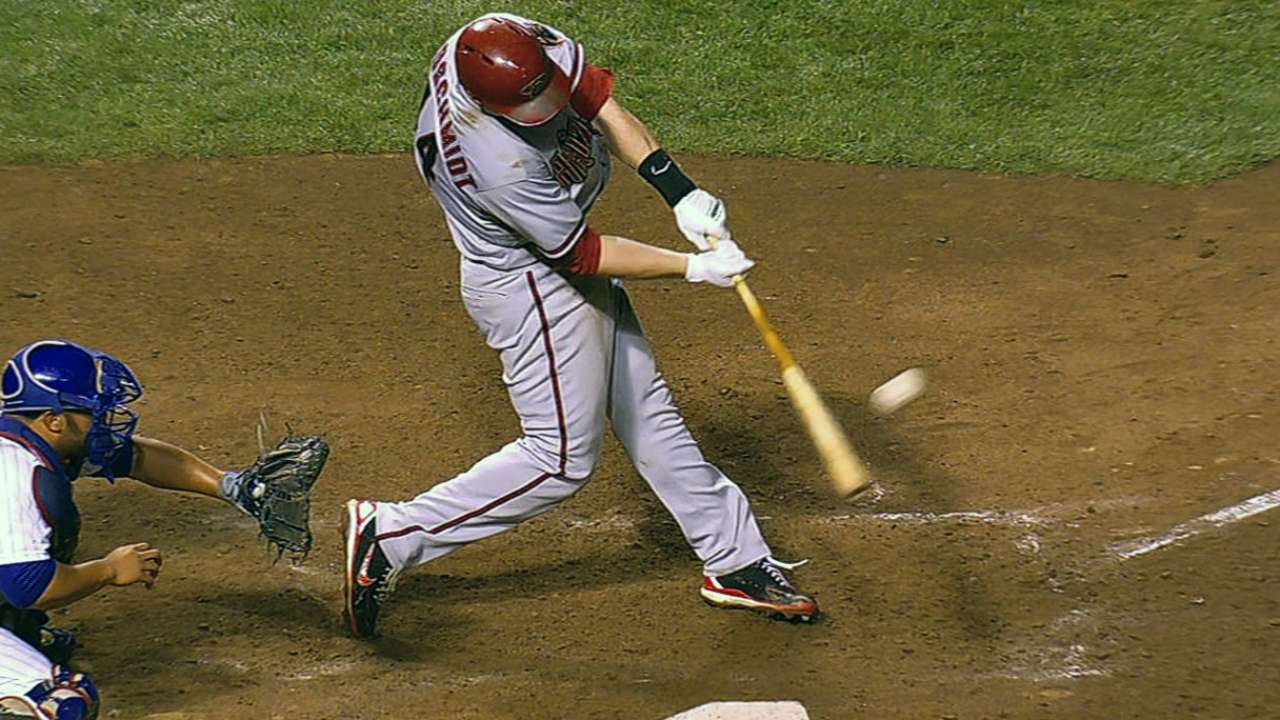 CHICAGO -- Strikeouts? What strikeouts?
By the time Paul Goldschmidt's ball landed deep in the bleachers in left-center for the go-ahead grand slam in the eighth inning of the D-backs' 12-4 win over the Cubs on Saturday night, fans had probably long since forgotten about the fact that he struck out in his first three at-bats.
But in order for Goldschmidt to hit that homer off Carlos Marmol, he had to put those strikeouts behind him.
"You get a chance to win the game in the eighth or ninth and you can't be living in the past," Goldschmidt said.
D-backs manager Kirk Gibson reminded Goldschmidt of that prior to the homer.
"You're hard on yourself, you have to learn how to let go of that," Gibson said. "These at-bats will be big for the next time it happens. When it's going on, on the bench we always talk about it."
Gibson also shared that same piece of advice with outfielder Jason Kubel, who was mired in a 1-for-15 slump, during the inning before.
With two outs in the seventh, Kubel came up with the bases loaded against Cubs lefty James Russell with the D-backs trailing 3-1.
Kubel promptly unloaded them as he laced a double to left-center.
"He always tells guys that it doesn't matter what you've done," Kubel said of Gibson. "Today, I was 0-for-2 with two strikeouts. He'll say, 'Don't worry about it. It happens. You can still have an opportunity to win the game or make something happen.' Sure enough, I did. It's hard to stay positive, but you've just got to try to do it."
The start of the game was delayed two hours and 21 minutes by rain.
When things finally got underway, it did not take long for the scoring to begin as Gerardo Parra hit the second pitch of the game by Jeff Samardzija into the right-field bleachers for his fifth homer of the year.
Given an early lead, D-backs starter Ian Kennedy gave it right back in the bottom of the first.
David DeJesus started things off with a double, Starlin Castro was hit by a pitch and Kennedy walked Anthony Rizzo to load the bases.
Alfonso Soriano then drove in a run with a sacrifice fly, Nate Schierholtz followed with an RBI double and Welington Castillo capped the scoring with an RBI groundout as the Cubs grabbed a 3-1 lead.
Kennedy was suffering from some rust, a byproduct of not having pitched in 10 days. He was scratched from his last start after he cut his right index finger while doing the dishes at home.
"You kind of forget how quick things are, even though it's only been 10 days," Kennedy said.
Both starting pitchers settled into a groove after the first.
After the Schierholtz double, Kennedy retired a career-high 17 batters in a row. Samardzija, meanwhile, had dominant stuff as he struck out 11.
"Samardzija threw the ball really well," Gibson said. "The one thing we did good against him, we worked the count and got his pitch count up so he couldn't finish the game. Then when we got into their bullpen we got some big hits."
Kennedy (3-3) picked up his first road win since Aug. 30, 2012, while Marmol (2-3) suffered the loss.
The D-backs piled on in the ninth as they added four more runs.
"I think the outcome of this game is a little skewed," Samardzija said. "Just with how we played and how the game went. It just got away from us there toward the end, but we were right there battling with them the whole game.
"They're a first-place team for a reason. They're scrappy, they know how to play, they move runners over and they do the right things to take good at-bats and make you work as a pitcher."
Steve Gilbert is a reporter for MLB.com. Follow him on Twitter @SteveGilbertMLB. This story was not subject to the approval of Major League Baseball or its clubs.