Wainwright's gem caps doubleheader sweep
Right-hander tosses third complete game of season to beat Giants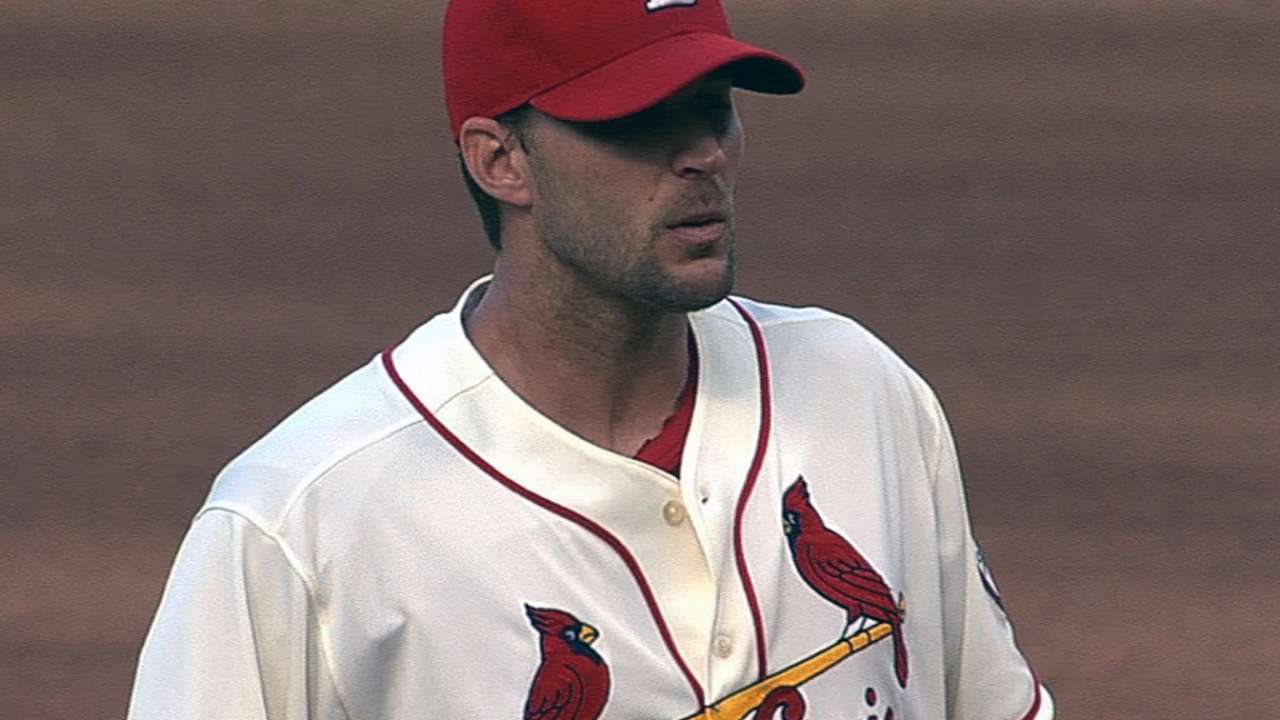 ST. LOUIS -- Shelby Miller set the starting standard Saturday. A few hours later, Adam Wainwright matched it. All the while, the offense thrived with timely hits from several unlikely contributors.
Following the same blueprint that worked so effectively in the first game of Saturday's doubleheader, the Cardinals coasted to a 7-1 win over the Giants in the nightcap at Busch Stadium. With the doubleheader sweep, the Cardinals pushed their Major League-best record to 37-18 while continuing to show off why their rotation has been baseball's best through the first third of the season.
After watching Miller toss seven scoreless innings to lead the Cardinals to an 8-0 win in Game 1 of the twin bill, Wainwright followed with his third complete game of the season. He did so needing a mere 106 pitches (73 strikes) while frustrating a Giants offense that could do little with its seven hits.
"It was nice to follow him up," said Wainwright. "He threw a shutout, but I went nine. Who wins that one?"
The only runner to reach third all day -- Brandon Belt in the seventh inning -- scored San Francisco's lone run. Only two of the Giants' eight hits went for extra bases. In the process, the Cardinals' bullpen -- poised for the possibility of added workload -- just watched.
"We never take anything for granted, though obviously Adam's track record is pretty favorable to soak up some innings," manager Mike Matheny said. "You can't ask him to do anything more than he did today."
In allowing one run over 16 innings Saturday, Miller and Wainwright pushed the rotation's season ERA down to 2.49. That's easily the lowest in the Majors. The rotation -- which now features three rookie pitchers and another with only one year of starting experience -- also leads baseball in wins (32), complete games (five) and shutouts (four).
Wainwright joined Arizona's Patrick Corbin and Washington's Jordan Zimmermann as the National League's only eight-game winners. He capped his 14th career complete game with a strikeout, his 10th of the evening.
"You look at a lineup, sometimes, and you don't see a lot of their boppers in there with [Buster] Posey and [Pablo] Sandoval [sitting]," Wainwright said. "You could very easily go out there and take that for granted and give up a couple runs because you're not ready to pitch. My thought today was just to respect those guys over there and make sure I was ready to pitch."
Incidentally, it was the only area in which Wainwright did not execute that set up the Cardinals' biggest offensive inning. Wainwright squared to sacrifice twice with a runner on first in the third, fouling back the first attempt and missing the second.
That left him to swing at Madison Bumgarner's next offering, and Wainwright laced it into center field for a double, the team's first hit of the game.
"I didn't really know either way [whether Wainwright would be swinging]," Bumgarner said. "I tried to throw a backdoor cutter and left it up. I kind of had an idea he might be swinging, but one way or another I wanted to make a good pitch and I didn't do it."
Jon Jay followed with a grounder, and Pete Kozma barely beat a throw home from Belt to give the Cardinals their first run. With two outs, Carlos Beltran's single to center drove home two more. The hit improved Beltran's season average with runners in scoring position to .475.
David Freese -- hitting cleanup with Matt Holliday and Allen Craig on the bench -- extended his hitting streak to 11 games with a single.
The Cardinals batted around in the third, the same inning they sent 12 men to the plate in the first game. Combined with their third-inning output in the first game, the Cardinals scored 10 of their 15 runs and recorded 12 of their 19 hits in that inning.
"You can't make a mistake to a team like this," Bumgarner said. "If you do, that's what's going to happen -- what's happened to us here lately."
The Cardinals scored twice more in the sixth on RBIs from Daniel Descalso and Shane Robinson -- bench players thrust into the lineup so that the regulars would not have to play all 18 innings. In the seventh, another player making a spot start, Ty Wigginton, contributed a two-run single.
All five of the team's bench players started one of the two games Saturday, with Descalso in the lineup for both. All five drove in at least one run.
"You know, I think that's more of a tribute to [hitting coach John] Mabry and [assistant hitting coach] Bengie [Molina], you know always being in the cage and helping us get the extra swings you need to try to stay as sharp as you can," said Wigginton, who finished 2-for-3. "You can never simulate anything like a game, but the recourses are there to do our best to stay sharp."
Though the Cardinals finished the two games with only four more hits (19) than the Giants (15), they had success by making those hits timely. St. Louis went 11-for-20 with runners in scoring position in the doubleheader, while San Francisco went 1-for-14 in such spots.
Saturday's pair of wins also ensures the Cardinals another series win, their 12th this season. The club has not lost a series since April and has now taken 23 of its last 30 games.
"That [Giants] team knows how to win. They've proven that year in and year out, that whoever is on the field, they know how to win," Wainwright said. "It was important for us go out there and take this game real seriously."
Jenifer Langosch is a reporter for MLB.com. Read her blog, By Gosh, It's Langosch, and follow her on Twitter @LangoschMLB. This story was not subject to the approval of Major League Baseball or its clubs.