Erlin earns first victory as Friars clinch series
Rookie allows two runs in 6 2/3 innings; Cabrera's speed looms large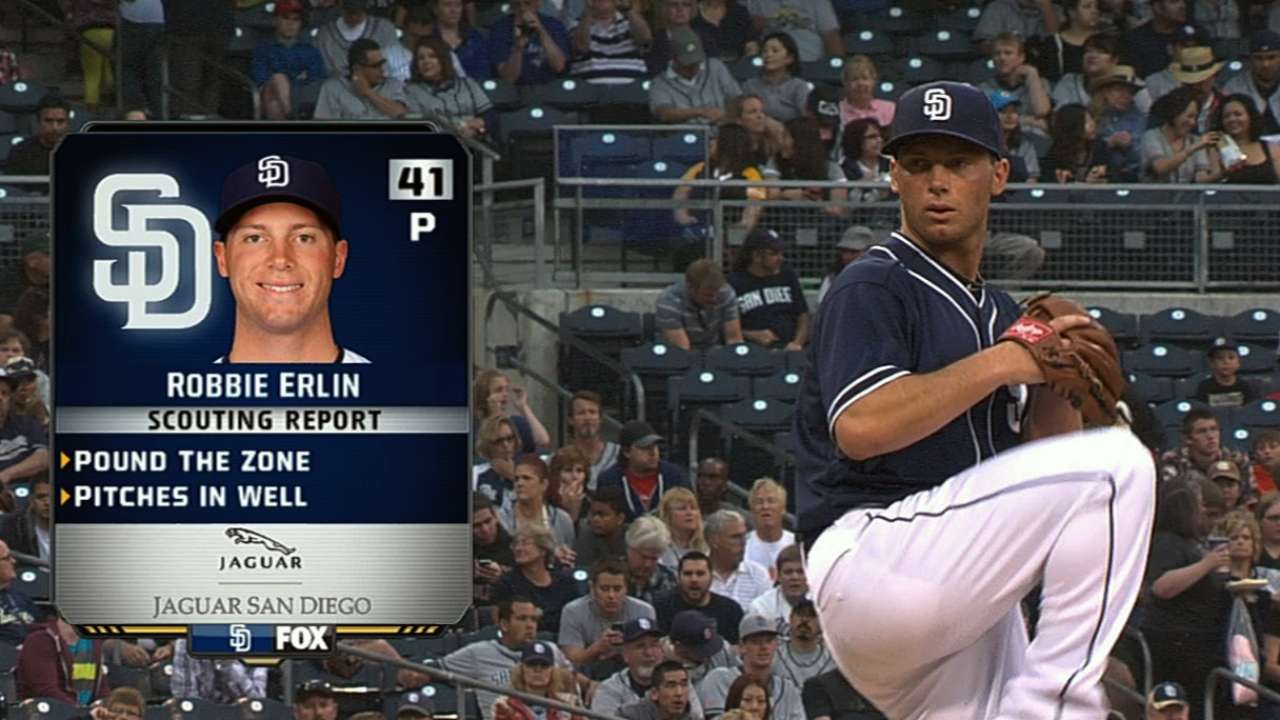 SAN DIEGO -- Robbie Erlin was in a car on his way to Phoenix on Friday night, preparing to travel with Triple-A Tucson the next day, when he got a call telling him he'd have to make different travel plans. The Padres used their regularly-scheduled starting pitcher for Saturday's game, Clayton Richard, in order to get through all 17 innings of Friday's game, and would need Erlin to make the start in the Majors in Richard's place.
Erlin described himself as surprisingly calm for his first career start, and pitched 6 2/3 strong innings, surrendering eight hits, but only allowing two runs in his first career victory as the Padres defeated the Blue Jays, 4-3.
"That is something that you don't plan on," Padres manager Bud Black said. "But when it works out, you feel fortunate."
When Black came to the mound to take him out of the game in the seventh, Erlin received a standing ovation from the 40,403 fans at Petco Park.
"The thing that stood out for me is that he pitched well," Black said. "He came in and threw his strikes, used his three pitches and looked very comfortable from the first pitch to the last."
But when the Padres go for the series sweep on Sunday, Erlin will almost certainly be optioned back to Tucson.
"We'll discuss it," Black said about Erlin's future and added that he expected to have an answer by Sunday.
This is Erlin's second stint in the Majors this season. He was called up on April 30 and made two relief appearances against the Cubs, allowing two runs in his first game but pitching a scoreless inning in the second game. That helped calm down any awe of pitching in the big leagues on Saturday.
"Everything was more familiar," Erlin said. "I would say it was helpful because I knew what to expect."
The Blue Jays scored first when Colby Rasmus singled home Adam Lind in the second inning. Erlin retired the next six Blue Jays' hitters before Lind's solo home run in the fourth. Both of those batters are left-handed, and Erlin had been especially stingy to left handers in Triple-A this season. In his eight starts, he held lefties to a .216 batting average. He credited the Blue Jays' lefties for hitting his offspeed pitches.
Black didn't start any left-handed hitters against Blue Jays lefty Mark Buehrle, whose 26 wins in Interleague Play are the most in Major League history
The Padres scored three runs in the second inning thanks to some shaky Blue Jays' defense. Edwin Encarnacion bobbled a grounder by Kyle Blanks with runners on second and third that would give the Padres their first run.
"When you're a contact pitcher, they put the ball in play, stuff like that's going to happen," Buehrle said. "Tonight, yeah it's frustrating, you make some pitches when you have to and then an infield hit scores a run. Just little things like that, especially when you lose a game this close, those things are frustrating."
Later in the inning, Buehrle threw away an infield single by Everth Cabrera that allowed two more runs to score. Cabrera's speed would come in handy again in the fourth, with another infield single to plate Jesus Guzman.
"When you have speed and you put the ball in play, you force the defense to make plays," Black said. "Those are two examples of it working tonight. No hitter wants to make a living chopping the ball over the mound or topping the ball down the third-base line, but speed is part of Cabby's game and if there's a tough pitcher and he makes contact and tops it, you force defenses to make plays."
With Huston Street on the disabled list with a strained left calf, Luke Gregerson entered in the ninth to go for the save. After a quick out, the Blue Jays pieced together three straight singles to cut into the deficit, the first run Gregerson has surrendered in the past 15 2/3 innings. However, he got Emilio Bonifacio to line out to second on a leaping play by Jedd Gyorko and sealed the deal by inducing a weak groundout by Jose Bautista. It was Gregerson's first save of the year, and he will serve as the team's primary closer until Street returns.
Jamal Collier is an associate reporter for MLB.com. This story was not subject to the approval of Major League Baseball or its clubs.