Buehrle's throwing error looms large in loss
Lefty allows four runs in six innings; Lind doubles, homers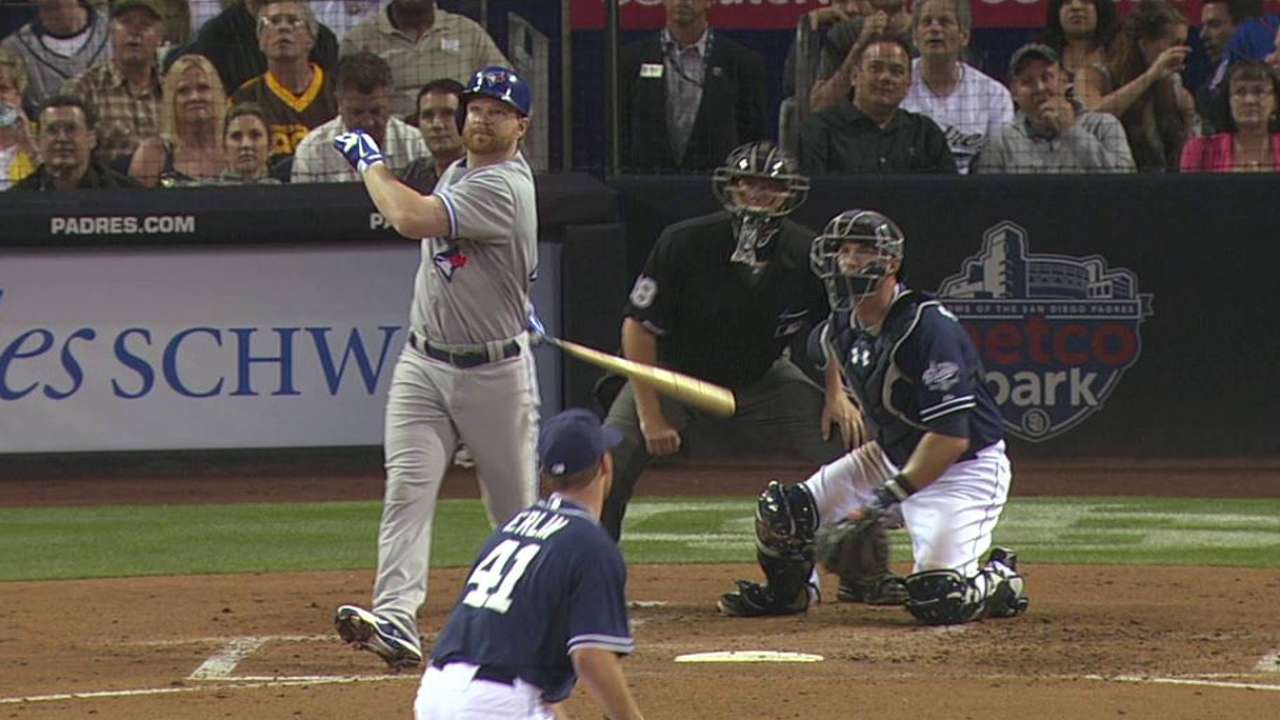 SAN DIEGO -- Mark Buehrle is no stranger to infield hits, but on Saturday night in San Diego the pesky dribblers ultimately led to his downfall.
Toronto's veteran left-hander surrendered four infield singles and they accounted for all but one of the Padres' runs. It wasn't much, but with an offense struggling to find holes, that was all it took.
The end result saw Buehrle surrender four runs in six innings to offset a strong night at the plate by Adam Lind in the Blue Jays' 4-3 loss in front of 40,404 fans at Petco Park.
"That's part of the game," Buehrle said of the infield hits. "Today was one of those days I didn't have much and had to battle through the whole game pretty much. To be able to go through a quality start and go six innings today, I'll take it every time.
"There were times I was making mistakes and they were just grounding out, pop flies, I felt like I had nothing today and had a decent game. I wish I had lasted a bit longer and better stuff, quicker innings knowing we played 17 innings last night, but that's not the way it went."
Buehrle entered play on Saturday night tied for eighth in the Majors with 11 infield hits allowed on the season. The four by San Diego vaulted Buehrle all the way up to first where he is now tied with Oakland's Bartolo Colon.
It's not exactly uncharted territory for Buehrle, who is consistently among the league leaders in that stat and led the league in 2008. There really isn't anything more frustrating for a pitcher than to induce weak contact off the bat but still have it result in a hit.
Buehrle attributed the high number to the fact that he has always been a guy who pitches to contact, but that doesn't exactly make things easier to handle.
"It's one of those things where you're making pitches and they're putting the ball in play," said the even-keeled Buehrle, who allowed four runs on 10 hits while walking one. "I give up a lot of hits, so depends if it's hit at a guy or off to a side where he can't make a play. When you're a contact pitcher, they put the ball in play, stuff like that's going to happen.
"Tonight, yeah it's frustrating, you make some pitches when you have to and then an infield hit scores a run. Just little things like that, especially when you lose a game this close, those things are frustrating."
Almost all of Buehrle's difficulties came in the second inning, when he allowed the first three batters he faced to reach base en route to San Diego's first run. The damage nearly stopped there, but with the bases loaded and two outs, Buehrle made a rare defensive miscue.
Buehrle, who has won four consecutive Gold Glove Awards, fielded a dribbler down the third-base line off the bat of Everth Cabrera. He didn't have much time to react and after being forced to rush the throw, he lost all accuracy as the ball sailed past Lind at first base and went down the right-field line.
Two runs came around to score as the Blue Jays fell behind, 3-1. Buehrle went on to surrender another run in the fourth after Jesus Guzman doubled to lead off the frame and eventually came around to score on an another infield single by Cabrera.
"I think when it was first hit, knowing that little [guy] is pretty fast, my first reaction was to go to third thinking I'm not going to get him at first," Buehrle said of the error. "I think I hesitated just a second and realized Edwin [Encarnacion] was charging [from third base]. By the time I turned and threw it, I was off balance and obviously made a mistake."
Lind was one of the lone standouts on offense for the Blue Jays. He doubled and scored in the second and went on to record his fifth homer of the season in the fourth. All of Lind's home runs this season have come in his past 17 games as he continues to overcome a slow start.
That was all the damage the Blue Jays could manage off rookie left-hander Robbie Erlin, who was making the first start of his Major League career. Erlin got the call after fellow lefty Clayton Richard was pressed into duty during Friday night's 17-inning marathon.
Erlin was relatively flawless as he allowed just the two runs on eight hits while striking out four. The Blue Jays did manage to rally in the ninth by scoring one run off right-hander Luke Gregerson, but with runners on first and second, pinch-hitter Emilio Bonifacio lined out to second and Jose Bautista grounded out to end the game.
"He came in and threw his strikes, use his three pitches and looked very comfortable from the first pitch to the last," Padres manager Bud Black said of Erlin. "Kept his poise throughout the game. I thought he pitched very well for his first Major League start against a good lineup."
The Blue Jays have now lost their first two games on the West Coast portion of their road trip and are in serious danger of being swept when the series comes to an end on Sunday.
The loss on Saturday night wasn't nearly as tough to take as the 17-inning loss the night before, but it's still one that will sting for a team that has now fallen back to 10 games below .500.
"We swung the bats really well and we got beat by a couple of infield hits, but that's the name of the game," Blue Jays manager John Gibbons said. "That happens sometimes."
Gregor Chisholm is a reporter for MLB.com. Read his blog, North of the Border, and follow him on Twitter @gregorMLB. This story was not subject to the approval of Major League Baseball or its clubs.