A's patience pays off with Reddick's walk-off walk
Oakland leads Majors in free passes; Straily sharp in six-inning effort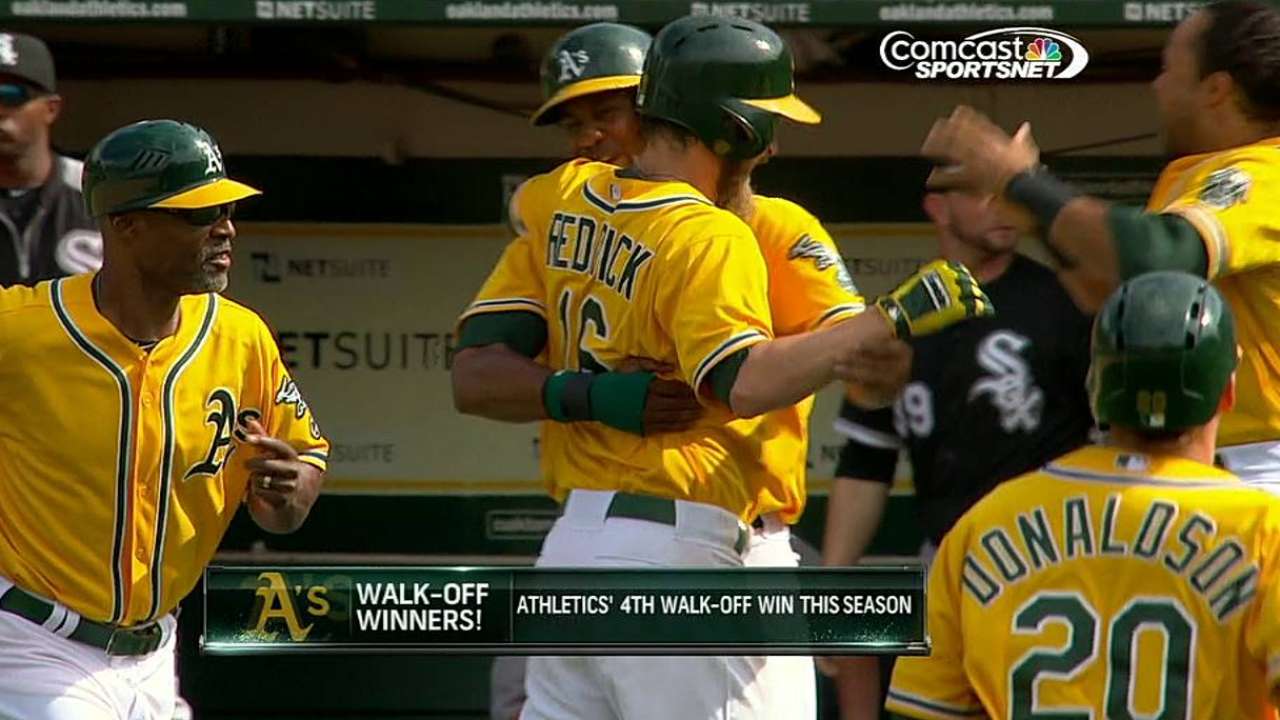 OAKLAND -- Friday night's complete-game shutout by Bartolo Colon is looking even better right about now.
Colon's dominant outing left Oakland's relievers rested for Saturday, when the bullpen was called on to preserve a tie that wasn't broken until the 10th inning on Josh Reddick's bases-loaded walk in the A's 4-3 victory at O.co Coliseum.
"I was just sitting on something over the plate and trying to nibble," Reddick said. "On 3-1, I was taking the whole time. I figured that I was so comfortable in the box today, I felt great. … If I got to 3-2, I figured I was going to be comfortable."
Reddick's confidence at the plate is a positive sign for a player just one day after returning from the disabled list with a sprained right wrist. He went 2-for-5 on Saturday, lifting his average to .170.
The A's (33-24) improved to 9-1 in games decided in the final at-bat.
Equally impressive is Oakland continuing to win games despite lackluster offensive outputs. The A's have won 13 of 15, are a season-best nine games over .500 and extended their home winning streak to seven -- the most since winning 10 in a row at the Coliseum in 2006.
Since scoring nine runs against the Giants on Wednesday, the A's bats had struggled to string together much. The offense recorded 16 hits Saturday but left 18 runners stranded and went 3-for-17 with runners in scoring position.
"We've talked about how many guys we've put on base and our situational hitting hasn't been great," A's manager Bob Melvin said. "But you continue to put guys on base and good things are going to happen at some point. We kept fighting and getting in those situations and finally got it done."
The lack of runs wasted a stellar start from Dan Straily, who ended up with a no-decision after striking out eight in six innings of one-run ball. Straily was effective throughout, getting ahead in the count to set up pitches out of the strike zone for Chicago's batters to chase.
"It's a lot harder to hit when you have strikes on you, at least that's what I've heard," Straily said.
Blevins (4-0) was credited with the win, needing only three pitches to record the final out in the top of the 10th.
In the lone bullpen hiccup, Sean Doolittle surrendered a 3-1 lead when he entered in the seventh, allowing a single to Alejandro De Aza that drove in two runs to tie the score.
Doolittle, who allowed two runs over 1 1/3 frames in his last outing Wednesday to snap his career-high-tying scoreless-innings streak at 13 1/3, hadn't allowed a run in 12 outings on at least two days' rest.
"I don't know any pitcher in the history of the game that didn't go through some lumps sometimes," Melvin said. "I think the reason that we're so surprised is because of the results he's had."
The rest of the bullpen maintained the tie until the 10th, when the A's finally capitalized with the bases loaded after failing to do so on two separate occasions in the ninth.
Chris Young registered a one-out double to left field in the 10th for his second hit of the day after snapping an 0-for-19 slump in the second inning. White Sox reliever Hector Santiago then intentionally walked Yoenis Cespedes before Josh Donaldson manufactured a walk to load the bases. Reddick maintained his composure in the high-pressure situation to draw a walk for the win.
"There were a few pitches that I thought -- definitely in that situation -- there are people out there that would probably swing at that," Santiago said of Oakland's batters, who lead the Majors with 240 walks. "And they just kind of stood there, like, 'You can throw me a strike if you can,' you know? It's definitely tough because I feel like some of those pitches would be swung at in a different game."
"There are no easy outs in this lineup," said Nate Freiman, whose first career triple in the fifth inning drove in Oakland's third run of the day. "And if guys get out, it's going to take five or six pitches. The fact that we have a walk-off walk is just perfect. That's A's baseball."
Jeff Kirshman is an associate reporter for MLB.com. This story was not subject to the approval of Major League Baseball or its clubs.