Pirates' offense can't support Liriano's 11 K's
Lefty solid, but bats are cold for second straight game against Reds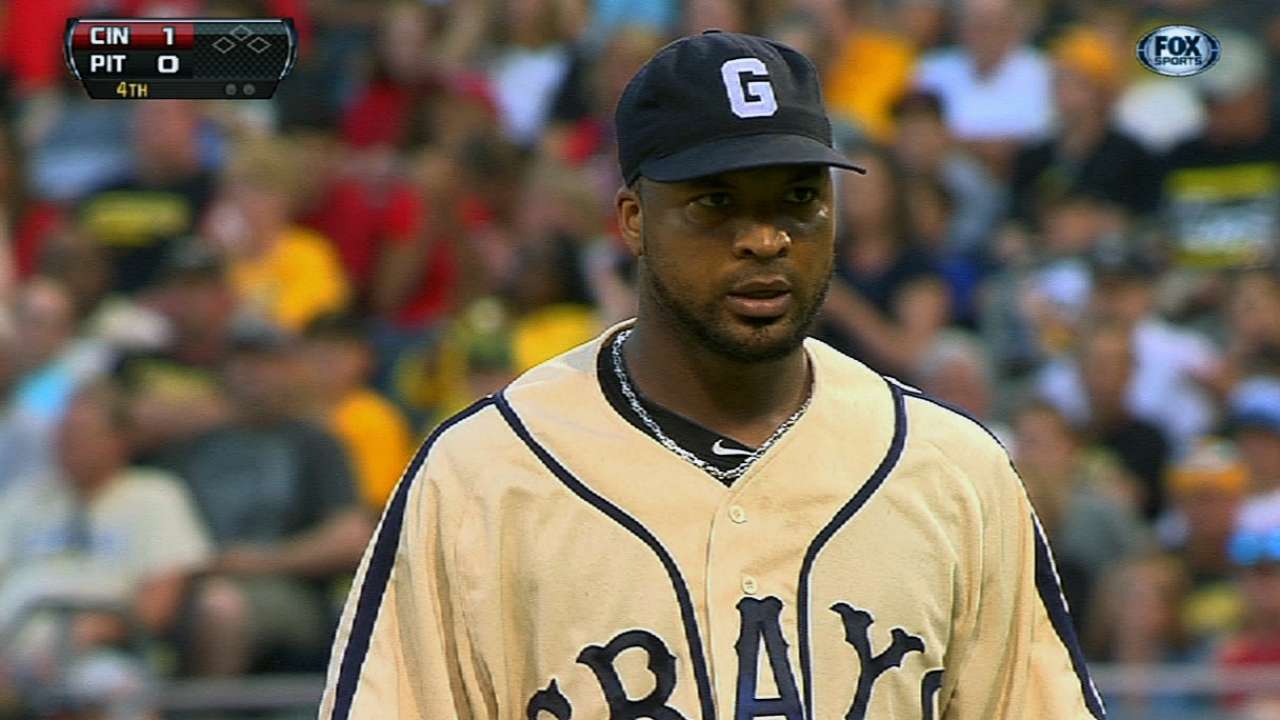 PITTSBURGH -- Well, at least A.J. Burnett now knows it's nothing personal. The Pirates aren't scoring for anybody. And on Saturday night, the offensive silence became an epidemic.
Francisco Liriano was sworn into their No Luck Club, as his sensational pitching earned only sympathy after a 2-0 loss to the Cincinnati Reds and to Mike Leake at PNC Park.
The left-hander couldn't personally accept the hang-with-'ems after the game, having rushed out of the park to tend to a family issue. But his Pirates family members were effusive with their praise after Liriano had allowed one run in six innings he spiced with 11 strikeouts.
"It was really good," manager Clint Hurdle said. "So impressive ... And they scored the one run without the ball even leaving the infield. But, wow, he was really good."
Added Alex Presley, who had gotten plenty of preview looks at Liriano while playing center field behind him during his Indianapolis rehab assignment, "He's got some good stuff. [The Reds] looked like they had no chance, especially early on."
Early, late ... the Bucs had no chance either, going down for the rare double-digit shutout loss. They wound up with 10 hits, but, as Hurdle stated the obvious, "We couldn't get them at the right time."
Leake was mainly responsible for the latest Pittsburgh glitch, blanking the Bucs for six innings to help extend their overall scoring drought to seven runs in five games -- most of those is Wednesday's 5-3 victory over Detroit.
Pirates starting pitchers have it even worse. From one Liriano start to another -- once through the rotation -- the Bucs have scored a total of two runs for their starters in the last six games, covering 36 innings. There are many ways to slice that development, but as good as any is the fact that in this important series against a National League Central rival, lefties Wandy Rodriguez and Liriano have combined for three runs allowed in 12 innings and two losses.
The Bucs had more scoring chances against Leake than did the Reds against Liriano. They misfired after leadoff singles in both of the first two innings, and again with two-on opportunities in the third and the sixth against Leake, and in the eighth and ninth against Jonathan Broxton and closer Aroldis Chapman, respectively.
Leake, however, contributed to a season-long Pirates problem, holding them hitless in four at-bats with men in scoring position. The Bucs wound up 0-for-8 overall in those situations.
The Bucs' lone offensive highlight was Presley. Last year's Opening Day left fielder reprised his leadoff role by giving slumping Starling Marte a day off -- and went 3-for-5 in a futile attempt to ignite the offense.
"Leake was tough, switching speeds and working the ball in and out," Presley said. "We had some opportunities and we battled, but it was one of those nights we didn't get it done."
Their last opportunity came down to Presley. Due to earlier moves having emptied the Pirates' bench, the left-handed hitting Presley had to deal with Chapman's southpaw heat with two out and two on in the ninth.
Presley gave Chapman a good fight, in particular when he hit a foul smash on a two-strike fastball he appeared to just miss barreling.
"Yeah, that was the one to hit right there," said Presley, who then fouled the next pitch into catcher Devon Mesoraco's mitt for the game-ending strikeout. "That last one, he put on the outside corner, and there it's hard to even touch."
From the second out in the first through the second out in the third, Liriano struck out seven straight to match a year-old Pirates record. Erik Bedard, another veteran lefty, set the mark last May 3 against the Cardinals in St. Louis.
Liriano wound up with 11 K's in six innings, a high for the Bucs this season and the 12th time he reached double-figures in his career, He allowed four hits -- including two of the infield variety that added up to the only run off him. Most encouragingly, again, the lefty exhibited sharp control, walking only one. In 29 innings, Liriano has a 39-to-9 strikeouts-to-walks ratio.
Leake permitted seven hits in his six innings, and also walked one with five strikeouts.
Some of Liriano's most wicked pitches backfired on him for Cincinnati's first hit, and ultimately only run, off him with one out in the fourth. Zack Cozart beat a 2-and-1 sinking two-seam fastball into the ground in front of the plate and the ball trickled 45 feet up the third-base line, where Liriano fielded it, but couldn't get a grip good enough for a throw. That last part didn't really matter, for Cozart was already within a step of first base.
Cozart took second when Joey Votto similarly grounded out on a ball pulled 20 feet to the right of second -- and wheeled all the way around to score as Brandon Phillips pushed a ball to the right side and dove across the first-base bag to beat it out for a single. Liriano, who had covered the base on the play, paused only briefly to stare down first-base umpire Bob Davidson's call -- but that was all the window Cozart needed to steal the run.
Cincinnati doubled its lead in the eighth on Votto's run-scoring single off lefty reliever Tony Watson.
And, still, the Pirates got the potential tying runs on base in the ninth against Chapman, on Marte's leadoff pinch-hit single then a two-out walk by Jordy Mercer. It only turned out to be the last opportunity squandered.
"You just got to keep plugging," Hurdle said after the Pirates had been doomed to their first series loss since May 3-5, when the Nationals took two-of-three in Pittsburgh. "They're coming. The longer we got without them, the better the chances of getting them."
There are five starting pitchers banking on that.
Tom Singer is a reporter for MLB.com and writes an MLBlog Change for a Nickel. He can also be found on Twitter @Tom_Singer. This story was not subject to the approval of Major League Baseball or its clubs.