Leake, Reds keep Bucs' bats silent in series
Right-hander fires six scoreless innings to secure his fifth victory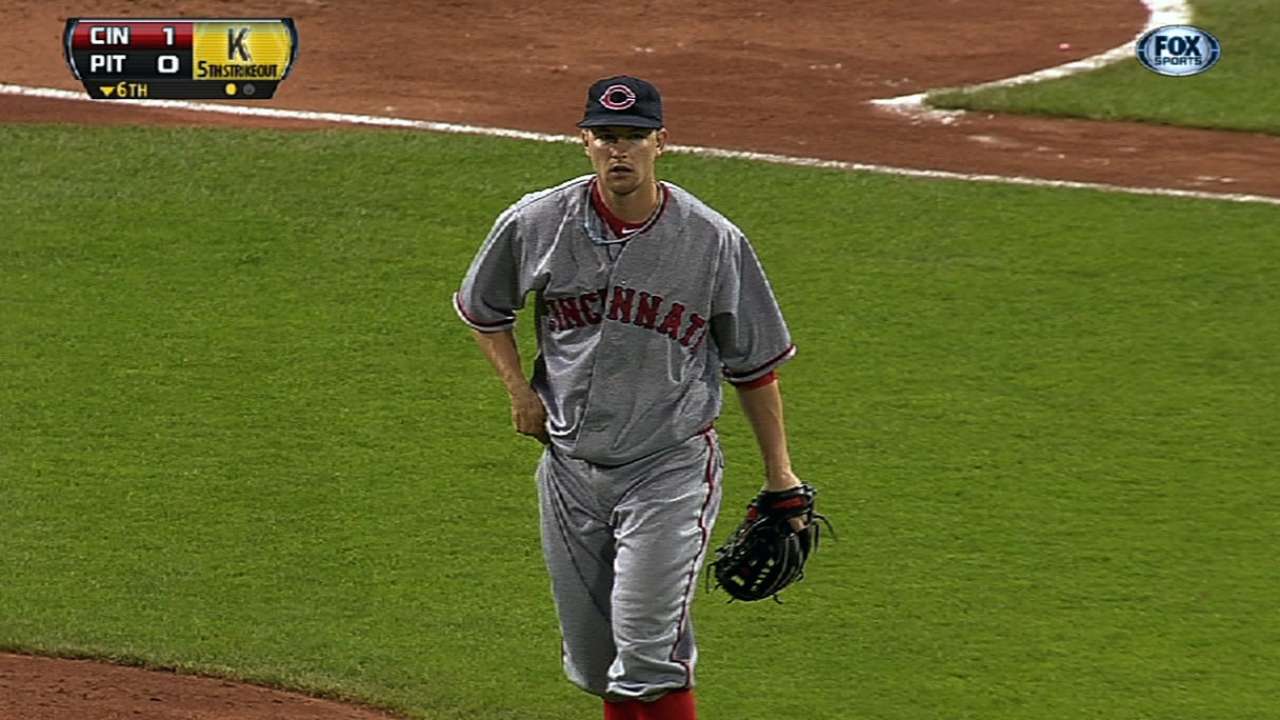 PITTSBURGH -- When rookie Tony Cingrani sizzled for the Reds for about a month in the absence of injured ace Johnny Cueto, fifth starter Mike Leake was paying attention. Some wondered if Leake was on the hot seat, but he knew there was only one way to stay off of it.
Pitch very well.
Leake did just that and has been even better since Cingrani was sent back to the Minors upon Cueto's return. In a 2-0 Reds win over the Pirates on Saturday, Leake scattered seven singles, but never let a runner past second base.
"I'm not worried about giving up hits," said Leake, who walked one and struck out five. "It's happened my whole career and my whole life. It's part of my game. I've just got to make sure they don't multiply."
The math has been pretty simple for Leake of late. In his last four starts, totaling 27 innings, he's allowed two runs with only one being earned. In 11 starts overall, Leake is 5-2 with a 2.75 ERA.
"That's what you work hard for," manager Dusty Baker said. "Most people respond when you show a little faith in them. I told Leakie, he's pitching, big time ... I'm just glad he's doing what he's doing. He's helping us and helping himself."
As well as Leake pitched, the early innings were dominated by Pirates lefty Francisco Liriano, who retired his first 10 batters. That streak included seven consecutive strikeouts, which matched a Pittsburgh club record.
"You could tell from the start, he was going to have a pretty good game, so I told myself, 'It's going to be a tough one and keep it close,'" Leake said.
Despite not getting a ball out of the infield during the fourth inning, the Reds still managed to scratch together a run.
Zack Cozart notched Cincinnati's first hit -- beating out a chopper near the mound to Liriano. Cozart went to second base on Joey Votto's squib in front of the plate for a groundout. Brandon Phillips followed with a check-swing roller towards second base and barely beat the toss to a covering Liriano with a head-first slide.
While being waved around by third-base coach Chris Speier, Cozart never stopped running and scored standing up.
"I know when Brandon hits it, that the pitcher had to cover right there," Cozart said. "So I had an idea already, but Spei was waving me around, too. It was a good job on his part, too. It was perfect, because it was a bang-bang play and Liriano probably thought he was out and hesitated, and I beat the play at home."
Liriano was finished after six innings and 96 pitches, but yielded only four hits and one walk to go with his 11 strikeouts. In the top of the eighth against lefty reliever Tony Watson, Votto's soft roller through the middle went for an RBI single that scored Shin-Soo Choo for a second run.
Leake's final inning presented a two-out jam on back-to-back singles by Garrett Jones and Russell Martin. But Leake escaped with a Pedro Alvarez groundout to second base on his 94th and last pitch.
Sam LeCure pitched a perfect seventh, but the Pirates threatened in the final two innings. Jonathan Broxton gave up singles to his first two batters, but escaped in the eighth. Closer Aroldis Chapman allowed a leadoff hit and two-out walk in the ninth to bring the potential go-ahead run to the plate. Chapman struck out Alex Presley with a 100 mph fastball to get his 14th save and make it back-to-back shutouts of Pittsburgh in the first two games of the three-game series.
Leake became the third Reds starter to reach five wins. Since his arrival to the Reds in 2010, he has always withstood challenges to his spot on the roster multiple times and shown resilience.
"It definitely helped a little bit. I didn't want [Cingrani] to take my spot. It definitely gave me motivation," Leake said. "Part of me says, 'Don't worry about it,' and part of me says, 'Get a little bit of attitude.' A third part is to worry about it. You try to forget about that third part."
Mark Sheldon is a reporter for MLB.com. Read his blog, Mark My Word, and follow him on Twitter @m_sheldon. This story was not subject to the approval of Major League Baseball or its clubs.