Mets unable to find offense vs. Fernandez, Fish
New York held to three hits through seven by rookie, end shutout late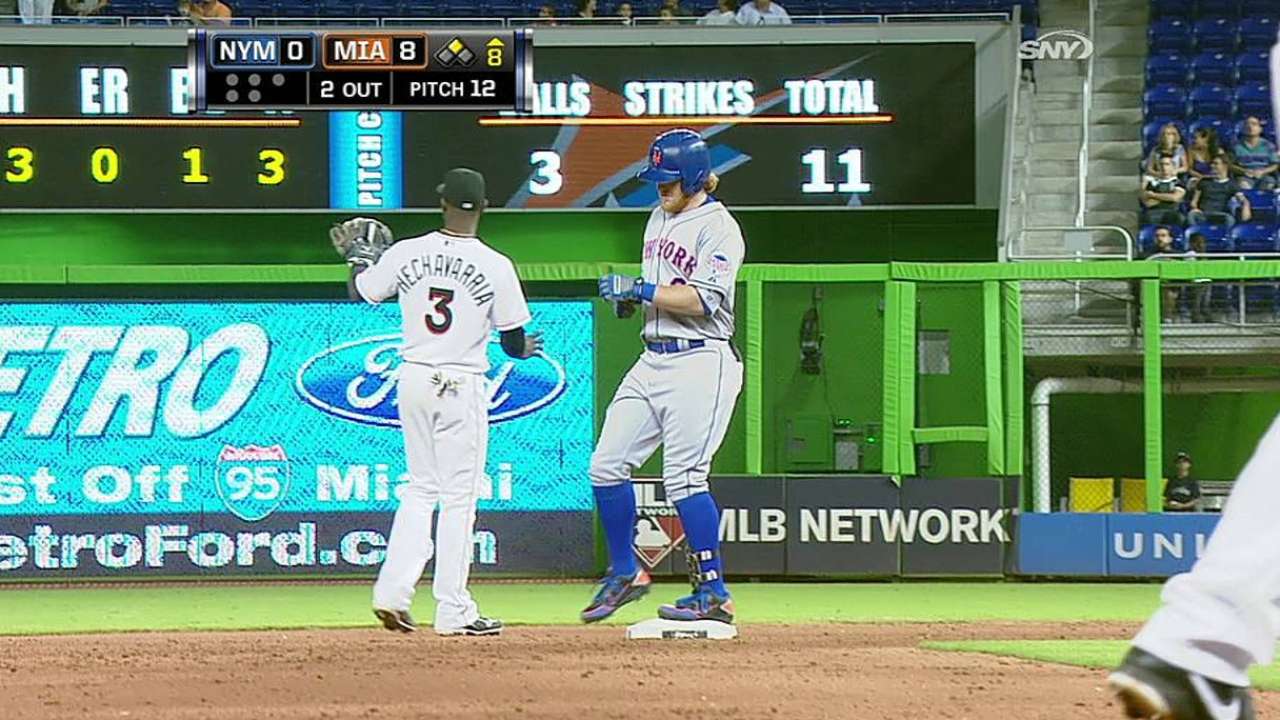 MIAMI -- The good vibes the Mets established in a four-game sweep of the Yankees have officially dissolved. All it took was two losses against the Marlins, who have won a total of two series on the season.
Both have come against the Mets.
Securing the second of them Saturday at Marlins Park, the Fish leaned on rookie starter Jose Fernandez in an 8-1 victory over the Mets, who have now scored two runs in two games against the team with the worst record in the Majors.
"I'll tell you a recurring theme: we're not getting any hits," manager Terry Collins said.
Omar Quintanilla mustered two singles and Lucas Duda added one. But that was all the Mets could do against Fernandez, who did his best to out-hit the visitors by himself. The rookie singled home a run in the second inning, then doubled to spark a four-run, nine-batter rally off Robert Carson and Greg Burke in the seventh.
They were insurance runs the Marlins did not need. Facing spot starter Collin McHugh, Miami took an early lead on Chris Coghlan's RBI single in the first inning, extended it once on Fernandez's hit in the second, then again on a sacrifice fly by Adeiny Hechavarria and a run-scoring triple from Jeff Mathis in the fourth.
McHugh did not record an out in the fifth, allowing six hits and three walks and striking out one in four-plus innings. He should promptly return to the bullpen unless Jon Niese, who was originally scheduled to start Saturday, suffers a setback in his rehab from left shoulder tendinitis. Collins reiterated Saturday that he only expects Niese to miss one start.
"I did everything I wanted to do in preparation for this game," said McHugh, who had pitched only three innings in two weeks since returning to the big leagues. "I did everything I could have done in preparation for this game. I don't think time off had anything to do with it. I just wasn't as sharp as I wanted to be today."
Still, with Niese's return pending, Matt Harvey starting Sunday and Zack Wheeler's callup only weeks away, the Mets' pitching situation is not nearly as dire as their utter lack of offense. Outside of a nine-run explosion Wednesday at Yankee Stadium, in which they did the bulk of their damage in the first inning, the Mets have produced shockingly low offensive totals. Ignoring Wednesday's game, they have averaged 1.7 runs per game over their last seven contests. And they have scored a total of five runs over their last 32 innings.
Such a strong point over the first few weeks of the season, New York's offense ranked 29th in the Majors in May to fall to 23rd overall. And there is no obvious blueprint for the Mets to escape this funk. They have tried taking extra batting practice. They have tried skipping batting practice. They have made mechanical adjustments. They have watched hour after hour of video.
Complicating matters is the lack of an obvious culprit. Ike Davis and Ruben Tejada may have taken the most heat in recent weeks, but they are hardly the only Mets not hitting. Daniel Murphy has been hot for two weeks, and Duda has had his moments. But John Buck has been ice-cold since mid-April, Tejada is now on the disabled list and even David Wright is 0-for-his-last-13.
"We just got done winning five games," Buck said. "[Our offense] seemed to be good enough then. We were coming up with clutch hits and getting stuff done. We just ran into two guys who have thrown really well."
Much of Saturday's trouble indeed started with Fernandez, one of the best young pitchers in the game. Collins noted that the rookie "doesn't pitch like he's 20," while Marlins manager Mike Redmond said he has "great stuff," before correcting that to "tremendous stuff."
"As he continues to learn in the big leagues and the more confidence that he gets," Redmond said, "the better he's going to get."
But for the Mets, it is not only Fernandez they have been unable to hit.
"We've been struggling offensively for a while," Collins said. "The Yankees series, Murph and David were red hot. You looked up and they were always on base, and that made it a little easier. We're not doing that right now. We're looking to get some people going. It just seems like if we get someone on, we don't capitalize on it."
Anthony DiComo is a reporter for MLB.com. Follow him on Twitter @AnthonyDicomo. This story was not subject to the approval of Major League Baseball or its clubs.