Fowler's walk-off ensures comeback isn't wasted
Rockies take Dodgers to extras again, winning this time in 10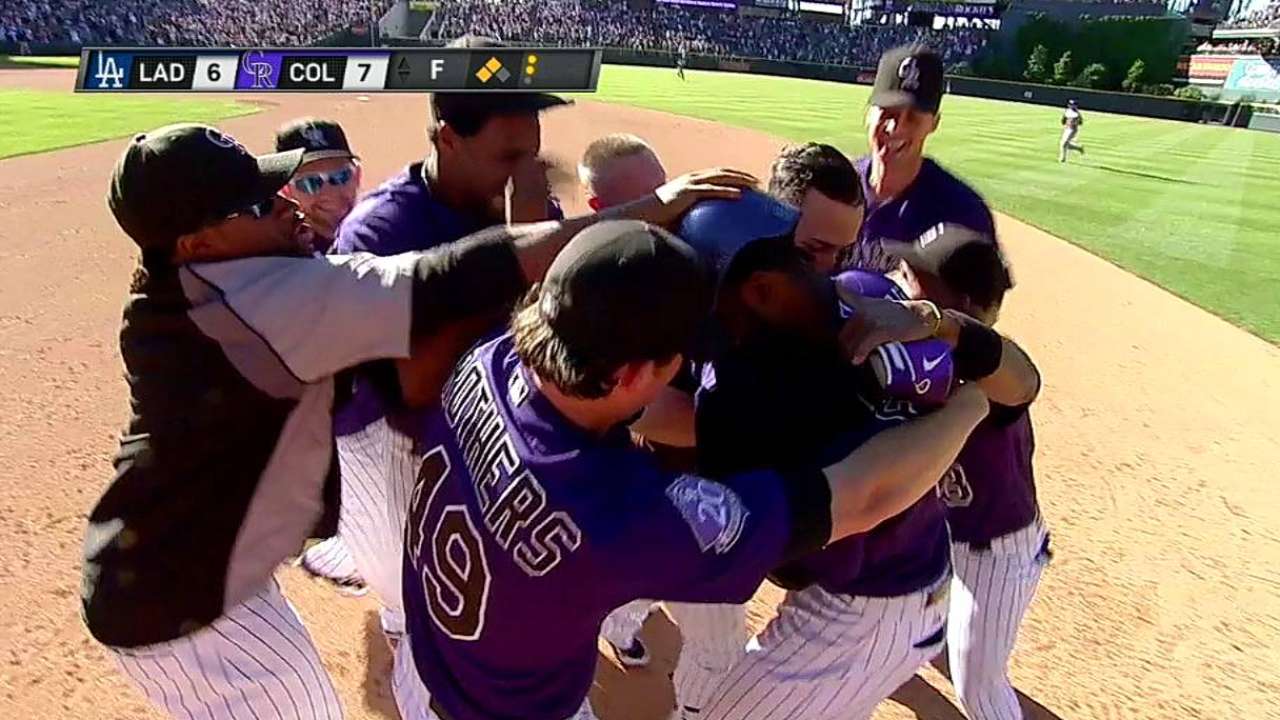 DENVER -- Just when Saturday afternoon's matchup with the Dodgers looked like a familiar tale of comeback followed by heartbreak for the Rockies, Dexter Fowler made sure it would not be a repeat of Friday night.
Fowler roped a walk-off, 10th-inning single inside the first-base line to easily score Yorvit Torrealba and give the Rockies a redemptive 7-6 victory at Coors Field. Two catchers -- Torrealba and pinch-hitter Wilin Rosario -- singled to set up Fowler's winning hit on a curveball high in the zone off Dodgers reliever Matt Guerrier (1-2).
The victory ended a three-game slide and kept the Rockies from falling to .500 for the first time since April 2, their second game of the season. Colorado has dropped six of its past nine.
"I was really worried," left fielder Carlos Gonzalez said. "Every time it seems like we come back, but it's been tough for us to get the big hit, and really excited to see Dexter getting the big hit, and most important, getting the 'W.'"
Before Fowler stepped to the plate, Rosario extended the inning when he hit a soft grounder and raced down the first-base line to barely beat out a throw from Dodgers shortstop Nick Punto. With two out already, it kept the rally alive and saved the Rockies from going to the 11th.
"It's a hustle play right there, extended the inning," Rockies manager Walt Weiss said. "You don't see [Rosario] getting a lot of infield hits, but he actually runs pretty well for a catcher. He got out of the box well, and that's a huge play."
But the rally never would have been possible without two outstanding defensive plays from Gonzalez, who finished 2-for-5 with a two-run homer.
In the third, a single to left from Jerry Hairston scored Scott Van Syke and gave the Dodgers a 3-0 lead. When Mark Ellis tried to score from second, Gonzalez gunned him down with a spot-on throw to Torrealba, who quickly controlled the ball and tagged Ellis as he slid into home plate. Los Angeles did not score again in that inning.
In the fourth, Gonzalez sprinted toward shallow left-center field and laid out to snag a Punto pop-up, allowing Rockies starter Jhoulys Chacin to escape with a 1-2-3 inning.
"I always try to help my pitchers," Gonzalez said. "It seems like little things, but at the end of the game, that's a big difference. I saved a run and possibly another rally when I made the diving catch."
Fowler's walk-off made a winner of Matt Belisle (3-2), who pitched a scoreless 10th. With closer Rafael Betancourt headed for the 15-day disabled list Sunday, Rex Brothers pitched a scoreless ninth ahead of Belisle.
It was set up by a two-run Michael Cuddyer homer in the seventh that knotted the score at 6 and ultimately forced extra innings for the second time in as many games, answering the Dodgers' two-run sixth.
Colorado first re-claimed a lead in the fifth inning, when Gonzalez lifted the first pitch he saw into the first row of the left-field seats to put the Rockies ahead, 4-3. Gonzalez's 14th homer of the season came with Fowler on base after the center fielder hit an RBI single, scoring Torreabla.
"It was definitely a good game," Cuddyer said. "It was a game that we needed to win, not because our season would have ended if we'd lost, but we needed to get our minds in a good place. A win like that hopefully will be able to do that and give us some momentum going into tomorrow."
Gonzalez's two-run homer interrupted an effective outing from Dodgers starter Zack Greinke, who gave up four earned runs, three walks and struck out three in 5 1/3 innings.
"I haven't pitched well a whole lot this year," said Greinke, who had surgery on a fractured left collarbone in April. "I expected to do better the first couple of outings than I have. I've got to make the adjustments and pitch better."
Chacin's toughest out came from a surprising bat -- that of Dodgers' catcher Tim Federowicz. Federowicz entered the game hitting .136, but sent a hanging Chacin slider over the left-field wall in the third. It was the first home run of his 23-game career.
Federowicz then dropped a double into a gap in left-center to drive in two more runs in the sixth and erase the Rockies' brief lead. The two previous batters, Skip Schumaker and Punto, sprayed the ball into the outfield for singles, and Federowicz wasted no time picking up his second and third RBIs of the year.
Lefty Josh Outman took over for Chacin in the seventh and quickly recorded two outs before Weiss replaced him with right-hander Edgmer Escalona. Escalona surrendered a double to the first batter he faced, Hairston. Four pitches later, a Schumaker single to center scored Hairston and handed the Dodgers a 6-4 lead.
Productive fifth and seventh innings for Colorado ended the offensive frustration that plagued the Rockies through much of the week. Cuddyer and Todd Helton reached base with consecutive singles in the second before third baseman Nolan Arenado doubled into the right-field corner for Colorado's first run.
Ian McCue is an associate reporter for MLB.com. This story was not subject to the approval of Major League Baseball or its clubs.