Short-handed Dodgers may make changes after loss
Crawford exits injured, Mattingly gets tossed in walk-off loss to Rox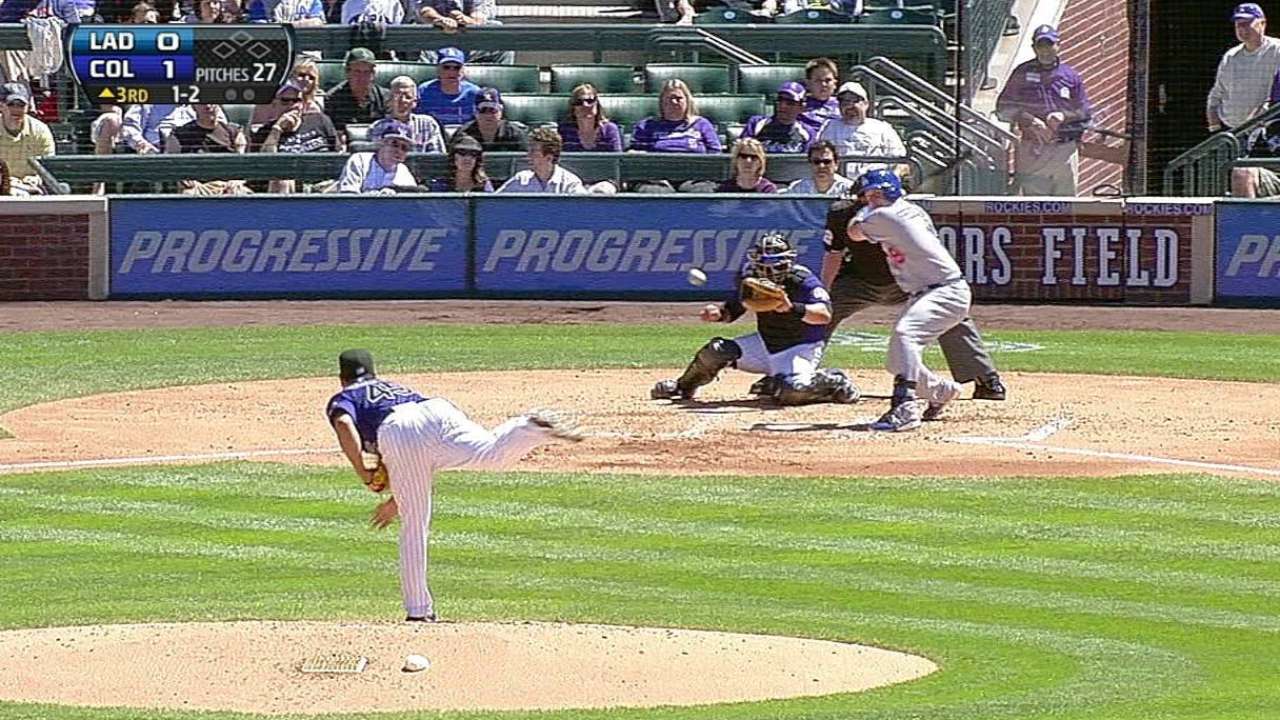 DENVER -- Carl Crawford got hurt, Zack Greinke got hit, Don Mattingly got heaved and the Dodgers got beat by the Rockies on Saturday, 7-6, in 10 innings.
And as a result of all that, Yasiel Puig might be a Dodger by Sunday, when Mattingly isn't even sure who he'll send to the mound.
"We have to get some bodies here," the skipper said. "We're thin in the outfield already. We have to do something. It's kind of ridiculous the last couple of days, we have two outfielders missing, and it's not bruises for a couple days. You worry about these injuries long-term."
Mattingly didn't say the something they have to do would be promoting the Cuban sensation Puig, but he didn't say it wouldn't be, either. Puig, after starting two games in center field for Double-A Chattanooga, was not in the Lookouts' starting lineup Saturday.
"With Carl coming out of the game, we are uncertain as to his status, so we pulled Puig as a precaution," general manager Ned Colletti said. "He has not been recalled and he is not hurt."
Another player possibly heading to Denver is pitcher Matt Magill, as Sunday's scheduled starter, Hyun-Jin Ryu, hasn't healed from a bruised left foot and sounded like he might be skipped.
Mattingly was tossed by the time Ronald Belisario allowed a tying two-run homer to Michael Cuddyer in the seventh inning and long gone when Dexter Fowler followed a couple of soft two-out singles in the bottom of the 10th with a walk-off single down the first-base line against Matt Guerrier.
Greinke couldn't protect a 3-1 lead, charged with four runs on nine hits with three walks and three strikeouts in 5 1/3 innings. In four starts since returning from a broken collarbone, he hasn't pitched past the sixth inning. He made a season-high 108 pitches, but lacked his usual fastball velocity.
"I haven't pitched well a whole lot this year," said Greinke, who rushed back from collarbone surgery with only one Minor League rehab start. "I expected to do better the first couple of outings than I have. I've got to make the adjustments and pitch better."
Crawford returned from a day off from soreness after running into the wall in Anaheim by pulling up on his second double of the game and leaving for a pinch-runner. The club announced it was a left hamstring cramp and not a strain, like the injuries that have sidelined Hanley Ramirez and Matt Kemp.
Crawford said he believed this injury is no worse than tightness he felt earlier this season that held him out for two games. But Mattingly has seen Ramirez and Kemp go down, and he doesn't know what to believe.
"It's never good," he said. "We have to make some moves."
Mattingly was ejected by first-base umpire Brian Knight for arguing in the sixth inning, when umpires ruled that Greinke short-hopped a line drive by Yorvit Torrealba. Replays seemed to support the umpires, and Mattingly acknowledged afterward it was probably too close to overturn.
The loss stole the luster on a standout game from third-string catcher Tim Federowicz, who slugged his first Major League home run and added a two-run double. Federowicz started to give a rest to Ramon Hernandez, who had two productive starts in place of the injured A.J. Ellis.
The way the Dodgers catchers have been playing lately, maybe they should call up a couple more of them.
Meanwhile, the bullpen roulette that the Dodgers have been playing throughout May carried over to the start of June. Lefties Paco Rodriguez (one inning) and J.P. Howell (2 1/3 innings) were nearly perfect, but Belisario followed up his rare save Friday night with a blown save on the home run by Cuddyer.
"A little up in the zone and it carried," said Federowicz.
Colorado's bullpen kept the Dodgers hitless over the final 3 1/3 innings, but the Rockies got to Guerrier after he relieved Howell with one out and nobody on in the 10th. Guerrier retired Nolan Arenado on a grounder, but Torrealba bounced a single past third baseman Juan Uribe, who was guarding the line. Pinch-hitter Wilin Rosario legged out an infield single to short, then Fowler laced a Guerrier breaking pitch down the line for the game-winner.
"You don't see [Rosario] getting a lot of infield hits, but he actually runs pretty well for a catcher. He got out of the box well and that's a huge play," said Colorado manager Walt Weiss. "Dex [Fowler] has been battling, and he's had some good at-bats here the last several days and drawn some walks and getting some hits. That was as big as any hit he's had."
"We had a chance to win and didn't get the outs we needed," said Mattingly. "And we have a chance to win tomorrow. No matter who we have, we've got to stay right there."
Ken Gurnick is a reporter for MLB.com. This story was not subject to the approval of Major League Baseball or its clubs.