Braves youth clinic a Heritage Weekend hit
Former Braves on hand to offer tips and encouragement to young players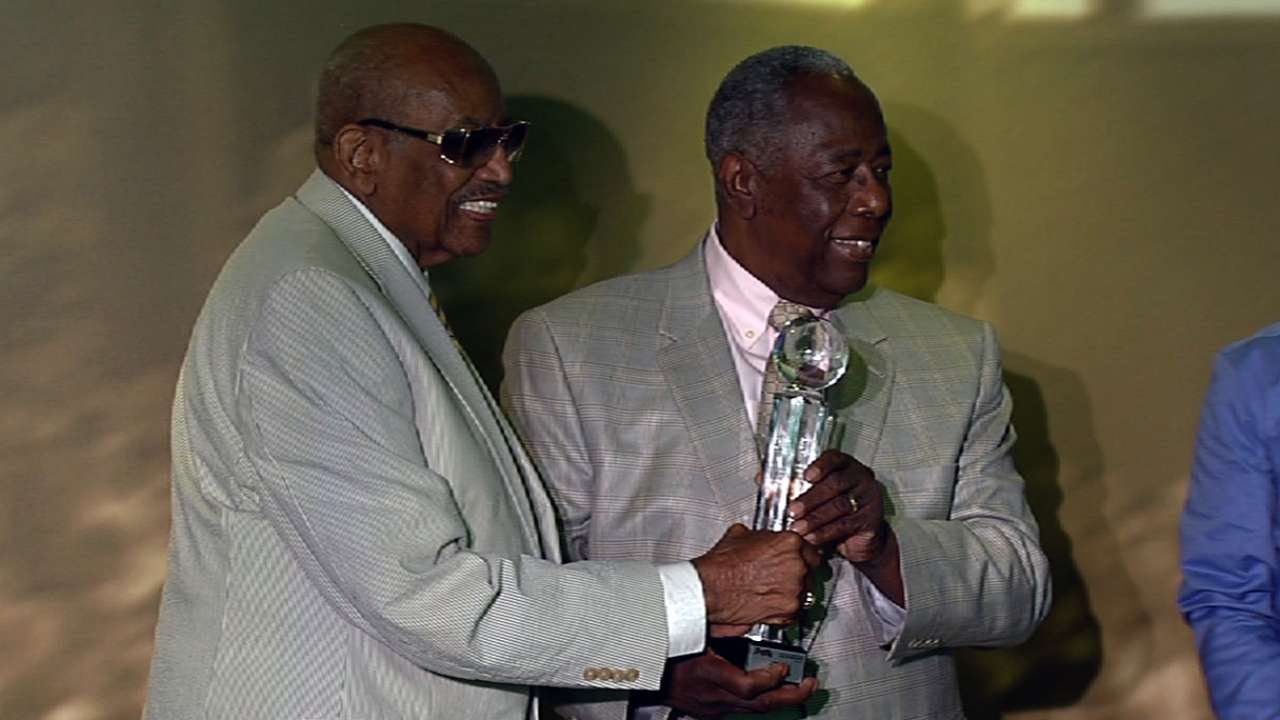 ATLANTA -- Under the watchful eyes of Braves alumni and members of the East Cobb Baseball Academy, 150 children ages 8-12 honed their baseball skills at the Braves' Heritage Weekend Youth Baseball Clinic on Saturday morning at Turner Field.
The kids rotated through instruction stations around Turner Field during the free clinic, participating in fielding drills on the outfield grass, taking batting practice in the Braves' batting cages and receiving pitching instruction in the visitors' bullpen in left field.
"We've got kids from all over the Southeast, an opportunity to give back to the community a little bit and help these guys understand that the game of baseball can be fun," said East Cobb Baseball Academy owner Chance Beam. "It's not just monotonous as a lot of kids have seen. We're giving these guys some good fundamentals so that they can go back to their teams and have a good time with baseball and enjoy and also be successful."
Former Braves Dwight Smith, Greg McMichael and Marty Perez were on hand to offer tips and encouragement to the campers, as were players and other coaches from the East Cobb Titans.
"Any time you get a chance to come on here and be in the outfield where Justin [Upton] and [Jason] Heyward and B.J. [Upton] and them roam, and you get to see them on TV and tell your friends, 'I was on that field,' that's got to be a thrill to them," said Smith, a member of two pennant-winning Braves teams in 1995 and '96. "I think it's an experience they're going to remember for a lifetime."
"You never know when something like this can spark a kid that would really want to be better, and be able to experience something like this," said McMichael, who played for the Braves in five of his eight seasons as a Major League reliever.
The clinic kicked off Saturday's slate of events for the Braves' inaugural Heritage Weekend, which ran throughout this weekend's series against the Nationals. Even more than an opportunity for instruction, the clinic offered its participants the chance to live out their dreams in the same facilities the big leaguers use.
"When they said it was going to be on Turner, it really didn't dawn on me," Beam said. "And I walked in and was like, 'Wow, this is pretty cool getting to be on a big league ballpark,'
"I'm 37 years old, and this is the first time I've been on Turner Field. These kids [who are] 8-12 years old get to be on Turner Field, it's a great experience for them, and I don't know who's had more fun, the kids or the coaches."
Eric Single is an associate reporter for MLB.com. This story was not subject to the approval of Major League Baseball or its clubs.