Williams makes just one mistake in loss to Astros
Righty surrenders two-run homer, receives no support from lineup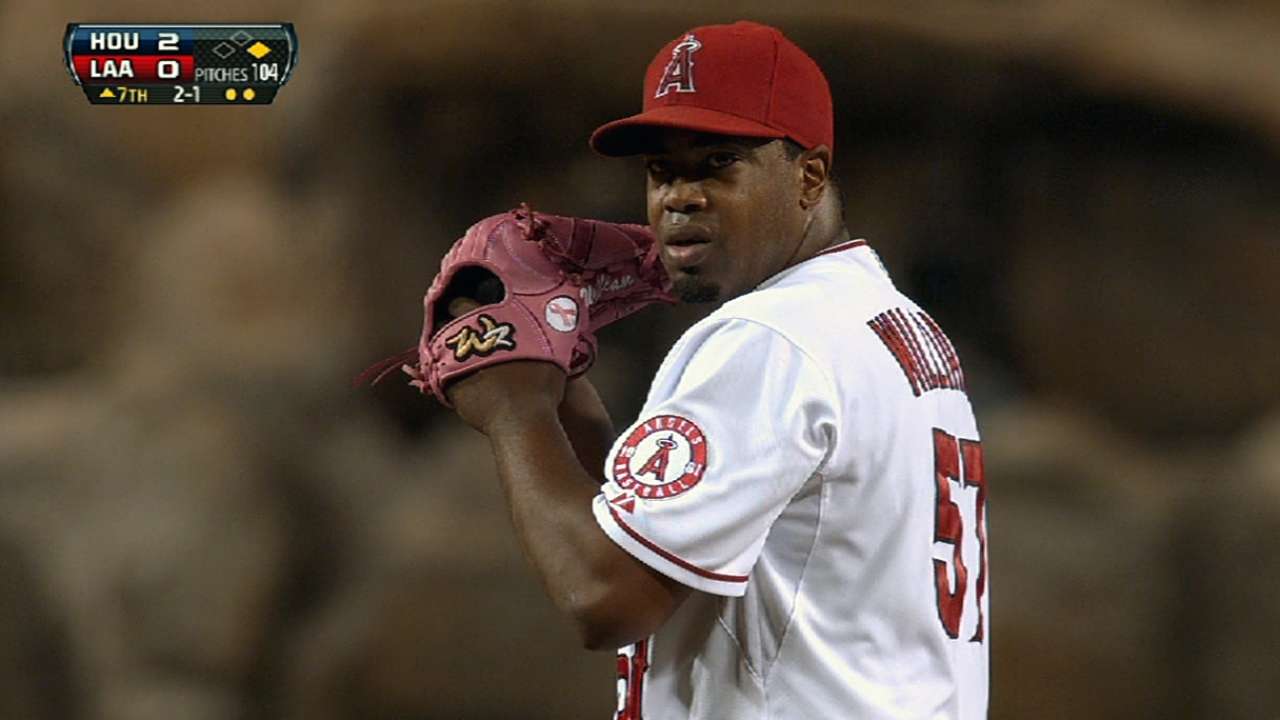 ANAHEIM -- Jerome Williams stated his case to remain in the rotation on Saturday, but there's one pitch he would like to have back.
Williams cruised through six innings against the Astros before Chris Carter lined a two-run homer to left in the seventh to give Houston its fourth straight win, 2-0, in a pitchers' duel at Angel Stadium.
After walking leadoff hitter Brandon Barnes, Williams retired 19 of the next 22 Astros before Carter homered into the Angels' bullpen on a sinker that stayed up in the zone.
"I pitched well through the game, but that one pitch to Carter, I just left it up, and he took advantage of it and he hit it out," Williams said. "It was out over the plate, and he got a hold of it. I think that was the only mistake I had."
The Angels threatened in the ninth against Houston closer Jose Veras, but with two out and runners on the corners, Mike Trout grounded out to third to end any hopes of a comeback. The Angels were 1-for-7 with runners in scoring position.
"Jerome pitched a strong game, certainly deserved a better fate. We just didn't support him," manager Mike Scioscia said. "We had some chances with runners in scoring position and really couldn't get it done."
Before the game, Scioscia said that the club would scrap its six-man rotation following an off-day on Thursday, but he would not reveal who his five starters would be.
Williams transitioned to the rotation from the bullpen in May, so he's a likely candidate to return to a relief role. Still, the veteran is 3-1 with a 2.14 ERA over his last five starts, so there's no guarantee he will be the odd man out.
"I think right now it's kind of a unique situation, because we're looking at six guys that are getting into their game, and it's a nice issue to have," Scioscia said after his club dropped its second straight game to Houston. "But Jerome has certainly held up his end of the bargain. There's no doubt about that."
Despite losing his first game since May 5, Williams was solid, charged with just the two runs on three hits with six strikeouts and three walks.
"I'm satisfied," he said of his string of solid starts. "I did what I needed to do. I kept the guys in the hunt for a win. Hopefully, I can keep on doing that. If I do earn a start, I do. If I don't, I don't. No matter what, I'm going to go out there and pitch no matter what role I'm in."
The Astros' rotation is set, however, with right-hander Bud Norris the clear-cut ace. Norris continued to be a problem for the Angels, beating them for the third time this season.
"I'm sure they're going to find some things on me here soon," said Norris, the first pitcher to go at least six innings in each of his first three starts against the Angels and allow a total of one run. "They're a good lineup, they know what they're doing over there, but I've got to stick to my strengths and keep going out there and doing what I'm doing, because obviously, it's been working so far."
Norris allowed just three baserunners through five innings before encountering trouble in the sixth. With two out, he issued consecutive walks to Albert Pujols and Josh Hamilton before Mark Trumbo hit an infield single to third, but Howie Kendrick struck out to end the threat.
"He threw me a really good slider," Kendrick said. "So he made his pitch and got me out."
Trout doubled twice off Norris but couldn't score. He was stranded on second in the first, as Norris struck out Pujols and Trumbo to end the inning, and was picked off by Norris in the sixth.
"I didn't know he had that good of a move," Trout said. "I was taking an extra step toward third, and it was perfect timing, and he got me."
Trout had a chance to put the Angels on the board in the seventh, but he grounded out to third with runners on first and second.
The Angels are now 3-5 against the Astros this season. The top two teams in the American League West, Texas and Oakland, are a combined 14-1 against Houston.
Still, the Angels are 10-4 in their last 14 games.
"Losing two games isn't going to hurt us," Kendrick said. "We've got to continue to just roll and get good things going. As soon as you start worrying about two games, in the grand scheme of things, that's when things start to go south. We're fine. We'll bounce back and keep moving."
Austin Laymance is an associate reporter for MLB.com. This story was not subject to the approval of Major League Baseball or its clubs.