Happ preparing for 'worry-free' return to mound
Blue Jays starter rehabbing knee injury; head OK after being struck by liner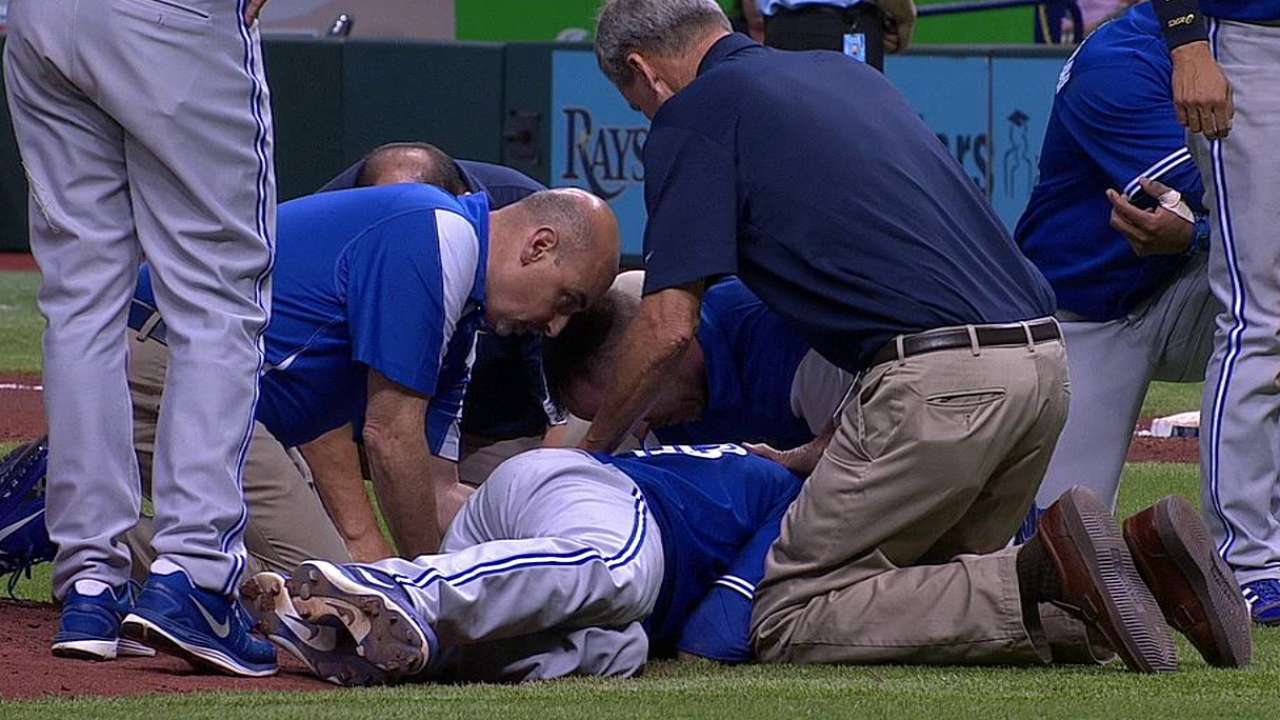 DUNEDIN, Fla. -- J.A. Happ still has to wait a bit longer before he can make his first pitch with someone in the batter's box. He'll have to progress from playing catch to throwing off a mound before pitching in a game, and he'll practice fielding comebackers to the mound.
But he's definitely thought about how that first pitch is going to unfold.
"In my mind, it's going to go, hopefully, worry-free," Happ said. "But there's only so much you can do. If you see it, you see it, you try to react. And if you don't, you're unfortunately at the mercy of whatever happens."
Happ knows that more than most. His most recent pitch, a down-and-away fastball to Tampa Bay's Desmond Jennings on May 7, was lined back at his head and hit him just behind his left ear, making a sickening crack that silenced Tropicana Field. Happ fell to ground, but he never lost consciousness and, somehow, the worst of the damage was to his right knee, not his head.
Sitting in a conference room at the Blue Jays' Minor League complex, where he's working his way back to full health, Happ remembered telling Toronto's trainers that he felt something in his knee when he went down. He watched the video that night and noticed that his ankle didn't turn with the rest of his body. As a result, he sprained "pretty much everything" in his knee: his MCL, PCL and lateral ligament.
The initial concern after Happ's injury, of course, was the possible damage to his head. But a series of tests and a CT scan revealed that he had avoided a concussion. The stitches came out a week later, and the minor fracture just behind his left ear has mostly healed on its own, as expected.
His hearing in his left ear was limited at first, but it's "close to back to normal now." He had a lot of fluid rush into his inner ear, but that's no longer an issue. All things considered, he's a little lucky to be in the shape he's in.
"I really think, actually, my ear took a little of the blow. I have the fracture back [behind his ear], but if that would've been straight on without hitting the ear cartilage before, it definitely could've been worse," Happ said. "You try not to think about the what-ifs, because that's a dangerous game. But definitely fortunate."
Yet Happ was still sent to the 60-day disabled list because of his sprained right knee. He's been playing catch for the past week and a half with a brace on his knee to help stabilize him. He feels "pretty good" overall, with more good days than bad ones, and says his recovery is heading in the right direction.
Happ's expected return date hasn't changed much since he was moved to the 60-day disabled list. He hopes to start pitching in Minor League rehabilitation games by mid to late June then return to the Blue Jays rotation as soon as he's eligible to be activated on July 7.
"When the other part of your body's fine and the arm's fine and your head's healed, and you're just waiting on your knee to be able to stabilize you enough to get back there, the waiting game is frustrating," Happ said.
Happ said he doesn't remember much that happened the night he was injured. In fact, he said, he's not even sure he can recall feeling the ball leave his left hand. He said it felt more like someone ran into him from first base or that someone kneed him in the head.
"It was just like an explosion and a ringing in my ear," he said. "It took me a minute to realize, obviously, what had happened. I was conscious the whole time, so that was good."
He hasn't watched it at all since that night. Perhaps the most frustrating thing about it is that he couldn't have avoided the line drive. Usually, he said, a pitcher will at least get a glimpse of the ball or try to throw his glove at it. But he doesn't even remember seeing the ball off Jennings' bat.
"It's hard, just because, like anything in life, you want to get back up. That's the whole thing: If you fall down, get back up as quick as you can. So it's frustrating," Happ said. "You always wish you could do something better. Of course, I don't know what I would have done -- chase the ball down to right field or what -- but that's what's making this process frustrating, too."
Furthermore, it's unlikely that wearing anything short of a full helmet would have helped Happ in his situation. The idea of protecting pitchers on the mound came to the forefront in the wake of Happ's injury, and he's been asked about it enough recently to develop an opinion on the topic.
"There's sort of an inherent risk that we take going out there. That doesn't mean there shouldn't be protection," Happ said. "I'm just saying, that's the way the game's been played for so long, it's not always easy to introduce something new like that. ... I'm sure somebody out there is trying to work on it, but there's always going to be a risk, not only in your head, but in your face or any other part of your body.
"[Being hit by a line drive is] definitely something guys don't really talk about too much, because it's understood that it's there and it's a possibility. You don't like to think about it, obviously."
Instead, Happ will put his focus toward going through the rehab process, getting back on the mound and throwing that first "worry-free" pitch for the Blue Jays.
"It's been tough. They've done a good job of hanging in, definitely," Happ said, "but whenever we're short [in the rotation] like that, you obviously want to get back and help."
Adam Berry is a reporter for MLB.com. Follow him on Twitter at @adamdberry. This story was not subject to the approval of Major League Baseball or its clubs.