With Rollins out, Manuel hits Brown third in lineup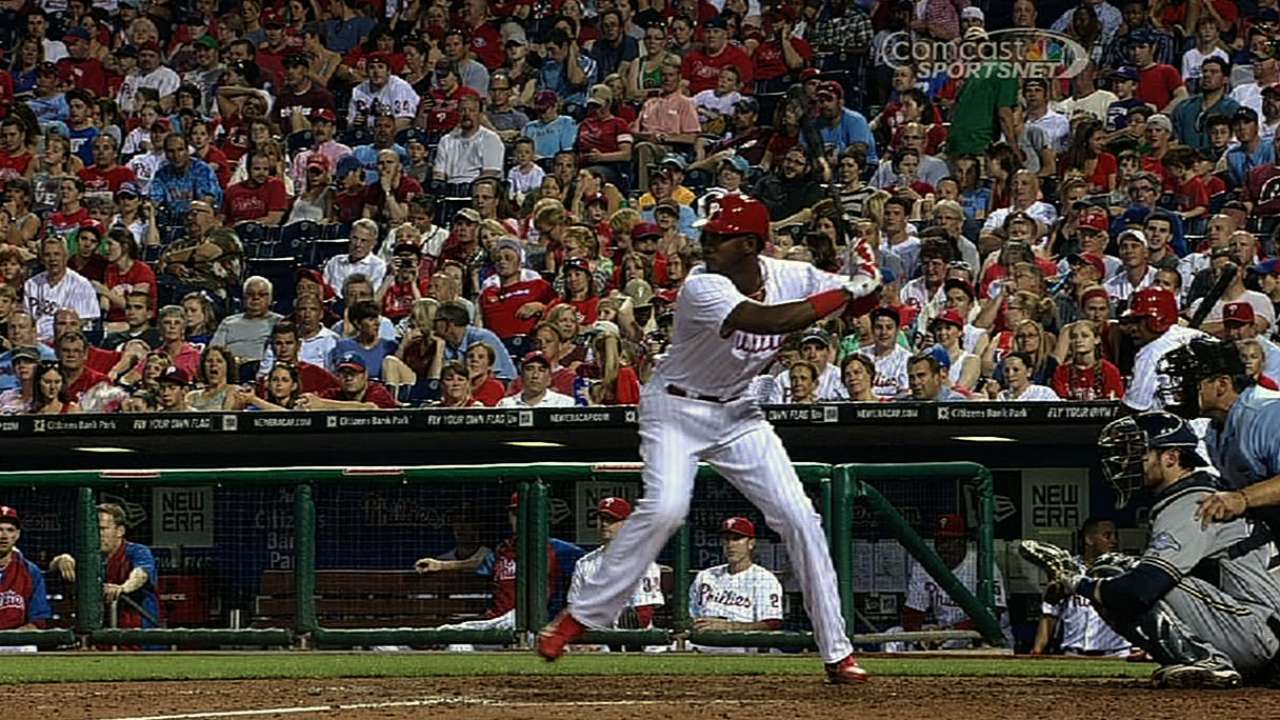 PHILADELPHIA -- Charlie Manuel has said Domonic Brown's play will tell him when he is ready to move up in the Phillies lineup.
He moved Brown into the third spot Saturday against the Brewers at Citizens Bank Park, but not because Brown's play dictated it. Manuel said Brown, who leads the National League with 15 home runs, hit third because Jimmy Rollins could not play after fouling consecutive pitches off his right foot Friday.
"His foot is sore," Manuel said. "And if you look, gosh darn, somebody has to hit third, somebody has to hit fourth, somebody has to hit fifth. I figured because Domonic is smoking 'em, I was going to stick him third. That's why he's hitting third. But I'm not saying where Domonic will hit [in the future] because he is going to tell me."
Brown hit .303 (33-for-109) with four doubles, one triple, 12 home runs and a .991 OPS in May, although he interestingly did not walk once. He has homered seven times in the past seven games, and four in the past two.
"He's hitting third today because it's the best middle of the lineup we could have with Domonic, Howie [Ryan Howard] and Delmon Young hitting three, four, five," Manuel said.
Manuel said Rollins' foot is not fractured, but is "real sore." He said it is day-to-day, and there is a chance he could play Sunday.
Todd Zolecki is a reporter for MLB.com. This story was not subject to the approval of Major League Baseball or its clubs.