K-Rod has 'payback' on mind against Phils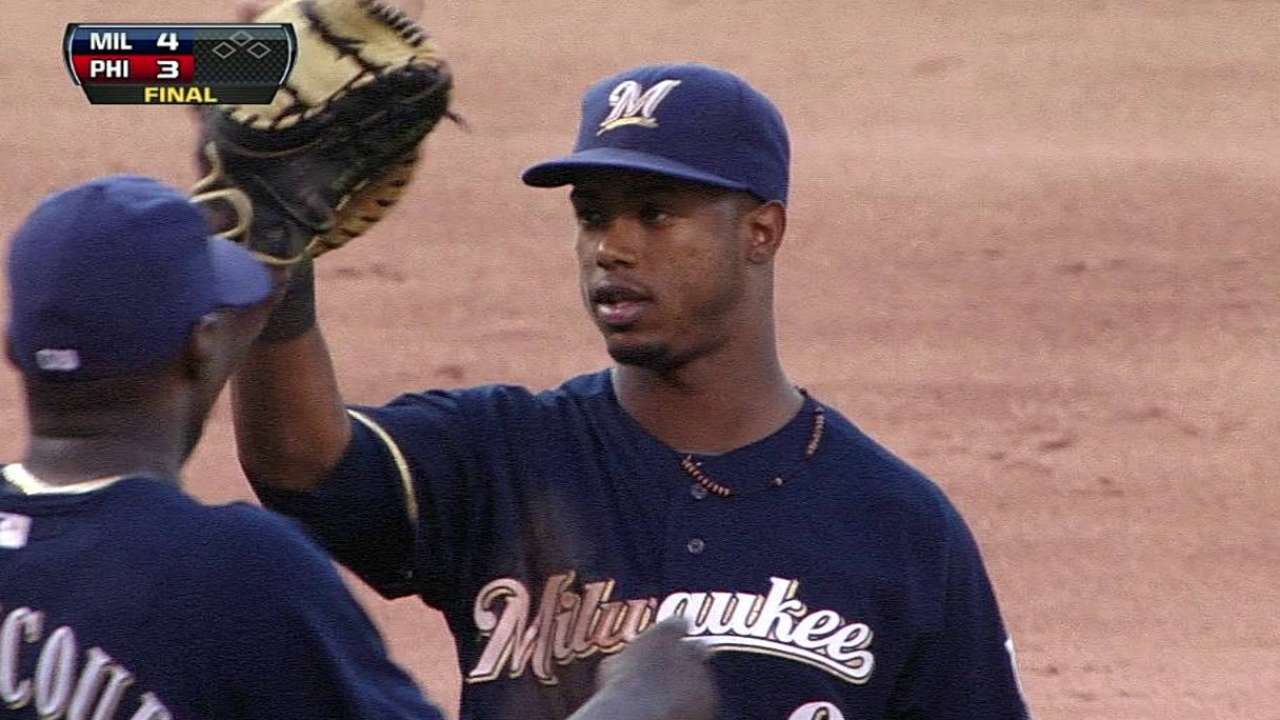 PHILADELPHIA -- Brewers reliever Francisco Rodriguez referred to his 10-pitch save against the Phillies on Friday night as a dose of "payback" for a pair of particularly painful blown saves here last season.
Make it a double dose, because Rodriguez logged another save Saturday in a tense ninth inning of the Brewers' 4-3 win.
"Last year, my two games here were really bad," said Rodriguez, who blew a 6-3 lead in the opener of a July series between the teams and a 6-5 lead in the 10th inning of the finale. "Really, really, really bad. I'm looking for some payback, definitely."
The Brewers suffered three consecutive 7-6 losses to the Phillies at Citizens Bank Park last July 23-25, with a blown save in each of the games including two charged to Rodriguez, who had been handed the closer's role because of John Axford's struggles. For the team, the series was so dismal it convinced club officials to trade away Zack Greinke when the team returned to Milwaukee. For Rodriguez, it cost him closer duties and delayed his quest for 300 career saves.
So, Friday was significant. Rodriguez recorded three outs on 10 pitches, nine strikes, for save No. 296. On Saturday, he inherited a 4-2 lead and surrendered a Freddy Galvis home run and two Phillies doubles, but escaped with help from a very fortuitous call at second base.
Phillies pitcher Kyle Kendrick was pinch-running when Rodriguez fired a pickoff throw to shortstop Jean Segura at the bag. Segura never caught it, but second base umpire Mike Estabrook's view was blocked and his call was "out." Rodriguez subsequently surrendered a double, but retired Michael Martinez on a groundout for his 297th career save.
"Sooner or later, the breaks had to go on our side," Rodriguez said. "Hopefully, we take off after that."
The teams will play again Sunday, with the Brewers seeking to finish a sweep.
"To come in here and get some kind of payback, that's nice to have," said Rodriguez, who said his blown saves last season in Philadelphia, "really hurt. Hurt because at that time last year, we were struggling, big time. Really, really bad. That's what hurt more. As far as my milestone, that will take care of itself. I don't think it's fair to think about that, especially the way that we're playing. When the time comes, I'm going to be really ready for it."
Rodriguez never expected his bid to become the 25th pitcher to reach 300 saves to take this long. He was only nine saves away and was entrenched as the Mets closer in July 2011 when that team swung a surprise trade with the Brewers on the night of the All-Star game. Rodriguez was suddenly Milwaukee's set-up man.
Saturday marked his sixth save in a Brewers uniform. He usually saves the baseballs as a memento, but awarded Saturday's to his skipper, Ron Roenicke, who logged his 200th managerial victory.
It's not the first baseball missing from Rodriguez's collection.
"I'm missing like 10. When I got traded from the Mets to here, everything got moved from my locker in New York, but they did not send the baseballs," Rodriguez said. "I got the bag in Colorado [where Rodriguez joined the Brewers] and was looking for them, but they weren't there.
"I figured they threw them away or something. I don't think it was on purpose, they probably saw the baseballs and thought nothing of them. It was my fault. If I would have let them know, it would be a different story."
Adam McCalvy is a reporter for MLB.com. Read his blog, Brew Beat, and follow him on Twitter at @AdamMcCalvy. This story was not subject to the approval of Major League Baseball or its clubs.