Five Tigers homers power Verlander past O's
Cabrera's grand slam, back-to-back-to-back shots highlight barrage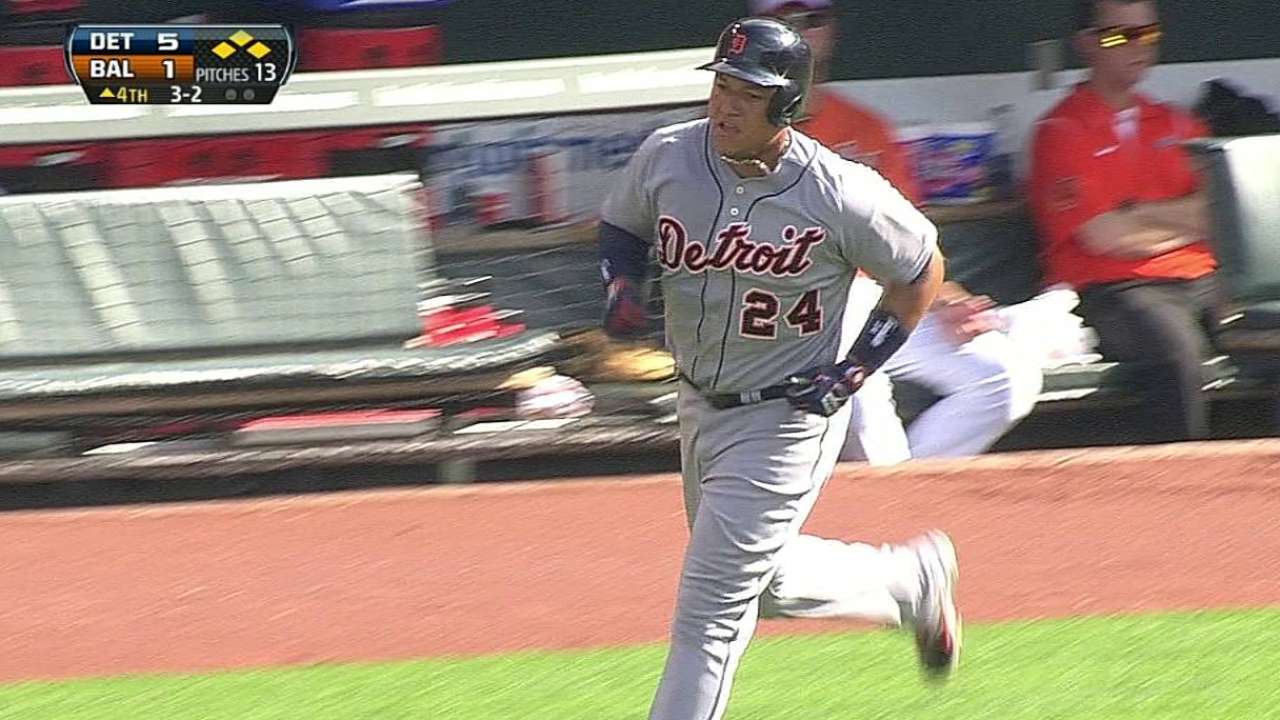 BALTIMORE -- Amazingly, Miguel Cabrera was not part of the Tigers' first back-to-back-to-back home runs in 12 years. He got involved in Saturday's fourth inning soon enough.
As surprising as consecutive home runs by Victor Martinez, Jhonny Peralta and Alex Avila were to lead off the fourth, the end result of a full count to Cabrera with the bases loaded in the same inning was predictable.
"I said from the beginning to [Doug] Fister, 'In this situation, Miguel, he likes to hit,'" Peralta said after Cabrera's grand slam sent Justin Verlander and the Tigers on their way to a 10-3 win over the Orioles. "I've known him for a couple years already. I know what he's doing. And I called it. Grand slam."
The Tigers fans rising to their feet all over Camden Yards, especially behind the visiting dugout, suggested Peralta wasn't alone.
While Cabrera rounded third base on his fourth career grand slam, those fans behind the dugout began their M-V-P chant. Not even the boos of O's fans could drown it out.
"That's great, man," Cabrera said later. "That's great support. I always say the fans from Detroit away, you can tell the difference. That makes you feel excited. Everywhere we play, we have a lot of fans from Detroit. They cheer and they're not scared. They're loud."
At the pace he's on, Cabrera's chasing a lot more than another MVP.
The third through seventh hitters in the Tigers' lineup all homered, seemingly taking out the frustrations of Detroit's four-game losing streak. Cabrera's drive, however, was the exclamation point on a historic inning.
Cabrera was already the first player in Major League history to enter June batting at least .340 with 15 or more home runs and 60 or more RBIs, according to Elias Sports Bureau. He was on the same RBI pace as Hank Greenberg from his franchise-record 183-RBI season of 1937.
One game into June, Cabrera has more RBIs through 54 games than any player in franchise history. Cabrera's slam pushed him to 65 RBIs. Nobody else this year has more than 51.
"I don't know what else to say about him," manager Jim Leyland said. "He's the best. That's all I can say."
The Tigers already had sent seven batters to the plate in the fourth inning by the time Cabrera stepped up. None had been retired. The first three all left the yard, starting with a screaming line drive down the right-field line from Martinez.
Martinez's third home run on the season moved Detroit back in front on O's starter Jason Hammel (7-3). Five pitches later, Peralta sent a fastball out to left for his sixth homer on the season, giving the Tigers their first consecutive home runs this year.
Avila's cut at a similar fastball sent his fifth homer of the year out to left-center, giving the Tigers a 4-1 lead and their first set of three consecutive home runs since Robert Fick, Juan Encarnacion and Shane Halter went deep in a row against the Twins on June 24, 2001.
"We play at a tough ballpark to hit home runs in Detroit," Cabrera said, "so when we play here, we don't worry about swinging hard. We want to put the ball in play and try to make something happen. We know if we connect with the ball, we have a good chance to get it out."
Hammel left one controversial pitch later, a hanger near Matt Tuiasosopo's head. His quick reaction allowed him enough time to put his left shoulder in the way. Plate umpire Hunter Wendelstedt's ejection of Hammel was almost as quick.
"It was a breaking ball," Tuiasosopo said, "but the pitch was at my head. I watched it on the film. That pitch really didn't do anything. It just was up at my head, and anytime you're head-hunting, it just doesn't look good, especially after you give up three homers in a row."
Said Leyland: "I do not think he was throwing at him. However, in defense of the umpire, he might not have known it was a curveball at first because of the shadows."
Hammel denied intent. "Obviously I give up three home runs," he said, "but I'm not the guy that answers getting hit around with hitting somebody."
Left-hander T.J. McFarland had enough time to warm up, but no let-up from Detroit's lineup. Avisail Garcia lined McFarland's next pitch for a single, followed two pitches later by an Omar Infante RBI double.
Once McFarland walked Andy Dirks on five pitches, he had nowhere to put Cabrera, who had walked and grounded out in his first two at-bats. Once McFarland missed with back-to-back fastballs following a 1-2 count, he had no room left for caution.
"I looked for something close to hit," Cabrera said. "When you have two strikes, you look for something over the plate and try to hit it hard."
Peralta figured he would get it.
"Once the count was 3-2, I said, 'Never mind. I don't want to hear the swing,'" Peralta said. "I put my head down."
McFarland's fastball over the plate became a no-doubt drive into the left-field seats for Cabrera's third homer in four games and his 200th as a Tiger. Besides his own record pace, Cabrera finished off the Tigers' first four-homer inning since Chet Lemon, Mike Heath, Kirk Gibson and Darnell Coles against the Milwaukee Brewers on Sept. 10, 1986.
Only Prince Fielder's popup prevented the Tigers from batting around in the lineup without an out. Fielder joined the homer barrage his next time up, sending a McFarland pitch out for his 10th homer of the season and first since May 10 to put Detroit into double digits.
"We needed this win," Cabrera said. "We came in after some tough games and a losing streak. We got the offense back on track, try to be ready to win the series tomorrow."
Verlander (7-4) gave up two solo home runs to J.J. Hardy and an RBI single to Chris Davis, but delivered seven quality innings for his third consecutive win and seventh overall.
Jason Beck is a reporter for MLB.com. Read Beck's Blog and follow him on Twitter @beckjason. This story was not subject to the approval of Major League Baseball or its clubs.