Hardy's two homers not enough to counter Tigers
Hammel allows back-to-back-to-back Detroit HRs, ejected after HBP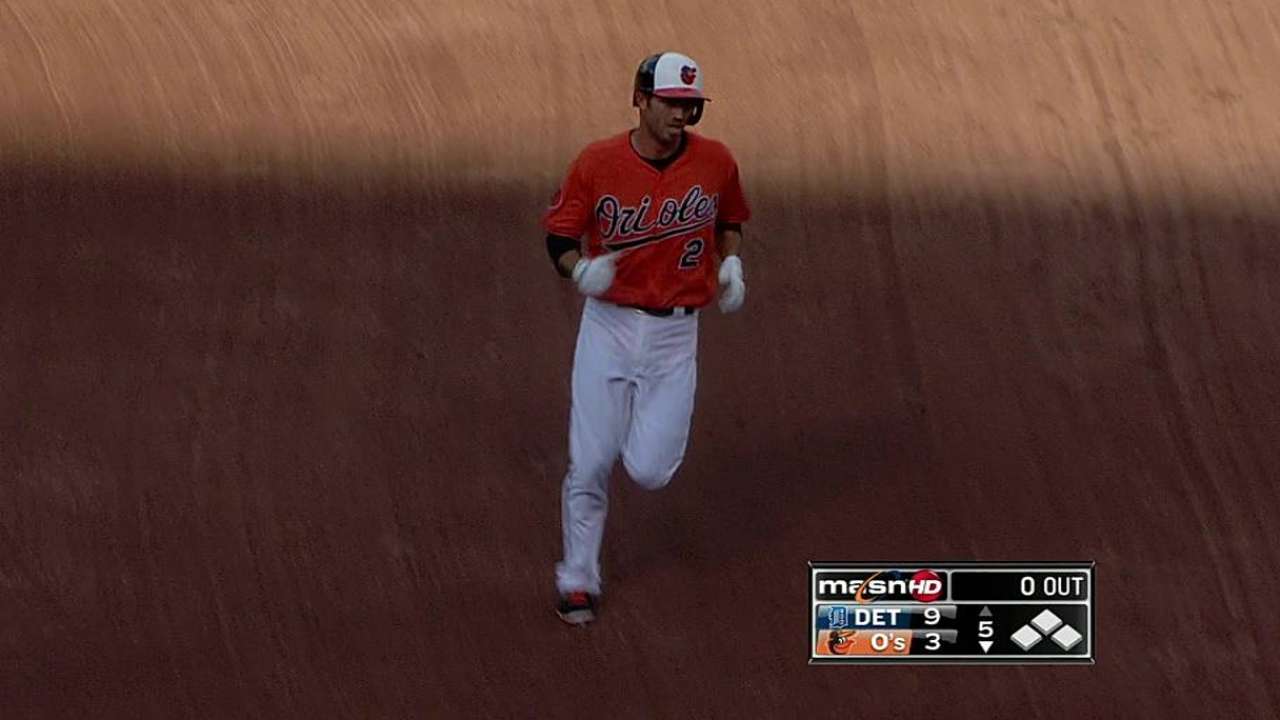 BALTIMORE -- After winning eight of their previous 11 games, the Orioles watched their momentum come to an abrupt halt Saturday at Camden Yards courtesy of Miguel Cabrera and the Tigers.
Detroit scored eight runs while batting around in the fourth, including four home runs -- back-to-back-to-back shots and a grand slam -- during an inning in which Orioles starter Jason Hammel was ejected.
The result: a 10-3 loss and added pressure on Sunday's starter, rookie Kevin Gausman. Gausman is 0-2 with a total of just nine MLB innings, but he'll be counted on to pitch deep into Sunday's game to preserve the bullpen.
The seven-run loss was Baltimore's largest of the season, and largest since Sept. 9, 2012.
"Tough loss," shortstop J.J. Hardy said. "You look at who's on the mound. Obviously one of the best guys. ... It's just tough to overcome that eight-run fourth."
In eight career starts at Camden Yards, Justin Verlander is now 6-0 with a 2.29 ERA. And although he's struggled with his fastball command lately, Verlander has still been very good.
"Verlander's Verlander," Adam Jones said. "You give him a cushion like that, he's just going to go out there and go after you."
Hammel walked three of the first nine batters he faced, with his first real trouble coming the second inning, when he walked the first batter, Victor Martinez. Jhonny Peralta followed with a flair single to right field, and after a double play, Matt Tuiasosopo drove Martinez home with a single to left field on the eighth pitch of his at-bat for a 1-0 Detroit lead.
Verlander opened with two scoreless innings for the Tigers before Hardy tied the score at 1 with a solo home run.
But the Tigers' offense exploded in the fourth inning. Detroit reclaimed the lead for good when Martinez, Peralta and Alex Avila hit back-to-back-to-back home runs. Hammel then hit Tuiasosopo on the left shoulder with the next pitch -- an 82-mph slider -- and was immediately ejected by home-plate umpire Hunter Wendelstedt.
Hammel appeared shocked as he threw his arms up and walked to home plate to argue the quick ejection. He was restrained as manager Buck Showalter came from the dugout to argue with Wendelstedt on behalf of his pitcher.
"I'm not going to make a big deal of it. I hit him with a slider," Hammel said. "Zero intent there to hit him, and obviously I give up three home runs, but I'm not the guy that answers getting hit around with hitting somebody. That's bush league, if you ask me. It was a mistake. A slider that got away."
"I understand [the umpire's] position. I still don't understand why he threw me out," Hammel said. "That was the quickest toss I've ever seen. It was almost immediate."
Crew chief Jerry Layne defended Wendelstedt, citing the rule book, which according to Layne says "that the umpire can deem if the pitch is intentional, especially at the head. There are no warnings that need to be given."
Said Layne: "That's when we feel we have to control the game, and to control the game to keep a retaliation from occurring.
"Three home runs and a guy gets hit, you're an umpire, what do you do?"
Tigers manager Jim Leyland said he didn't think Hammel hit Tuiasosopo intentionally, but the left fielder wasn't as convinced.
"I don't know. We've talked about it, the guys here. Some people said yes [it was intentional]," Tuiasosopo said. "All I know is, we hit three homers off of him and then the first pitch is at my head, so it doesn't look good."
It was the first time the Tigers had hit three consecutive home runs since June 24, 2001, and Hammel's first career ejection presented a big challenge for Baltimore. T.J. McFarland replaced Hammel, trailing, 4-1. But Detroit wasn't finished.
Avisail Garcia singled and Omar Infante drove in a run with a double to left field.
McFarland then walked Andy Dirks, which brought Cabrera to the plate with the bases loaded and nobody out. Cabrera hit a grand slam to left field on a 3-2 fastball, his 17th home run and RBIs 62, 63, 64 and 65.
McFarland retired the next three batters, but Detroit had sent 11 batters to the plate in the eight-run inning.
Meanwhile, Verlander pitched seven innings and gave up three earned runs on seven hits for his seventh win. Hardy provided an offensive bright spot for Baltimore and its 38,945 fans, with solo home runs in his first two at-bats
"Both of my at-bats were lead-off-the-inning at-bats. Everyone knows he's a much, much different pitcher when he's got people on base," Hardy said. "My third at-bat off him, I had people on base and the first pitch was 98 mph … He saves his good stuff, his really good stuff, for when he needs it."
Hammel's shortened start put a stress on the Orioles' bullpen. McFarland pitched three innings, also allowing a solo homer to Prince Fielder in the seventh, and has now pitched two or more innings in 10 of his 13 appearances this season. His numbers -- five earned runs on five hits -- were less important than the fact that he helped save the bullpen for Sunday's series finale.
Troy Patton relieved McFarland to start the seventh inning and pitched two scoreless innings. Tommy Hunter pitched a scoreless ninth.
Derek Wetmore is an associate reporter for MLB.com. Follow him on Twitter @DerekatDotCom. This story was not subject to the approval of Major League Baseball or its clubs.