Tepesch's terrific outing can't wake up Rangers' bats
Kansas City tags Ross for decisive three runs in 10th inning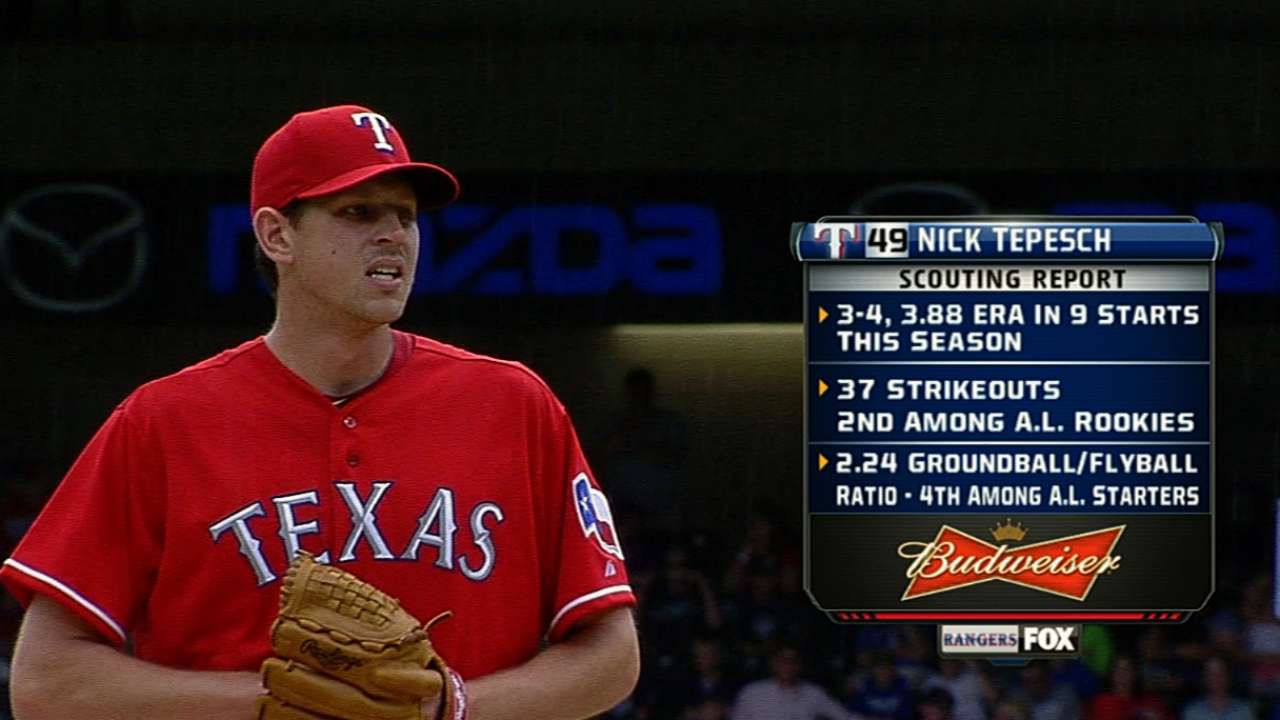 ARLINGTON -- Wins were tough to come by for reliever Robbie Ross on Saturday at Rangers Ballpark in Arlington.
He lost to Royals' catcher George Kottaras in a cow-milking contest before the game and picked up his first Major League loss as the Rangers fell, 4-1, to the Royals in 10 innings.
Tied at 1, Ross allowed consecutive singles to Alcides Escobar and Eric Hosmer, who advanced to second and third on aggressive baserunning, to start the 10th. Ross intentionally walked Billy Butler to load the bases, but he found his groove with consecutive strikeouts.
The tie was broken when David Lough was hit by a 2-1 pitch, which got him on the right wrist. Lough was removed immediately for pinch-runner Jeff Francoeur.
"I hope I didn't break anything in his hand," Ross said. "I really don't, because obviously I'm sure he knows I was trying to get him out. You wish it could've gone a different way. Especially after I got those two outs, I was thinking this is the biggest one. I couldn't get it."
Kottaras added to the Royals' lead on a two-RBI double to put them up, 4-1. Greg Holland picked up his ninth save of the season, retiring the Rangers in order in the 10th. Ross was 2-0 this season with a 0.37 ERA before Saturday's loss. He is now 8-1 in his career.
"He was in a good position to get out of the inning," Rangers manager Ron Washington said. "You play the game long enough and it'll finally not go your way. Today, it just didn't go his way."
There wasn't much that went in favor of the Rangers' lineup despite a nice performance from starting pitcher Nick Tepesch. Lance Berkman was ejected in the first inning arguing a called third strike by home plate umpire Todd Tichenor. It was the first ejection by a Rangers' player or staff member this season. Jeff Baker replaced Berkman as the team's designated hitter in the game.
"Any time you stand there and argue with the umpire, you run the risk of getting kicked out of the game," Berkman said. "I didn't think I did or said anything that would warrant the ejection, but obviously [Tichenor] felt differently."
The majority of the game was deadlocked due to great pitching from Tepesch and James Shields. Tepesch needed eight pitches to get through the first, and he retired 14 of the first 16 batters faced into the fifth. He allowed seven hits and one unearned run in 6 1/3 innings in a no-decision.
"I felt like my stuff was good," Tepesch said. "I felt like I had pretty good command. Sinker was good; I got a lot of ground balls with it."
Shields allowed a base hit to David Murphy in the first, but he retired 10 straight Rangers into the fourth inning when he struck out Baker. The Rangers mustered three straight two-out singles off Shields, and Mitch Moreland gave the Rangers a 1-0 lead on an RBI single to bring home Adrian Beltre.
It would be the only run the Rangers would score.
Shields gave up five hits in seven innings, striking out five and walking one on 110 pitches. He got a no-decision, snapping a stretch in which he had lost four consecutive starts.
"I've faced that team quite a bit over the last few years, and that's quite a ballclub," Shields said. "There's a reason why they go to the playoffs every year and you've got to do your best to minimize the damage, go deep in the game and give your team a chance to win. That's what we did tonight."
The Royals tied the game in the fifth on a passed ball by A.J. Pierzynski. The ball nearly hit Alex Gordon in the foot, and Lough scored from the third.
"It got a little too far down and in," Tepesch said. "[Pierzynski] was pretty far off the plate. I was just trying to make sure I got it off the plate, and just yanked it a little too far."
The Rangers failed to take the lead when they had runners in scoring position, as Elvis Andrus and Murphy grounded out end the fifth with Leonys Martin at third, and Baker lined out to end the eighth with Andrus on second.
The Rangers' best chance occurred in the ninth. Moreland drew a two-out walk and Pierzynski followed that with a double to left-center field, but Jurickson Profar popped up in foul territory to send the game to extra innings.
The Royals couldn't take advantage of the limited opportunities they had before extras, even after they knocked Tepesch out of the game in the seventh. Neal Cotts, Tanner Scheppers and Joe Nathan allowed just a hit in 2 2/3 innings to keep the game tied.
"Not a whole lot of opportunities throughout the game for either, I didn't think," Moreland said. "It was a very well-pitched game."
Beltre left the game in the 10th inning with tightness in his left hamstring. The injury occured when he rounded second base in the fourth.
So Washington said Beltre will be evaluated Sunday and he'll likely be day-to-day. Leury Garcia replaced Beltre at third base.
Master Tesfatsion is an associate reporter for MLB.com. This story was not subject to the approval of Major League Baseball or its clubs.