Phillies make Crew sweat in ninth, but fall short
Offense unable to lift Cloyd following seven strong frames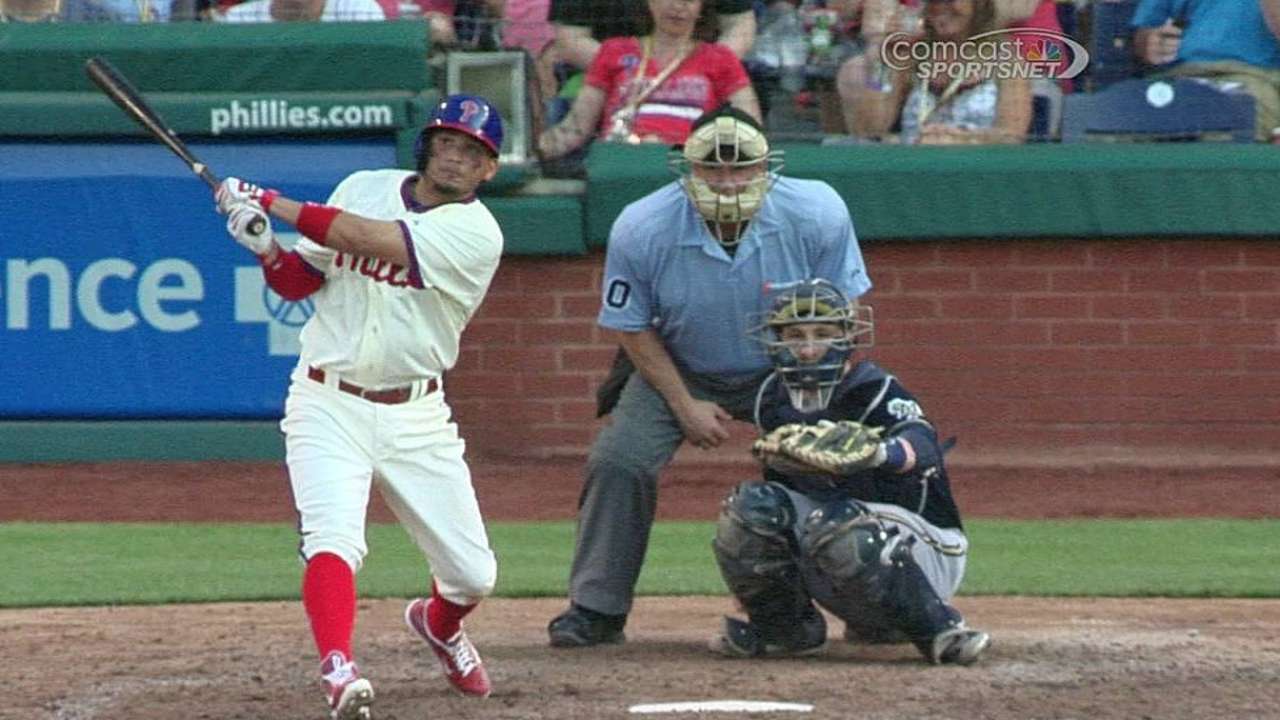 PHILADELPHIA -- While the Phillies were hurt by a missed call in the ninth inning Saturday, many of the team's current problems were on display.
The Phillies failed to win against a struggling starting pitcher for the third time in a week, they were hurt by some rocky defense and their injury issues were obvious in a 4-3 loss to the Brewers. Despite a drama-filled ninth inning, which featured Kyle Kendrick controversially getting picked off second base, the Phillies lost their third straight contest and are four games below .500 for the first time in three weeks.
"We had a chance to definitely tie the game up, but we couldn't pull it out," manager Charlie Manuel said. "At the same time, they let us hang around there close enough where we had a chance."
Against Brewers right-hander Wily Peralta, the Phillies continued a recent trend of making struggling starting pitchers look good. They managed just two runs in seven innings against Peralta, who entered Saturday with a 6.35 ERA. After facing Alfredo Aceves, Franklin Morales, Yovani Gallardo and Peralta in the last six days, the Phillies have lost four games to four starters that had a combined 5.90 ERA.
The Phillies started a rally in the ninth inning against Brewers closer Francisco Rodriguez. Freddy Galvis led off the inning with a homer and Jimmy Rollins followed with a pinch-hit single and Kendrick pinch-ran for him.
After Ben Revere moved Kendrick over to second on a sacrifice bunt, Kendrick was picked off second base, and while he was called out, replays showed Brewers shortstop Jean Segura dropped the ball while applying the tag.
"We got a lucky break, and that's the difference in the game," Segura said. "We got this guy out, and we're happy we got it."
Rollins was out of the starting lineup and unable to stay on the basepaths after fouling a ball off his right foot twice Friday. And he's far from the only missing infielder the Phillies had by the end of the game.
Michael Young landed on the bereavement list Wednesday and missed his fourth straight game. Meanwhile, both second baseman Chase Utley and catcher Carlos Ruiz are in the middle of stints on the disabled list and Ryan Howard, who started Saturday, but was eventually pulled for a pinch-runner, has been dealing with knee issues lately. Manuel was left with just backup catcher Humberto Quintero on his bench by the ninth inning.
"I'm going to tell you something, when you're missing two, three, four players, it makes a whole lot of difference, whether people realize it or not," Manuel said. "You can get by sometimes putting one young guy in there and trying to get him some playing time or really see what he can do at the Major League level. But when you start playing two, three, four, not only does it put a heavy load on your team, it also puts a load on those kids too."
Phillies starter Tyler Cloyd went seven innings, allowed three runs -- two earned -- on eight hits and struck out three batters. It was a much different line for the righty than his last appearance (six runs in 2 1/3 innings Monday in Boston), but he was still saddled with his second loss.
"I worked on things this week with getting the ball down more and sitting back," Cloyd said. "The results were there, so it'd definitely be nice being able to do that."
Cloyd did not get much help defensively from Delmon Young. With two outs and a runner aboard in the fifth inning, Young had a Segura fly ball glance off of his glove and fall in for an RBI triple. Young said he definitely had a chance to make a play on the ball.
"It hit inside of my glove and when I went to squeeze it, it had already shot out," Young said.
Prior to missing the catch, Young was charged with a throwing error in the second inning, which allowed Jonathan Lucroy to score on a Logan Schafer double.
The Phillies out-hit the Brewers, 11-9, but only two went for extra bases. In his third career start, Cesar Hernandez had a team-high three hits and raised his average to .333. For the Brewers, Lucroy continued his hot weekend and went 2-for-4 with an eighth-inning homer, his third in two games.
Stephen Pianovich is an associate reporter for MLB.com. This story was not subject to the approval of Major League Baseball or its clubs.