Peralta breaks skid in strong outing vs. Phillies
Crew takes advantage of missed call in ninth to stave off rally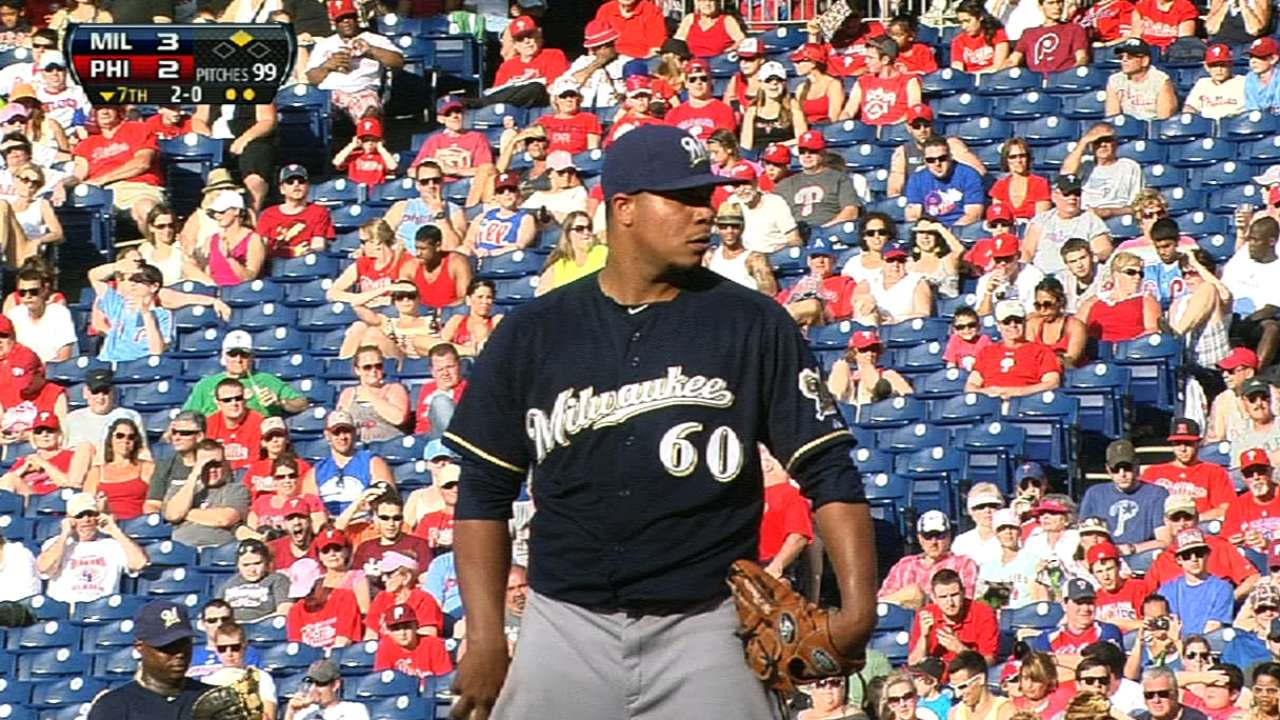 PHILADELPHIA -- For the first time in more than a month, all of the bounces seem to be going the way of a ballclub finally brewing a winning streak.
The Brewers' 4-3 win over the Phillies on Saturday was saved by the pickoff play that wasn't, a bit of fortune in the bottom of the ninth inning that helped secure Milwaukee's first back-to-back victories since April 29-30 against the Pirates, and a series victory for the first time since that same set.
"We got a lucky break, and that's the difference in the game," said shortstop Jean Segura, the man at the center of the game's signature play. "We got this guy out, and we're happy we got it."
Wily Peralta worked a season-high seven innings, center fielder Logan Schafer matched his career high with three hits for the second time in three days, and catcher Jonathan Lucroy hit what stood as the decisive home run. But the Phillies were poised to tie the game in the bottom of the ninth when, with a run already across against Francisco Rodriguez and pitcher Kyle Kendrick pinch-running at second base representing the tying run, Rodriguez wheeled and fired to Segura at second.
Segura dove for the baseball and Kendrick for the bag. The baseball arrived first, but Segura never caught it, a fact that escaped umpire Mike Estabrook amid the tangle of limbs. Kendrick was called out and it loomed very large when Phillies second baseman Cesar Hernandez followed with a hit high off the right-field wall.
Instead of a tying double, Hernandez stood at second with the Phillies still down a run. Michael Martinez grounded out to Segura to end the game and give Rodriguez career save No. 297.
In the moment, Segura was the only Brewer who knew they gotten away with one. Rodriguez didn't realize his young shortstop had dropped the ball until he was told as they lined up to shake hands. Brewers manager Ron Roenicke didn't know until a reporter asked him after the game about the play.
"Finally," Rodriguez said, "we catch a break."
"It's not fair," Roenicke said with a shrug and a smile. "It's not a fair game."
Roenicke logged his 200th managerial victory, and could smile because his Brewers were a Sunday win away from their first series sweep since April 19-21, three games against the Cubs that came amid Milwaukee's nine-game winning streak.
The Phillies have lost five of their last seven games.
"When we go on the field, we expect to win, things like that," Philadelphia manager Charlie Manuel said. "We had a chance to definitely tie the game up, but we couldn't pull it out. At the same time, they let us hang around there close enough where we had a chance."
Roenicke was thinking the same thing, considering the Brewers had gone 2-for-10 with runners in scoring position, had missed a squeeze bunt and had stranded a man at third base in four different innings.
Two of the runs that did score were aided by Phillies right fielder Delmon Young, who had a tough day on defense. Schafer, spelling regular center fielder Carlos Gomez, batted with runners at the corners and nobody out in the second inning and delivered an RBI single to Young, whose throw to third skipped past both the trailing runner, Lucroy, and Phillies third baseman Kevin Frandsen. Lucroy scampered home for a 2-0 lead.
In the fifth, Brewers leadoff hitter Norichika Aoki kept the inning alive with a two-out single before hot-hitting Segura hit a triple that clanked off Young's glove just short of the right-field wall. The official scorer awarded Segura a hit.
It was 3-2 in the eighth when Lucroy connected against Phillies reliever Mike Adams for the second time in as many games. The homer made it 4-2 and gave the Brewers' Tom Gorzelanny, Brandon Kintzler and Rodriguez an extra run with which to work in relief of Peralta.
"A lot of missed opportunities," Roenicke said. "At one point I was looking up and thinking the score should probably be 6-1, if we would get the guys in when they were at third base, just make contact and get them in. We missed a squeeze. We did a couple of things defensively that hurt us.
"I'm glad we came out with a win, because if we lose that one, you look back at all the things we should have done right. We did some things wrong today."
When he threw his first pitch of the seventh inning, Peralta became the first Brewers starter not named Marco Estrada to pitch past the sixth since Kyle Lohse 23 games earlier on May 8. Estrada has delivered a pair of seven-inning starts since then, but the rest of the rotation had struggled, including Peralta, who went 1-5 with a 7.71 ERA in May.
The month of June began much better for Peralta, who dueled Phillies rookie Tyler Cloyd in a matchup of young right-handers. Only one of the Phillies' eight hits off Peralta went for extra bases, and he never trailed in his first victory since beating the Rangers on May 7 in Milwaukee.
The Phillies cut their deficit to 3-2 with a run in the sixth and threatened again in the seventh, when second baseman Cesar Hernandez hit a two-out single and moved into scoring position on a wild pitch. At the plate was Brown, coming off a May in which he belted 12 home runs. Peralta fell behind, 3-1, and may have caught a break when Brown fouled off a slider that was up in the strike zone. The next pitch was another slider, this one low and away, and Brown struck out swinging.
"He got away with one," Roenicke said. "Shadows, really hard to see the ball there at the end. When it gets to that point, the breaking ball is really hard to see."
Chalk it up as another good break for the Brewers, who, after a 6-22 May, started 1-0 in June.
"We had a tough month, but now it's over," Segura said. "We have the mentality to just forget about the past. Start now."
Adam McCalvy is a reporter for MLB.com. Read his blog, Brew Beat, and follow him on Twitter at @AdamMcCalvy. This story was not subject to the approval of Major League Baseball or its clubs.