Backed by Giambi, Jimenez spins eight scoreless
Slugger and Cabrera knock two-run homers to support stellar righty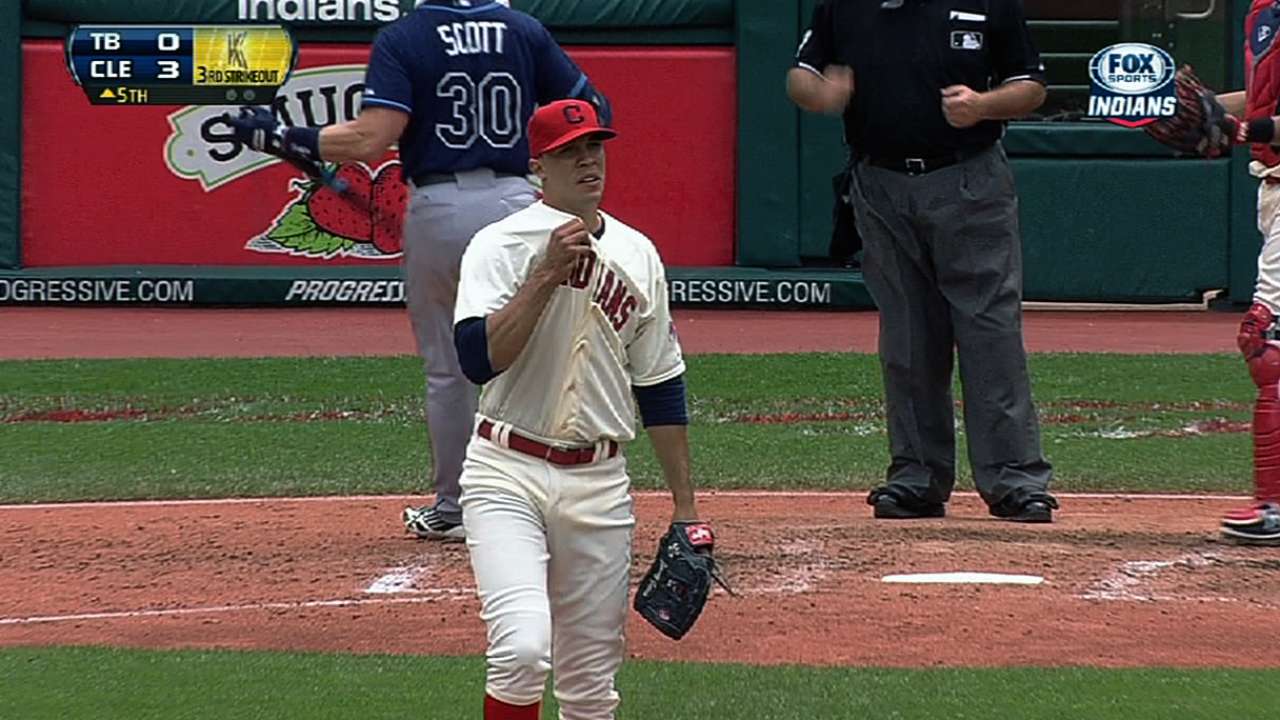 CLEVELAND -- Sure, Jason Giambi hit his third homer of the week while driving in a trio of runs, but the first person he wanted to talk about after Saturday's win was Ubaldo Jimenez.
The Tribe's tall right-hander spun his finest outing of the season, as he held the Rays to four hits over eight shutout innings. Backed by homers from Giambi and Asdrubal Cabrera, Jimenez picked up the win in Cleveland's 5-0 victory in front of 22,748 fans at Progressive Field.
"The biggest guy is Ubaldo," Giambi said. "He was the guy who made it all happen. He went out there, and he started pounding the strike zone, getting guys out, and that was a huge lift for us, to see him come out there like that, because we really needed it."
The game began about 10 hours after the end of Friday's rain-delayed defeat, during which the Tribe managed just one hit. Offense was no problem for the club on Saturday -- nor was pitching. Jimenez saw to that.
"Really terrific job," Indians manager Terry Francona said. "On a day where the only two people probably out there [who] weren't tired were the two starting pitchers, he gave us every bit what we needed, put zeros up, pounded the zone with everything.
"Right now, he knows he can pitch in the zone and get outs."
At one point, Jimenez retired 11 straight hitters. He struck out seven and walked just one against the Rays, who didn't manage a hit to the outfield until the seventh inning -- a double by Desmond Jennings. Jennings was Tampa Bay's first runner to reach second base since Ryan Roberts did so on a throwing error by Jason Kipnis in the second frame.
Jimenez (4-3) overcame a leadoff walk to dominate the afternoon, looking comfortable and confident as he threw sharp two-seamers and split-fingers.
"I felt really good," he said. "It was a good win. The guys had a really crazy game last night, waiting here for so many hours and then losing the game, so definitely it was a good game today for all of us."
With the performance, Jimenez lowered his ERA 4.83. He threw 72 of his 108 pitches for strikes.
"He pitched primarily offspeed today, and we were chasing out of the zone," Rays manager Joe Maddon said. "I think you have a tendency to chase more when you're tired."
Francona said he did not consider allowing Jimenez to pitch the ninth, partly because he wanted to make sure Vinnie Pestano made an appearance. The reliever pitched a scoreless frame to close out the win, notching a strikeout and giving up a walk.
"We're trying to keep Vinnie on a pretty good schedule here, too, also just as he's working his way back," Francona said. "He's getting there. He feels better about himself, and he should, and it shows in his pitches."
Both of Cleveland's home runs came with a man on, Giambi's in the second and Cabrera's in the fifth. Giambi drove in another run by singling home Kipnis in the third inning.
After Saturday's performance, Giambi is averaging an RBI every 3.68 at-bats, which is the best pace of any Cleveland player. Nine of Giambi's 14 hits this season have gone for extra bases. With men in scoring position, the veteran is batting .471 (8-for-17) with two homers and 15 RBIs.
"I'm doing alright," said Giambi, who recently dealt with a pinched nerve in his neck. "I'll take it. Unfortunately, at 42 [years old], you have to have everything right to make it happen. I'm just grateful that I'm swinging the bat and helping the ballclub out."
Rays starter Chris Archer took the loss. In four-plus innings, he surrendered five runs on seven hits. He also walked three and struck out four. Archer (0-1) was selected by the Indians in the fifth round of the 2006 First-Year Player Draft.
"My fastball command wasn't really there as consistently as I would've liked it," Archer said. "If you fall behind a good-hitting team and then leave pitches up, you're going to get banged. A good-hitting team got me on a day when I was a little off."
Though the Indians didn't sleep much, they weren't too dazed this morning to remember to bring out the bats.
"I'm delirious right now," Giambi said. "I feel like Pinocchio with no strings."
Mark Emery is an associate reporter for MLB.com. This story was not subject to the approval of Major League Baseball or its clubs.