Intentional walk backfires as Yanks get routed
Hughes allows five runs over 4 1/3 frames; Warren surrenders six more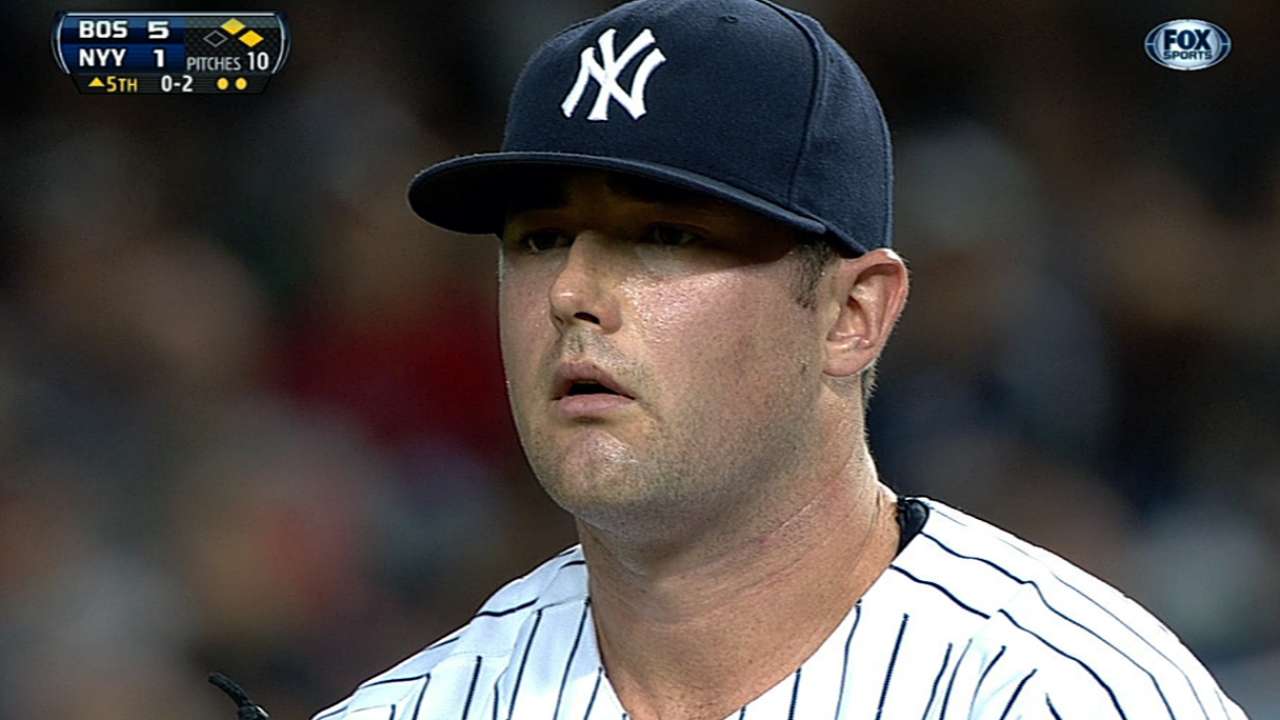 NEW YORK -- The fingers waggled from the Yankees' dugout and Phil Hughes obediently followed instructions on the mound, tossing four wide ones to David Ortiz to load the bases and take his chances with Mike Napoli digging in.
Hughes lost that third-inning gamble as Napoli blasted his fifth career grand slam to right field, and it turned into a rout from there as the Red Sox trounced the Yankees, 11-1, on Saturday night, handing New York its sixth loss in seven games.
"Tonight really was just one pitch I'd like to have back," Hughes said. "I feel like if I can find a way to get Napoli out there, that's really a momentum shifter."
On their way to producing a season-high 18 hits, the Red Sox scored all five of their runs off Hughes in that third inning, with Napoli's ninth home run of the season serving as the big blow.
"It was a good feeling," Napoli said. "It's my job to be his protection, and something like that happens, it feels good to come through. I like protecting him and maybe giving managers another thought of doing that."
Manager Joe Girardi said that he intentionally walked Ortiz to load the bases with one out because he thought Hughes had a better shot of striking out Napoli than Ortiz, but Hughes couldn't sneak a 94-mph fastball past the slugger with a 2-2 count.
"I don't want to start putting people on base, but you're looking at trying to shut down an inning," Girardi said. "When you get in that situation, I'm going to do what I think is the best thing to do, and I thought the best thing to do was to try and get Napoli. It didn't work."
Girardi further defended his move, pointing out that Napoli had struck out much more (78 times in 207 at-bats) than Ortiz (just 16 times in 138 at-bats) entering play on Saturday. Hughes didn't argue with the logic, also noting that Ortiz had hit him hard coming into Saturday's action (9-for-20, two homers).
"Ortiz has had a lot of success off me in the past, so I think with a base open it's the obvious move," said Hughes, who has now allowed at least one homer in his last five starts. "Whether it's the third inning or the ninth inning, every run counts."
Mike Carp also had a run-scoring single off Hughes, who lasted 4 1/3 innings and permitted seven hits with seven strikeouts. After two solid outings on the road, it was another rough outing in the Bronx for Hughes, who was chased in the first inning by Seattle during a seven-run nightmare on May 15.
"It wasn't his best stuff, but I thought he had good enough stuff to go deeper in the ballgame than he did," catcher Chris Stewart said. "Unfortunately, that big hit by Napoli set the tone and he couldn't really escape that."
Red Sox left-hander Felix Doubront looked like he might be headed for an early exit when he burned through 49 pitches in the first two innings, but the Yankees left four men on through those frames and gave Doubront time to settle down.
The Yanks went 0-for-3 with runners in scoring position against Doubront, scoring just one run on a sacrifice fly by Stewart, who then left with symptoms of dehydration after the fourth inning.
Doubront scattered six hits with three walks and six strikeouts, winning for the first time since April 27 against the Astros, a span of four starts.
"We've seen a number of times before that it takes him those first couple of innings to find his way, settle in, find a rhythm," Red Sox manager John Farrell said. "As the night went on, his tempo and pace picked up."
Preston Claiborne turned in another sharp relief appearance for New York, hurling 1 2/3 scoreless innings, and he has not walked a batter in 16 1/3 frames this season.
"He's thrown strikes with three different pitches," Girardi said. "His velocity has been good, his location has been good. He's just got the job done."
The game devolved into a blowout as Adam Warren was thumped for six runs in Boston's final two innings at bat, as Daniel Nava smashed a three-run homer in the eighth to cap his four-hit night and Stephen Drew's solo blast highlighted a three-run ninth inning.
By that point, most of the paying crowd -- the Yanks' second sellout of the season -- had already shuffled for the exits. Hughes said that the rough outing was tougher to swallow given that it interrupted whatever momentum had been created by CC Sabathia's strong outing to defeat Boston on Friday.
"It's tough. You always want to put a bunch of good starts together from your rotation," Hughes said. "These are big games against the Red Sox and you'd like to follow up CC with a quality start. It hurts."
Bryan Hoch is a reporter for MLB.com. Follow him on Twitter @bryanhoch and read his MLBlog, Bombers Beat. This story was not subject to the approval of Major League Baseball or its clubs.