Protection plan: Napoli makes Yankees pay
After rivals intentionally walk Papi, slugger hits slam to jump-start rout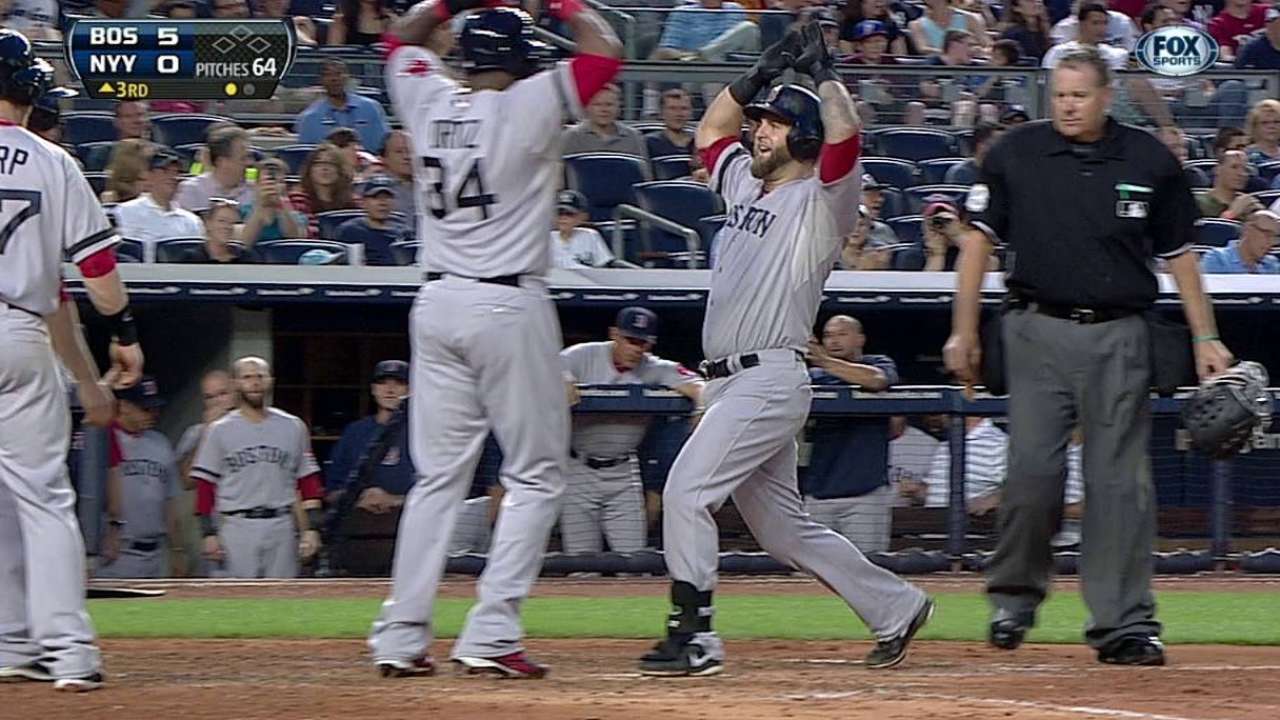 NEW YORK -- The Red Sox are paying Mike Napoli to be a run producer. However, the slugging first baseman has an even greater focus to what his true value to the team is.
Napoli feels that he is David Ortiz's protector.
And never does he take that job more seriously than in situations like Saturday night at Yankee Stadium, when Yankees manager Joe Girardi felt the time was right with one out in the top of the third to call for an intentional walk.
With the bases loaded, Napoli belted a 2-2 offering from Phil Hughes over the wall in right-center. That game-breaking grand slam led the Red Sox to an 11-1 victory in Saturday night's contest in the Bronx.
"It was a good feeling," said Napoli. "It's my job to be his protection, and when something like that happens, it feels good to come through."
If it keeps happening, managers are going to have start thinking twice about the strategy.
Blue Jays manager John Gibbons tried it on May 1, and Napoli cranked a three-run homer.
"I mean, like I said, I like protecting him and maybe giving managers another thought of doing that," Napoli said. "I went in there and just tried to execute. Had a runner on third with less than two outs and tried to hit a fly ball."
And that fly ball wound up being Girardi's worst-case scenario.
"You've got one guy that struck out 75 times in 200 at-bats and one guy that struck out 22 times in 150 at-bats coming into this series," said Girardi. "So to me, you're looking for a strikeout in that situation, and Napoli has struck out a lot more, but he wasn't able to strike him out."
Instead, Napoli struck for the first of what would be many big hits for the Red Sox in this Bronx bashing.
Daniel Nava went 4-for-6 with four RBIs, including a three-run blast that put the game away in the top of the eighth.
"Just an outstanding offensive performance by him," said manager John Farrell. "We've talked about it many times. His path, his pedigree, or lack of, and yet all he does is go out and perform and produce."
There was a lineup full of offensive heroics.
Stephen Drew broke out of an 0-for-16 drought, going 2-for-5 with a homer. Jose Iglesias continued to torment the Yankees, going 2-for-5 and scoring twice. Jackie Bradley Jr. had the best game of his young career, going 3-for-5 with two doubles from the No. 9 spot in the order.
"I was just trying to stay back on the ball, not trying to be too anxious," Bradley said. "That's when I feel like I'm at my best, when I can drive the ball to the opposite field or dead center and also being able to react on the inside pitches and fight those off."
The big bats backed a strong performance by lefty Felix Doubront, who scattered six hits and one run over six innings, walking three and striking out six.
"As the night went on, his tempo, his pace picked up," said Farrell. "He threw a lot more quality strikes within the strike zone. He's making steady progress each time he walks to the mound. Tonight was another step."
In his career against the Yankees, Doubront is now 2-1 with a 2.52 ERA in nine games.
Any secret to Doubront's success against his team's chief rival?
"The adrenaline of facing those guys -- my respect for those guys," Doubront said. "I think adrenaline and wanting to win the game against the Yankees. It's a lot of things going on in my mind in that moment that made me have confidence and have a lot of conviction."
The Sox got the bats going in the third inning against Hughes. Bradley got it started with a double over the head of Brett Gardner. Nava followed by blooping a single to left. Mike Carp's double got Bradley home for the first run of the game.
After Dustin Pedroia struck out, Girardi opted for that fateful intentional walk to Ortiz.
That didn't go so well. Napoli's second slam this season -- and fifth of his career -- made it a 5-0 game.
"That's tough," said catcher Jarrod Saltalamacchia. "I understand, obviously, with David, he's been hot, and he's been swinging a good bat. But with Napoli, you just never know. You play the numbers and take your chances. It worked out for us."
Ian Browne is a reporter for MLB.com. Read his blog, Brownie Points, and follow him on Twitter @IanMBrowne. This story was not subject to the approval of Major League Baseball or its clubs.