Doumit's two-run triple wins it for Twins
Catcher's drive to right bails out Correia; Thielbar earns first victory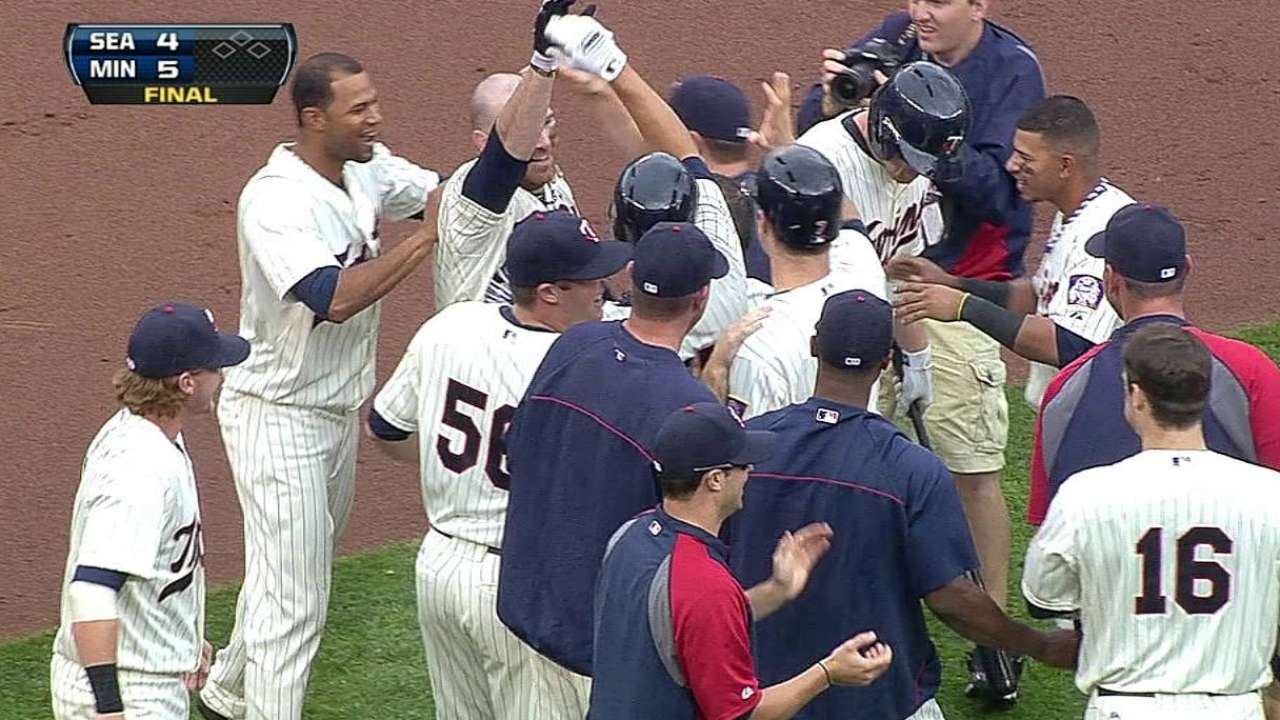 MINNEAPOLIS -- It would've been easy for the Twins to simply roll over in the ninth against the Mariners on Saturday.
The Twins entered the inning down two runs and were only 1-for-11 with runners in scoring position on the afternoon. And they were facing closer Tom Wilhelmsen, who came into the day with a 0.75 ERA and 12 saves on the year.
But Minnesota rallied for three runs in the ninth, with Ryan Doumit capping it off with a two-run triple, to hand the Twins a 5-4 win in walk-off fashion at Target Field. Doumit's first triple of the season sailed into the right-center-field gap, and scored Joe Mauer from first after he drew the third straight walk to lead off the inning against Wilhelmsen.
"It was an exciting win with a great comeback there in the ninth," Twins manager Ron Gardenhire said. "The guys kept playing. It was a big hit by Doumit, and some good at-bats before that. He hit that one in the gap and, 'Run, Joe, run,' is what we were saying in the dugout. So it was a good win for us."
Doumit's game-winner was his third hit of the game, his third career walk-off hit and only his seventh career triple. It came after Pedro Florimon, Eduardo Escobar and Mauer drew walks before Josh Willingham brought home a run with a sacrifice fly to left field.
"You can't describe it -- it's awesome to get the game-winning hit," Doumit said. "We're coming off a great series win versus Milwaukee, and last night stung a little bit so it's nice to get back on the right track."
Doumit's hit came on a 2-2 fastball from Wilhelmsen, who was frustrated after blowing his third save of the year.
"He hit a fastball," Wilhelmsen said. "The only strike I threw. It was right down the middle. So if he misses, it's a great pitch. But he knew what was coming and lit it up."
And it took Kevin Correia off the hook. The right-hander pitched into the seventh inning but was hurt by three solo homers, including two from Jason Bay.
Correia allowed back-to-back solo blasts to Bay and Kyle Seager in the first, and then settled down until giving up a go-ahead homer to Bay with two outs in the seventh. It was the second straight start Correia gave up three homers.
"I felt pretty good," Correia said. "I made two bad pitches in the first and one in the seventh. Usually I've gone out there and made a lot more mistakes than I did, but they just got both of them."
Correia left after giving up a two-out single to Seager after Bay's homer. Left-hander Brian Duensing came on in relief, but promptly gave up back-to-back singles to Kendrys Morales and Raul Ibanez to give Seattle a 4-2 lead. Correia gave up four runs on seven hits and two walks over 6 2/3 innings, and just missed out on his seventh quality start.
Before rallying in the ninth, the Twins were mostly held in check by Mariners right-hander Aaron Harang, who allowed two runs (one earned) on four hits and two walks over six innings.
Minnesota got on the board in the second without registering a hit, as Chris Parmelee walked and advanced to second on an error by shortstop Brendan Ryan on a potential double-play hit by Chris Colabello. Parmelee scored on another error in the inning, as Harang had Parmelee out at home on a comebacker, but airmailed the throw to allow him to score. Harang got out of the jam by striking out Florimon and Escobar to end the inning.
The Twins didn't get their first hit until the fourth, when Parmelee led off the inning with a single before Colabello followed with his second career hit, a single to left. But the bottom of the lineup failed to produce, as Brian Dozier grounded out, Aaron Hicks flew out and Florimon struck out.
Minnesota tied it up in the sixth on a two-out single from Dozier to score Doumit, who doubled to lead off the inning. The hit snapped an 0-for-9 stretch for the Twins with runners in scoring position.
Reliever Caleb Thielbar, a Randolph, Minn., native, threw a scoreless ninth to pick up his first career victory.
"It just goes to show you, you just need to go in there whenever you're called in there and put up a zero," Thielbar said. "You never know what they can do. We've got the guys to put up big innings like that so it's nice to get one that way. That was a lot of fun."
Rhett Bollinger is a reporter for MLB.com. Read his blog, Bollinger Beat, and follow him on Twitter @RhettBollinger. This story was not subject to the approval of Major League Baseball or its clubs.