Mariners' late stumble spoils Bay's two-homer day
Wilhelmsen blows third save of year, records only one out in ninth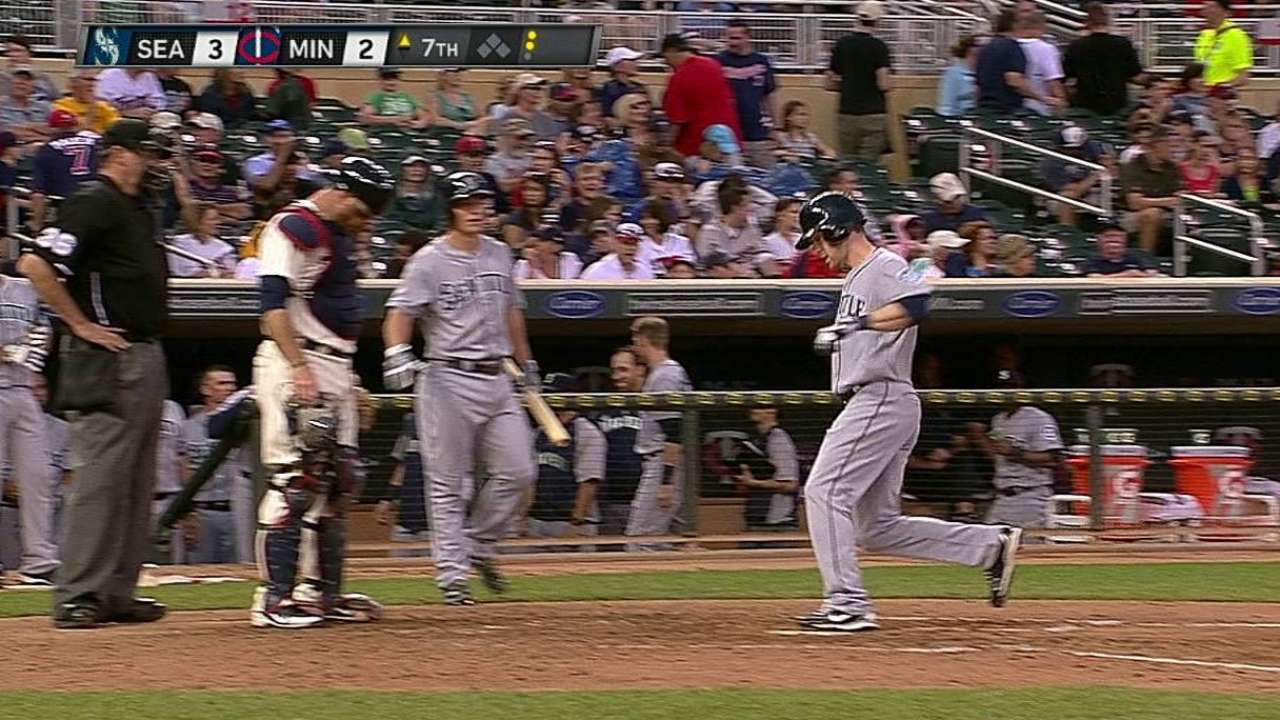 MINNEAPOLIS -- On a day Jason Bay hit a pair of home runs and Aaron Harang turned in his second strong start in a row, the Mariners were flattened at the finish line on Saturday by a ninth-inning meltdown by closer Tom Wilhelmsen, as the Twins pulled out a 5-4 win at Target Field.
Wilhelmsen suffered his third blown save in his last four chances, and this one came when he gave up a 4-2 lead by walking the first three batters he faced before surrendering a walk-off two-run triple to Ryan Doumit with one out.
"He hit a fastball, the only strike I threw," Wilhelmsen said of the 2-2 offering. "It was right down the middle. So if he misses, it's a great pitch. But he knew what was coming and lit it up."
This one hurt and nobody was feeling it more than the 29-year-old reliever, who came in with a 0.75 ERA but has struggled with his command for much of the past two weeks.
"It's the worst thing in the world," Wilhelmsen said. "Letting your team down, there's nothing else like it. They put you in position to do your job, and when you can't do it, it makes you feel like [terrible]."
Though Wilhelmsen pitched a 1-2-3 ninth to save Friday's 3-0 win, he blew the save in the opener of the current road trip in San Diego. The Mariners would be 4-0 on the trip had he been able to slam the door, as he did earlier this year when he reeled off 11 straight saves.
Manager Eric Wedge had rookie Yoervis Medina warming in the bullpen after Wilhelmsen walked the first three batters, but stuck with his closer after he got the first out on Josh Willingham's sacrifice fly for the first out. Doumit then ended it with his drive to the right-center field gap.
"Wilhelmsen is one of the best," Doumit said after his third career walk-off hit. "He came in yesterday and kind of shoved it. But you could tell after his first two hitters he faced today, he wasn't sharp. So with the middle of the lineup coming up there, 2-3-4, we wanted to get something to drive and I got it."
Wedge acknowledged Wilhelmsen's fastball command hasn't been good of late, but didn't second-guess his decision to stay with the big right-hander.
"If he gets a ground ball, the game's over," Wedge said. "I mean, he's your closer. Otherwise, you're going to go to a guy who has never been in that situation, for the closer. It's just asking a lot from someone who hasn't been in that situation. With closers, you live and die with them. He makes a pitch there and puts the ball on the ground, the game's over, and we win. You've got to give him every opportunity."
The late collapse took the fun out of a three-homer day for the Mariners, with Bay ripping two to give him eight for the season -- matching his total from all of last season with the Mets. Kyle Seager also hit a solo shot, his seventh, directly following Bay's first homer in the first inning.
"It definitely hurt," Bay said. "But they all do. That's what we're trying to do, get the ball to Tom in the ninth. Nothing is automatic. He's one of the best, so you take your chances at the time. It's something that happens. Those always feel like they sting a little more than the 10-0 game where you're down from the get-go. But it happens every day and you have to keep coming back."
Harang wound up with a no-decision after allowing two runs (one earned) on four hits in six innings with two walks and four strikeouts, as he remained 2-5 with a 5.82 ERA.
After being on the verge of losing his starting job a week ago, the 34-year-old right-hander has pitched well in back-to-back outings, allowing only one earned run in 15 innings.
"Early on, I felt kind of inconsistent," Harang said. "I didn't have my control right away. But I was able to battle through and get us through those first few innings and finally was able to calm down and execute pitches later in the game, and get them to hit some grounders and keep the guys active in the field."
Harang saw his scoreless-innings streak end at 10, as the Twins pushed across a run in the second. But that happened only after two defensive gaffes, including one by Harang.
Shortstop Brendan Ryan couldn't get the handle on a high-hop grounder by Chris Colabello that could easily have been a double-play ball after a leadoff walk to Chris Parmelee. Then Harang threw the ball five feet over the head of catcher Kelly Shoppach on a comebacker in front of the mound that allowed Parmelee to score from third.
Harang told himself before the pitch to go to second and turn a double play if the ball came back to him, but when Parmelee broke to the plate, even on a ball in front of the mound, it caught him off guard.
"When he took off it kind of threw me for a loop, and I just didn't set my feet," he said. "I was telling myself mentally, 'Don't airmail one,' and obviously, I did."
Harang bore down and limited the damage to the one unearned run by striking out the final two batters that inning to strand runners at second and third, but gave up the tying run in the sixth on Bryan Dozier's RBI single.
The Mariners quickly put Harang back in position for the win when they struck twice in the seventh on Bay's second home run and an RBI single by Raul Ibanez to make it 4-2.
The Mariners hit 36 home runs in May -- their most in a month since hitting 39 in June 2006 -- and wasted no time turning the calendar page with back-to-back homers by Bay and Seager in the first.
Those two runs were the only damage they mustered against Kevin Correia until the seventh, when Bay & Co. struck again for what turned out to be a short-lived lead.
It was the sixth walk-off loss of the season for the Mariners, the most in the Majors.
Greg Johns is a reporter for MLB.com. Follow him on Twitter @GregJohnsMLB as well as his Mariners Musings blog. This story was not subject to the approval of Major League Baseball or its clubs.