Cards' offense proves it has Cain's number again
Miller fans seven over seven scoreless frames in rout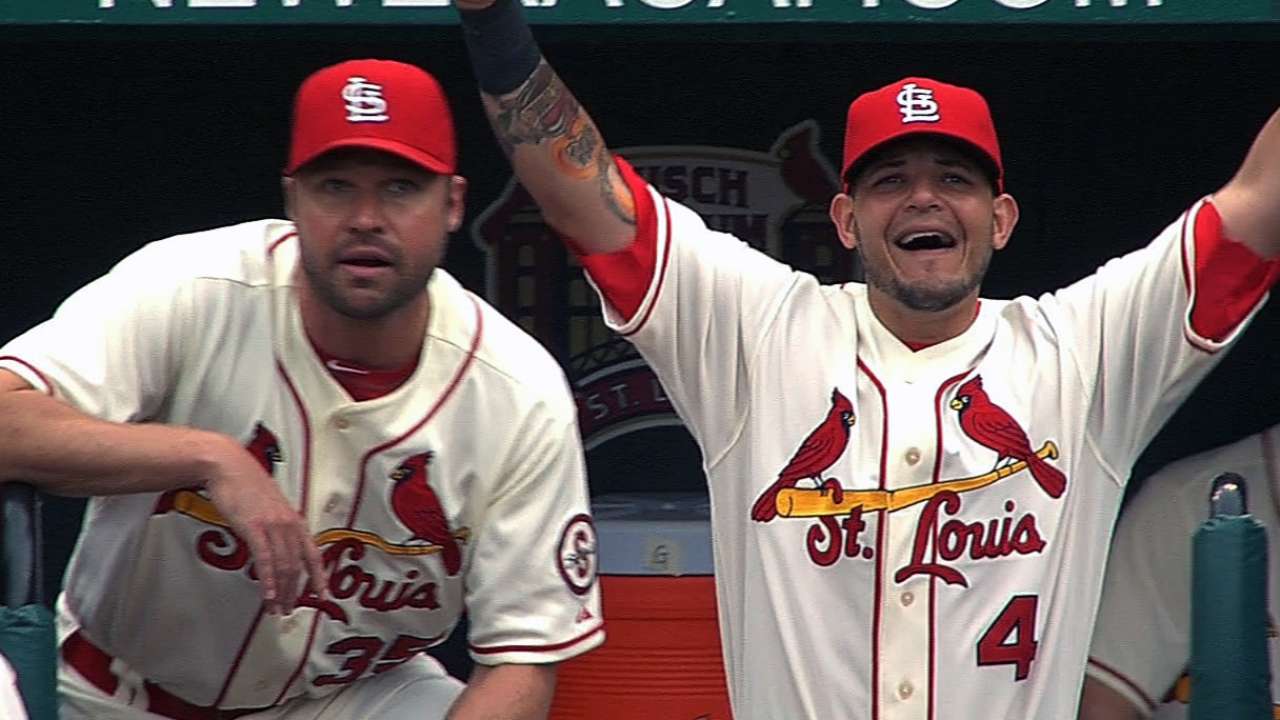 ST. LOUIS -- Four times this season, the Cardinals have inflicted seven or more runs of damage in a single inning. Matt Cain has been the unfortunate victim twice.
Cain was otherwise perfect in five of his six innings, but the Cardinals clobbered him in the third for seven runs on nine hits -- two doubles and seven singles -- to earn an 8-0 victory at Busch Stadium in the first game of Saturday's split doubleheader.
While Shelby Miller didn't have anything to show for his two at-bats in the inning, he certainly did his part on the mound. The rookie right-hander pitched seven scoreless innings, allowing six hits, walking one and striking out seven.
"Having seven runs in front of you is amazing. It's great," Miller said. "But at the same time, you still gotta bear down and make pitches, and make sure that you're still getting outs."
Miller picked up his sixth win of the season and is now second in the National League in ERA at 1.82. He varied his pitches more on Saturday, mixing in additional changeups and even throwing a couple of sinkers, a pitch he only started working on in his last bullpen session.
"It's just all coming together and trying to click, and I'm trying to learn something," Miller said. "If it's throwing a sinker or throwing changeups when you don't think you would in other cases early on in my career, it's just I feel like I'm building better and better each time."
Cain allowed the Cardinals to rack up nine runs in the fourth inning of the Cardinals' 14-3 win over the Giants on April 7. Outside of the third-inning eruption, Cain pitched five hitless innings. He also struck out nine over his six overall innings of work.
"It is a little bit [hard to process]," Cain said. "But I just have to go back, look at what happened and kind of move on. You'll have outings like that, but you have to kind of get over it."
Daniel Descalso doubled on a fly ball to right field to open the third and the Cardinals didn't let up. Descalso, Allen Craig, Tony Cruz, Matt Carpenter, Pete Kozma and Matt Adams all got in on the action, each recording a hit and a run scored.
It took Cain 40 pitches to stop the run, and five of the Cardinals' nine hits came on the first or second pitch of the at-bat.
"He was making some good pitches, but he left some over the plate and we just didn't miss those," Adams said. "We put the barrel on them and good things [happened]."
The Cardinals inflicted all the damage without Carlos Beltran, David Freese and Yadier Molina in the lineup. All there were given the early game off, but were back in the lineup for the 6:15 p.m. CT nightcap.
After struggling with his pitch count in recent games, Miller efficiently navigated through seven innings with 106 pitches, 72 of which were strikes.
"You could tell that it was on his mind, too, that he didn't want to be at 85 pitches after the fifth," Cardinals manager Mike Matheny said. "He wanted to have the chance to go a little longer. He knew our team needed it. I would say that does have something to do with his maturity and him not being complacent with what he's done so far. He knows there's room to improve."
Miller credited catcher Tony Cruz, who stepped in for Molina in Game 1, for helping build his confidence and calling an effective game. Cruz also contributed offensively, hitting a two-run double and scoring a run.
"Waino [Adam Wainwright] told me the other day, 'You did awesome.' I told him straight up that I don't care about hitting," Cruz said. "When I'm there, my job is to call a good game. To contribute in other ways is fun."
With Miller pitching seven and a comfortable lead in tow, Matheny was able to keep top relievers Trevor Rosenthal and Edward Mujica fresh for Game 2 of the doubleheader.
Victor Marte relieved Miller in the eighth and went 1-2-3 in his first appearance since contributing to the bullpen's collapse on Thursday night.
Keith Butler, who was called up from Double-A Springfield on Friday, pitched the ninth in his first Major League appearance. Butler walked his first batter and allowed a single, but escaped his first big league inning unscathed.
"It wasn't really much different running out there. But when I got to the mound, I did a turnaround to take it in a little bit. It was by far the best feeling ever," Butler said. "... When the two outs happened and everybody stood up and started cheering, I can't explain that. That was absolutely amazing."
Chad Thornburg is an associate reporter for MLB.com. This story was not subject to the approval of Major League Baseball or its clubs.