Cain draws another bad hand against Cards
Five of righty's six innings were perfect, the other a seven-run mess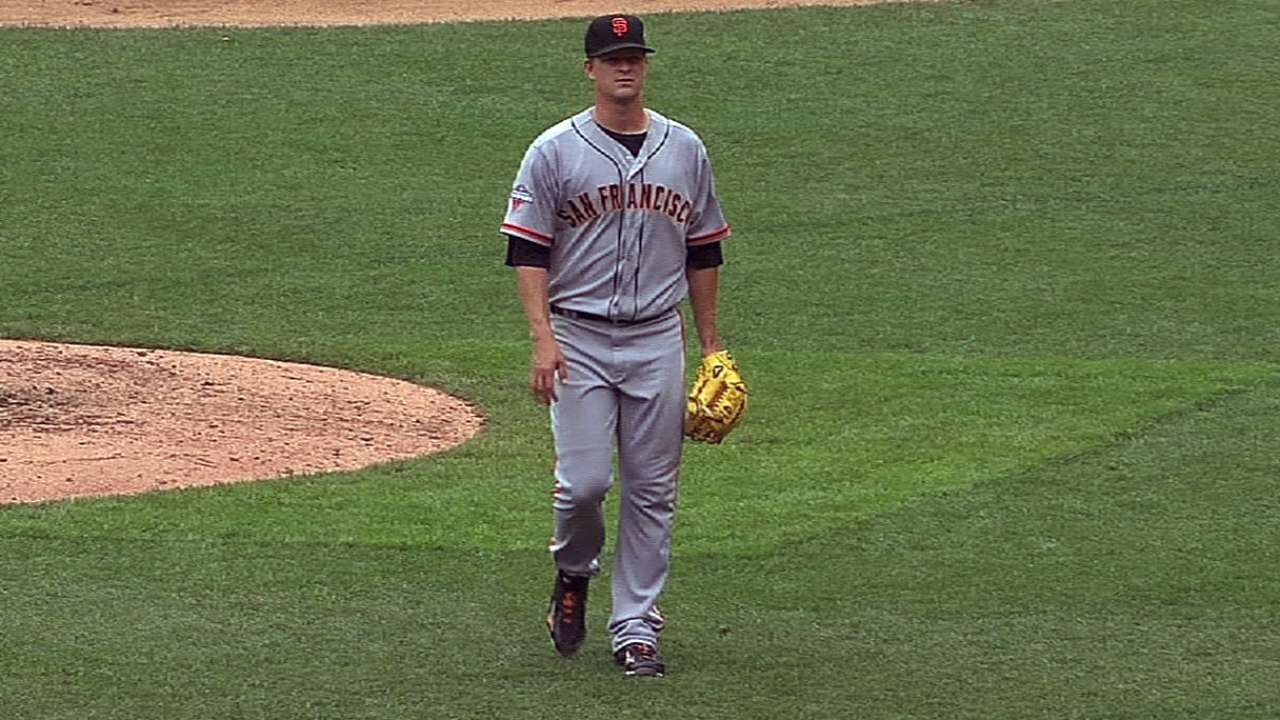 ST. LOUIS -- Nobody knows whether what has happened to Matt Cain against the St. Louis Cardinals this season is an aberration, a coincidence or a symptom of a bigger problem.
What's certain is that the Giants will devote considerable energy over the next few days toward trying to figure out why Cain's results against the Cardinals have ranged from his perfectionist best to his absolute worst. This happened again on Saturday, as the Giants dropped an 8-0 decision to St. Louis in the first game of a day-night doubleheader.
Cain (4-3) worked six innings. Each was a perfect inning except for the third, which obscured all the rest. The Cardinals packed seven runs and nine hits into that frame, while handing San Francisco its eighth loss in its last nine road games.
Cain, the three-time All-Star who pitched a perfect game against Houston last June 13, clearly has not been himself this year. His ERA climbed to 5.45, as he allowed six runs or more for the fourth time in 12 starts.
Two of those outings have come against St. Louis. He lasted only 3 2/3 innings on April 7 at AT&T Park and matched a career-high by yielding nine fourth-inning runs in a 14-3 Cardinals rout.
Cain also walked none and struck out a season-high nine on Saturday, demonstrating that he possessed ample effectiveness during his 101-pitch stint. But none of it was evident during St. Louis' third-inning outburst. This was also the case in his previous start against the Cardinals, when he preceded his unraveling with three perfect innings.
To sum it up, Cardinals hitters are 0-for-24 with nine strikeouts during the eight innings from the two games when they didn't score against Cain. Otherwise, they're 16-for-19 off him.
No wonder confusion is rampant.
Asked if the dichotomy of his effort was difficult to fathom, Cain replied, "It is, a little bit. But I just have to go back, look at what happened and kind of move on. You'll have outings like that, but you have to kind of get over it."
Pressed to suggest how he could pitch a game like Saturday's, Cain said, "I couldn't tell you, right now."
Giants manager Bruce Bochy was stuck for an explanation.
"Certainly we're having a hard time with it. We're buffaloed by it, to be honest," Bochy said. Cain's confusing results Saturday, he added, was "unlike anything I've seen because he had great stuff."
One possible source of Cain's struggles could be simple: He's suddenly uncomfortable throwing from the stretch position with men on base. The Cardinals went 1-for-16 against him on Saturday when he pitched from the windup. They were 8-for-10 when he threw from the stretch.
Cardinals manager Mike Matheny, the ex-Giant who caught Cain at the outset of his Major League career, was as surprised as anyone.
"He's one of the top pitchers in our league," Matheny said. "He's just a pro. He goes about it the right way, and we know that you have to put anything together when you can. We had one inning where we were able to do it. But to see it happen twice in one season with one club, I don't think we'll see it again with him."
A reporter suggested to Bochy that Cain might have tipped his pitches from the stretch.
"Sure, we've looked into that," Bochy said. "It's something you look at when it all happens in the stretch. We'll continue to look at it. But I think more than anything, he just had trouble getting the ball where he wanted in the stretch."
Cain insisted that he's not tipping his pitches. He distilled his troubles to the bare essentials. "I made a lot of bad pitches and they took advantage of it," he said.
That's how Cardinals first baseman Matt Adams analyzed matters.
"He was just leaving more balls over the plate," Adams said. "The first couple innings, he was good. Really good. He was spotting the fastball away and working the slider on the outer half of the plate. In the third inning, we just got him back on the plate and didn't miss any of the pitches."
Daniel Descalso doubled and Pete Kozma singled to open the inning. Shelby Miller's sacrifice bunt preceded RBI singles by four of the next five batters: Matt Carpenter, Jon Jay, Allen Craig and Adams. Tony Cruz's two-run double broke up the monotony before Descalso lined an RBI single.
Miller (6-3), who defeated San Francisco for the second time in two starts, kept the score lopsided while surrendering six hits over seven innings. The Giants advanced three runners as far as second base against him.
Chris Haft is a reporter for MLB.com. This story was not subject to the approval of Major League Baseball or its clubs.