Blue Jays' bullpen gives in 17th vs. Padres
Jenkins, defense allow Padres to tie, resulting in marathon stalemate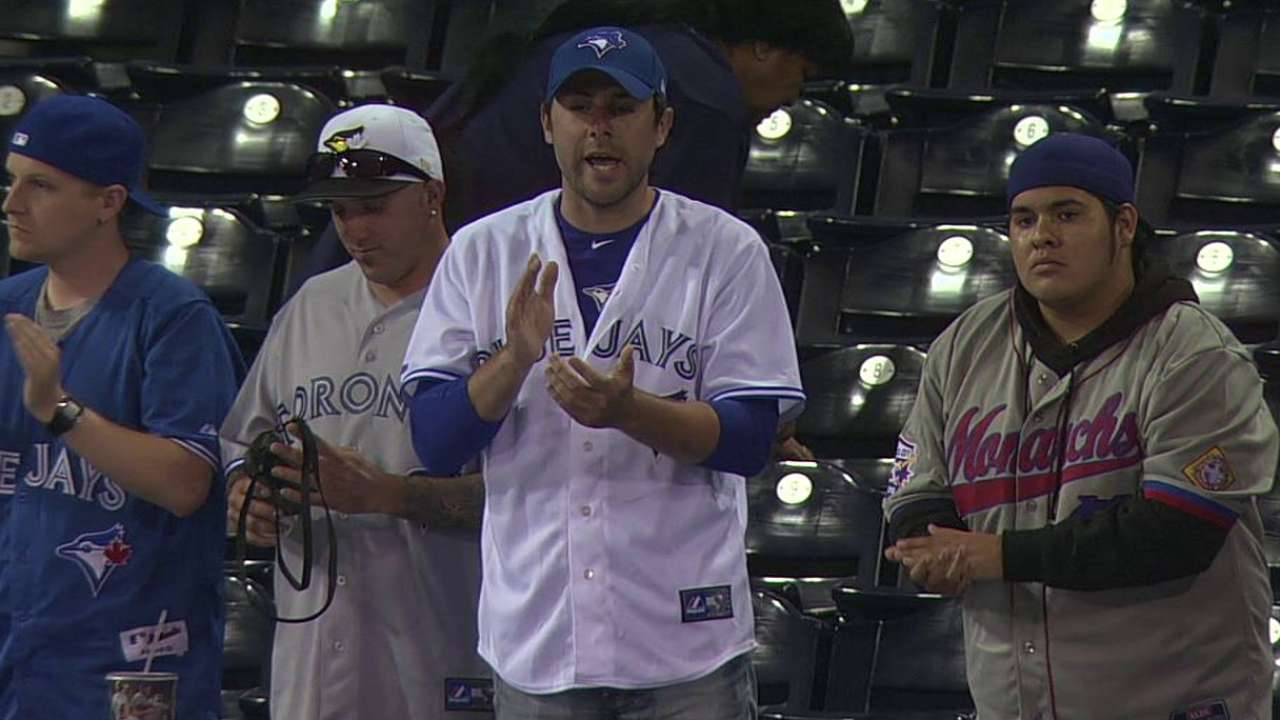 SAN DIEGO -- The Blue Jays have been dealt their fair share of tough losses this season, but the one Friday night at Petco Park might go down as the most difficult to take.
Toronto and San Diego battled it out for 17 innings in a marathon of a game that lasted four hours 58 minutes. The final pitch was not thrown until 3:10 a.m. ET, and the only thing that would have made it worthwhile to the club was a much-needed victory.
Any hopes for that were erased when right-hander Todd Redmond surrendered a walk-off single to Jesus Guzman in the 17th as the Blue Jays lost, 4-3, to the Padres in one of the longest games in franchise history.
"Both teams gutted it out," Blue Jays manager John Gibbons said. "It was one of those games, it was a tough one to lose because both teams get beat up in a game like that. There was pretty good energy out there; we had the lead early, coughed that up, and then it was zeros the rest of the way."
The 17-inning affair tied a Blue Jays franchise record for most innings played in a road game. The club previously played 17 innings Oct. 4, 1980, at Boston and June 8, 1998, at Miami. The most innings played in any game in franchise history (18) came July 28, 2005, at Rogers Centre vs. the Angels.
It was a rather cruel twist of fate that anyone from the Blue Jays bullpen had to be stuck with the loss, considering the group's overall standout performance. Entering the 17th frame, seven relievers had combined to throw 11 scoreless innings while allowing just four hits and three walks while striking out 10.
The only reliever who went unused was right-hander Brad Lincoln, who threw 29 pitches Thursday night in Atlanta. Redmond also pitched in that game against the Braves, but when he entered in the 14th inning on Friday night he knew it was his game to win or lose.
Redmond was relatively flawless until the 17th. He received a tough break when San Diego's Jedd Gyorko reached base with one out after his grounder bounced off third base and went over the head of Edwin Encarnacion. Two batters later, Guzman's hard-hit single sealed the Blue Jays' fate.
"I told Gibby, I used to play in the National League; let me hit," said Redmond, who went 0-for-1. "I was going to go as long as I could, coming up as a starter, so I was stretched out enough. My arm felt great tonight, so it was good.
"You try to pick everybody up as much as you can between innings, rooting them on. Adrenaline takes over, you pump yourself up and you're the guy out there, so you have to get the job done."
The bizarre game Friday night had just about everything. Blue Jays right-hander Esmil Rogers entered the game in the 14th inning not as a pitcher but as a pinch-hitter. Padres lefty Clayton Richard was supposed to start Saturday night but instead entered the game in the 16th inning and picked up the win with two scoreless innings.
San Diego ran out of relievers and bench players, while the only Blue Jays position player who did not get into the game was veteran backup catcher Henry Blanco. Even worse for Toronto was that the club had just arrived at the West Coast the night before and still had not adjusted to its new surroundings.
"Marathon," Blue Jays starter Chad Jenkins said. "I think what makes it the toughest part is that we had a cross-country flight last night, not too late, I think we landed at 12:45 a.m., but we're still all on Eastern time.
"So technically for us, it's like 3 or 4 in the morning. It's tough to watch; we couldn't just get anything to fall, and then they got the timely hitting in the end."
The Blue Jays' offense got off to a quick start much earlier in the game, as Colby Rasmus and Encarnacion each homered to give the club a 3-0 lead. From that point on, though, the bats went ice cold.
Toronto went 0-for-5 with runners in scoring position while stranding 10 baserunners. Perhaps most concerning was that despite the length of the game, the Blue Jays were unable to put any runners in scoring position from the eighth inning on.
The Padres were not much better, but in this case they could at least take a deep sigh of relief after escaping with a win.
"You work so hard in a lot of ways ... to win it, is a great win," Padres manager Bud Black said. "That was a big hit for Guzie. They pitched well, too. We held them down."
Completely lost in Friday's mayhem was yet another solid performance by Jenkins, who allowed just three runs -- two earned -- in his third outing of the season.
Jenkins retired the first nine batters of the game and faced the minimum through four innings. He was on cruise control until the fifth, but that was also the same frame his defense let him down.
The 25-year-old allowed the first two batters he faced in the fifth to reach base, and he then surrendered a double to the gap in right-center field off the bat of Gyorko. One run came around to score, and Emilio Bonifacio had a chance to throw out Yonder Alonso at the plate, but his relay throw from the outfield sailed well wide of home.
Catcher J.P. Arencibia went up the first-base line to make the catch and then made an ill-advised decision to throw on the run and try to get Gyorko at third. Arencibia had little chance at Gyorko to begin with, and his throw skipped past Encarnacion at third, allowing Gyorko to score on the error and tie the game at 3, where it would stand until the 17th.
"It was just a series of unfortunate events. I had a guy 3-2 and hit him ... next batter broken-bat single," Jenkins said. "Unfortunately we couldn't keep him on base; he ended up scoring, and then as everybody saw, it got really slow after that."
Gregor Chisholm is a reporter for MLB.com. Read his blog, North of the Border, and follow him on Twitter @gregorMLB. This story was not subject to the approval of Major League Baseball or its clubs.