Indians manage only one hit after three rain delays
Raburn's double all Tribe manages after nearly five hours of stoppages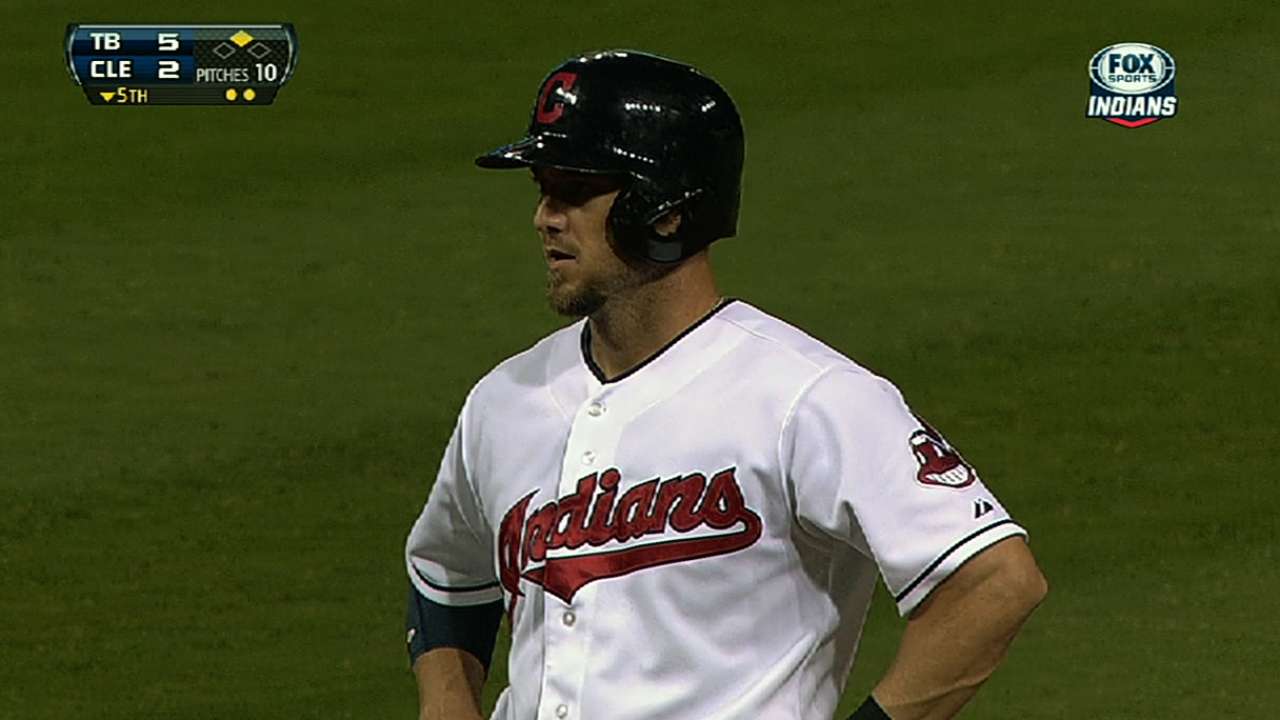 CLEVELAND -- Most of the fans who came to Progressive Field on Friday night skedaddled after rain delays pushed the start of the bottom of the second inning into early Saturday morning. Those who stayed were treated to a lousy showing by the home team, which managed only one hit in a loss that finally wrapped up at 2:55 a.m.
The contest was fragmented and drawn out thanks to three separate rain delays that totaled nearly five hours. When play finally resumed for good, it was past midnight and both starters were out of the game. The Rays wasted no time in ripping off five runs in the third inning against Tribe reliever Scott Barnes, who took the loss in Cleveland's 9-2 defeat.
"The inning kind of took the wind out of our sails," Indians manager Terry Francona said. "We got out and, after that long layoff, all of a sudden we're down five. That kind of took the starch out of us a little bit. You could see it."
The game's scheduled 7:05 p.m. ET start was delayed 1 hour, 57 minutes. Corey Kluber tossed the first pitch at 9:02, but the tarp was back on the field by 9:18. It came off again at 9:31, but three minutes later it reestablished its residence on the diamond, where it sat for another 2 hours, 39 minutes.
"Once [the rain] starts, the umpires take over," Francona said. "And there was a ton of cooperation on their part, trying to ensure that if we played, we'd play nine, which I think is good. And then, saying that, if you can predict the weather here, you're better than me."
The bottom of the second began at 12:13 a.m., with Rays reliever Jamey Wright on to replace ace Matt Moore. Wright retired the side on only eight pitches, which made what happened to Barnes in the following inning even more difficult to bear for Tribe fans -- the engaged few who remained.
With two outs and a man on first, Barnes surrendered a two-run homer to Matt Joyce. After a Kelly Johnson walk, Evan Longoria doubled in a run and James Loney scored two more with a homer to left. The outing was easily Barnes' worst of the season, and his ERA shot up to 7.27.
"Unfortunately, I left a few balls up today and paid for it," said Barnes, who might have looked sluggish but claimed he wasn't. "I was just trying to throw strikes, be aggressive, stay in the zone, but like I said, I just left a few balls up and they knocked them out of the park."
Loney added a solo shot in the eighth to give himself seven homers on the year.
As for the Indians, their first -- and only -- hit didn't come until the fifth, when they scored two runs. Wright exited after walking Nick Swisher and having Mark Reynolds reach on an error by Longoria at third. The reliever made way for right-hander Josh Lueke, who let one run come home on a sacrifice fly by Yan Gomes and another on Ryan Raburn's double off the right-field wall.
"We had that one inning where we kind of had some runners on and we scored a couple," Francona said, "and then they spread it out. Just a tough night."
Both of the runs were unearned and went to Wright, who came away with the win -- his first of the season. Wright tossed three-plus innings, walking one and striking out four.
"Jamey Wright set the whole thing up," Rays manager Joe Maddon said. "He came out and he put order into that game, and our offense really took over. That was kind of amazing."
Tampa Bay padded its lead with three runs in the ninth, when Yunel Escobar, Ben Zobrist and Sam Fuld all hit RBI singles.
The Indians used six pitchers, including Kluber, whose short outing (two innings and 24 pitches) will be treated as an abbreviated start. Matt Albers and Nick Hagadone threw two innings, and Bryan Shaw, Rich Hill and Barnes (0-1) tossed one each. Francona didn't count on using so many of his relievers, but Barnes' performance in the third forced a change of plans.
"That was a tough inning," the skipper said. "It was set up nice. They had all the lefties. And we were actually hoping for some length with [Barnes] and get us to the middle of the game, where we can go to the bullpen and kind of keep it in order, and it didn't work that way."
In the sixth, Michael Bourn was caught stealing for the third time this season. He was nabbed between first and second during an at-bat by Mike Aviles. Bourn scampered toward each bag before being called out on a tag by the shortstop Escobar as he tried to make it back to first.
Bourn seemed to avoid the tag and argued with the umpires -- as did Francona -- but the men in blue didn't reverse the call.
Regardless, the play was a small one on a night when four Rays pitchers held the Indians to only one hit.
"They were good," said Mark Reynolds, who went 0-for-3 with a run scored. "But I think we swung at a lot of their pitches instead of waiting them out. It's always tough facing six different guys in a game. But at the same time, we've got to make the adjustment and do a better job of putting better ABs together."
Asked whether the rain delay influenced the Indians' offensive approach, Reynolds said, "Not at all, just the fact that we're all tired and want to go home."
Mark Emery is an associate reporter for MLB.com. This story was not subject to the approval of Major League Baseball or its clubs.