Helton's moonshot not enough to take opener from LA
Veteran slugger forces extras with pinch-hit homer, but Rockies fall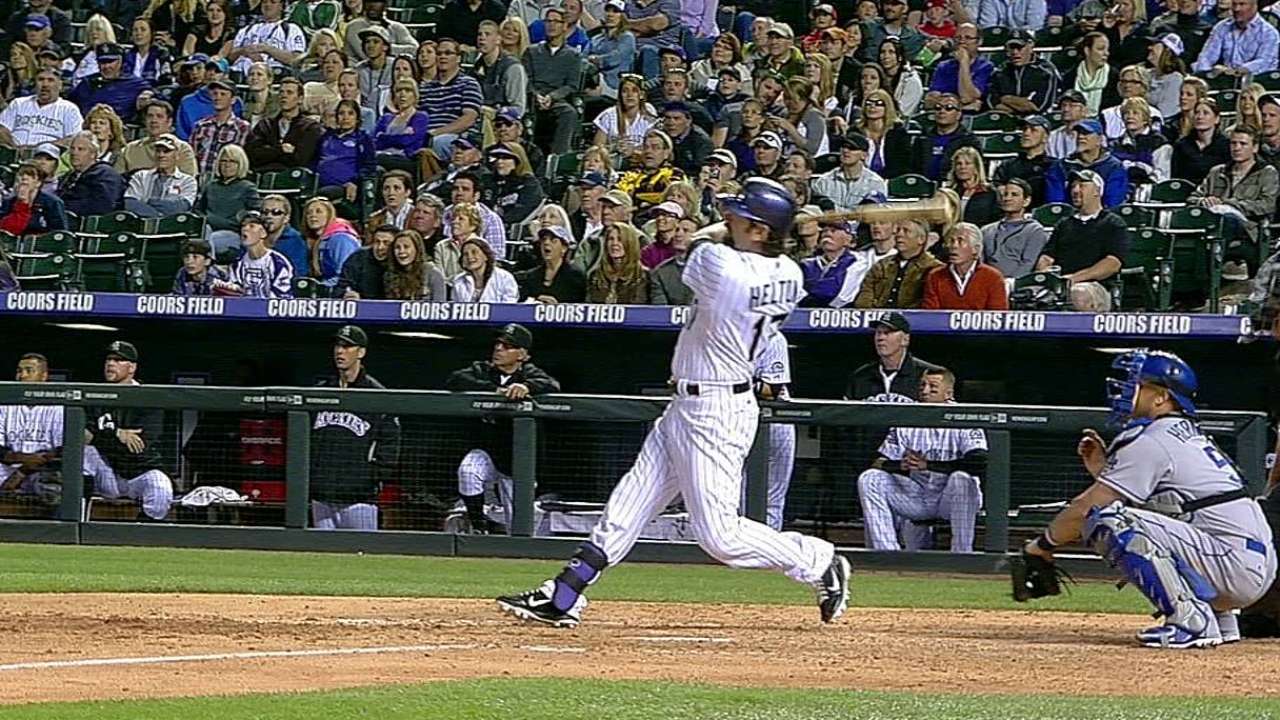 DENVER -- With one big swing and a flip of the bat in the ninth inning, veteran slugger Todd Helton proved he had another dramatic moment left in his career. But even that was not enough to spare the Rockies from a 7-5, 10-inning loss to the Dodgers at Coors Field on Friday night.
Dodgers catcher Ramon Hernandez led off the 10th with a single off right-handed reliever Rafael Betancourt (1-3) and later crossed home on a Luis Cruz groundout. Los Angeles added another run when Skip Schumaker scored off a single from third baseman Juan Uribe.
Colorado experienced a similarly crushing loss at San Francisco last Saturday. Troy Tulowitzki gave the team a one-run lead in the 10th, only to watch the Giants' Angel Pagan hit a walk-off inside-the-park home run later that inning, also off Betancourt. Friday's loss was the Rockies' sixth in their past seven games.
"We've played a lot of tight games this year, and sometimes the reward for competing like that is getting punched in the gut," Rockies manager Walt Weiss said. "I loved the way our guys fought back against a really good pitcher and kept competing."
Entering as a pinch-hitter with one on and one out in the ninth, Helton belted a 93-mph sinker from closer Brandon League (1-2) into the second deck of the right-field seats to tie the game at 5. From the moment the crack of his bat rang through the stadium, Helton and the crowd both knew this one had no shot of staying inside the ballpark. It was League's third blown save.
The homer came on the 11th pitch of a vintage Helton at-bat. He fouled off five pitches before the game-changing swing, with second baseman DJ LeMahieu on base after a single. Helton, 39 years old and in what most believe is his last season, has scuffled at the plate, hitting .227 and splitting starts at first base with Jordan Pacheco.
But his fourth homer of the season and first since May 16 proved well worth the wait.
"I don't ever doubt Todd," Weiss said. "He's had to grind through some things like everybody else this year, but I don't ever doubt his ability to step in there and give a good at-bat and throw a hit out there. He's proved that he can still do that."
Before the dramatic finish, Dodgers starter Clayton Kershaw displayed why he has established himself as one of the most lethal left arms in professional baseball.
Kershaw entered with a pedestrian 3-3 record and 5.91 ERA in 10 career starts at Coors Field, but pitched seven-plus solid innings. He finished with three earned runs, two walks and five strikeouts -- enough to outduel a sluggish Rockies offense for most of the game.
"Everything was working," third baseman Nolan Arenado said. "I think his slider look even a bit better than his curveball today."
Colorado threatened in the eighth, when singles from Dexter Fowler and Tulowitzki convinced Dodgers manager Don Mattingly to replace Kershaw with reliever Kenley Jansen. However, with the bases loaded and no outs, Wilin Rosario swung at the first pitch he saw to ground into a double play, limiting the damage in that inning to one run.
"We had a lead and losing it, it would have been real easy to lay down," Mattingly said. "But the boys bounced back. One thing I'm proud of, they're showing fight, battling."
After moving through the order with two 1-2-3 innings to open the game, Rockies starter Jon Garland began to lose command in the third.
Garland hit Cruz before Uribe snuck a double inside the third-base line and into the left-field corner. Mark Ellis followed soon after with a single to score Uribe, and Adrian Gonzalez pelted a single past a reaching LeMahieu to give Los Angeles a 3-0 lead.
In trouble again in the fourth, Garland intentionally walked Uribe, the eight-hole hitter, to face Kershaw, who lifted a curveball for a double into deep left-center to drive in Scott Van Slyke and Uribe.
Garland saw that at-bat with Kershaw, who finished 2-for-3, as the moment where things turned south in his outing.
"If I can get him out there and keep it to a three-run game and we do what we did, we have a lot better chance," said Garland, who surrendered five earned runs, seven hits and three walks in five innings.
With the Rockies down five runs and still hitless in the fourth, Fowler chopped a single into center and Tulowitzki followed with an infield single. Michael Cuddyer dropped an RBI single into right, and Rosario grounded out, but picked up his 28th RBI to cut the difference to 5-2.
Ian McCue is an associate reporter for MLB.com. This story was not subject to the approval of Major League Baseball or its clubs.