Loney powers Rays to win after three rain delays
First baseman smacks two homers after nearly five hours of stoppages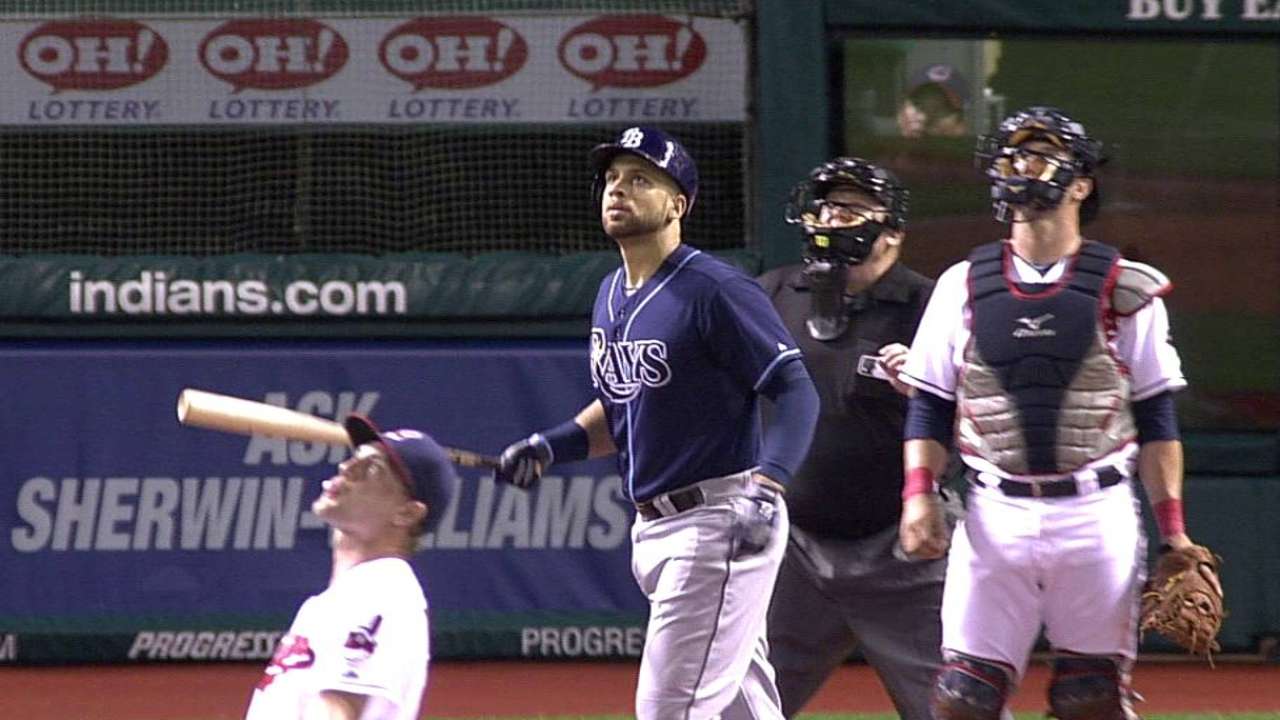 CLEVELAND -- Joe Maddon, then a member of the Boulder Collegians, can recall pinch-hitting for Joe Carter in the 1980 National Baseball Congress tournament in Wichita, Kan.
That, the Rays skipper said, was the last time he played baseball at 3 a.m. (he lined out to second base to end the game).
Now, Maddon has a new late-night venture to store in his memory bank. This time, Mother Nature pushed Tampa Bay to the brink, but the surging Rays pulled through, recording the final out at 2:53 a.m. ET.
The Rays topped the Indians, 9-2, on Friday -- actually, Saturday morning -- even though unrelenting rain rendered undefeated pitcher Matt Moore moot and delayed the affair for nearly five hours. In the end, Tampa Bay claimed its sixth straight win.
Four Rays pitchers combined to limit Cleveland to only one hit, and first baseman James Loney notched his third career multi-homer game, and first since Sept. 2007.
Jamey Wright toed the rubber following the third and final rain delay and tossed three innings, allowing two unearned runs with four strikeouts. He didn't give up a hit, but runners reached on a walk and an error. Still, his performance set the tone for a Rays bunch that Maddon said was buzzing about the dugout as the hours wore on.
"Jamey Wright set the whole thing up," Maddon said. "He came out and he put order into that game, and our offense really took over. That was kind of amazing."
Tribe right-hander Corey Kluber didn't toss the contest's first pitch until 9:02 p.m., nearly two hours after the scheduled start. At that time, the teams logged a little more than an inning before rain halted play at 9:18 p.m.
Mother Nature then played a game of cat and mouse, as seemingly every time the groundskeepers removed the tarp, the skies opened. When the crew placed the covering over the infield, the precipitation stopped.
"It was very confusing to everybody," Maddon said.
After the second delay lasted only 13 minutes, the teams resumed play. Three minutes later, however, another steady shower sent the players back to the clubhouses, where the Rays kept busy by playing a Golden Tee golfing video game and watching other contests from around the league.
When play ultimately continued, the Rays roughed up Cleveland southpaw Scott Barnes, scoring five runs in the third inning. Loney and Matt Joyce connected on two-run, two-out homers.
Barnes wouldn't let the rain qualify as an excuse.
"It's not really that tough," he said. "You've just got to put it behind you and take it pitch by pitch. Unfortunately, I left a few balls up today and paid for it."
Loney tacked on his second round-tripper of the night in the eighth, and Tampa Bay padded its lead with three ninth-inning runs.
Moore (8-0) will have to wait for another opportunity to tally his league-leading ninth win. He lowered his ERA to 2.18 with a scoreless first inning, but the intermittent delays prevented both starting pitchers from continuing past the second stoppage. The third and final pause in play lasted two hours and 39 minutes, as the teams reunited on the field at 12:13 a.m., after flipping their calendars to June.
Josh Lueke gave up Cleveland's lone hit in the fifth, an RBI double by Ryan Raburn that appeared to carom off of Joyce, who was scaling the wall to make the catch.
"Spiderman let the ball hit him in the back," Maddon joked.
Cesar Ramos threw three scoreless innings to earn his first career save.
"It was fun, it's just unbelievable to be playing baseball at this time," Ramos said. "Today was a good day for the 'pen."
The Indians and Rays will reconvene at Progressive Field for a 1:05 p.m. ET start on Saturday, little more than 10 hours after Nick Swisher grounded out to end the series opener. Maddon approved of his players securing as much sleep as possible before arriving to the ballpark on Saturday.
"Just be here on time, that's all," Maddon said. "I'll post the lineup and then I don't want them here too early. I'd like to see bags of McDonald's on the bench, guys showing up and tying their shoes as they walk down to the dugout. That's fine."
It'll be a deserved morning off after a memorable late-night triumph.
"It's a very awkward way to do this," Maddon said, "but if you're going to stick around that long, you might as well win it."
Zack Meisel is a reporter for MLB.com. Follow him on Twitter @zackmeisel. This story was not subject to the approval of Major League Baseball or its clubs.