O's rally in ninth, top Tigers on walk-off home run
Markakis' homer sets up Dickerson's heroics, erasing two-run deficit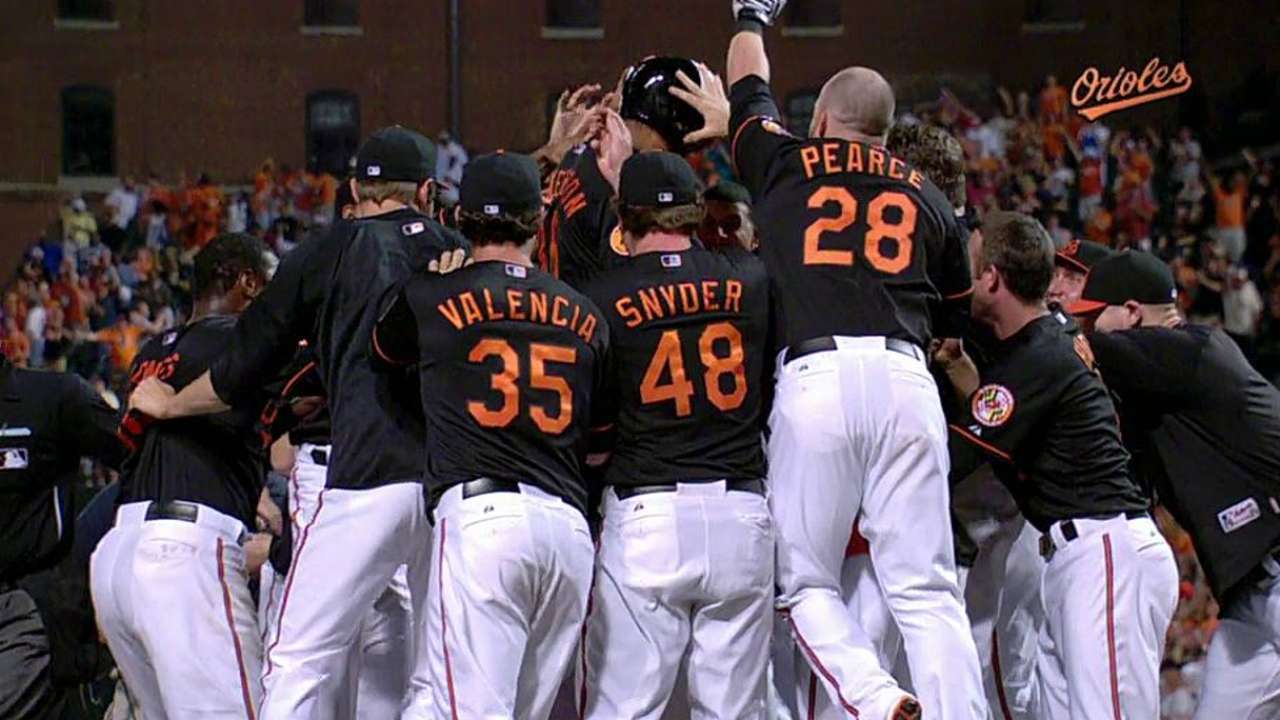 BALTIMORE -- One of the spring's final roster cuts, Orioles outfielder Chris Dickerson was just happy to be in Friday's starting lineup, with a sore left wrist resulting in just one at-bat since May 23 entering the game.
"I told him a few days ago," said manager Buck Showalter, "I wasn't going to let him sit around too long."
So it was only fitting for an Orioles club with a revolving cast of heroes that Dickerson would be the one to ensure the soldout crowd of 46,249 at Camden Yards remained on its feet. With the O's down to their final out, Dickerson launched Detroit closer Jose Valverde's 2-1 fastball into the center-field seats for a three-run walk-off homer that sealed a thrilling ninth-inning comeback and clinched a series-opening 7-5 win.
"That's the type of feeling you just want to bottle up and take home forever," Dickerson said of his first career walk-off homer at any level. "Just an incredible feeling, an incredible moment."
The victory marked the Orioles' eighth in their past 11 games, with Baltimore owning baseball's best winning percentage (.621) since July 29, 2012. With a matchup of the American League's two top offenses, the O's -- dominated over eight innings by Tigers starter Max Scherzer -- roared back for a four-run ninth, leaving the Tigers incredulous.
"It certainly wasn't one that just made it over," Tigers manager Jim Leyland said of Dickerson's towering homer. "It was a long one. It's too bad, because we let one get away that was ours."
Or was it?
With the Orioles down two, Nick Markakis got things going to lead off the ninth, sending Valverde's 0-2 pitch just far enough to get over the right-center-field wall. Markakis' hit was the Orioles' first since Adam Jones' third-inning homer, with Scherzer retiring 16 consecutive batters to close out a dominant 119-pitch outing.
"That was kind of the thing [that started the momentum]," Dickerson said of Markakis' seventh homer this season. "If I was on the other team and I knew our team, I would have been like, 'Uh oh, here we go again.' That's what I was saying to myself, I was like, 'Well, here we go.'"
Jones followed with an infield single in the shortstop hole, and red-hot slugger Chris Davis drove a full-count pitch into right-center field to put runners on the corners. After Matt Wieters popped up, J.J. Hardy hit a fly ball into left field that was too shallow for Jones to try to tag up on, putting the game in Dickerson's hands.
"We kept fighting," Jones said. "There are 27 outs, and we only got 26 of them. This team, the grinding of the players ... we never give anything away. Tonight was a prime example of it. Valverde is a first-line closer. We got on base and kind of rattled him and [were] able to sneak out a good win."
Jones, who greeted Dickerson at home plate with a celebratory pie to the face, went 3-for-4 with three runs scored. He opened the second with a single, which was followed by a single from Davis, and Wieters' sacrifice fly gave the Orioles their first run off Scherzer. It was all they would get outside of Jones' two-run shot as the right-hander struck out 10 in an impressive performance.
"We felt like if we could keep it there ... we were hoping he wouldn't pitch forever," Showalter said of the welcome sight of a pitcher other than Scherzer on the mound. "I thought [Orioles starter Miguel Gonzalez] did what he could do to keep it close."
Gonzalez couldn't match Scherzer, putting the Orioles in a hole 13 pitches into the game on his way to allowing a season-high five earned runs. The 29-year-old allowed a one-out single to Andy Dirks, and reigning Triple Crown winner Miguel Cabrera sent a 1-2 pitch into the left-field seats for a quick two-run lead in the first.
Gonzalez, who had just one clean inning, battled through six frames and tied a season high with 105 pitches.
He was followed by three scoreless frames from the Orioles' bullpen, which consisted of Troy Patton, Steve Johnson, Brian Matusz and Darren O'Day shutting down the lethal Tigers lineup and allowing their offense to stay within striking distance.
"It's not about statements," Showalter said of the comeback win. "It's a good baseball game for us in front of a great crowd. We're a little over one-third of the season. Everybody says that at some point after a game like that, but the proof's always in the pudding. We'll answer a lot of those questions when September is over."
Brittany Ghiroli is a reporter for MLB.com. Read her blog, Britt's Bird Watch, and follow her on Twitter @britt_ghiroli. This story was not subject to the approval of Major League Baseball or its clubs.