Valverde can't shut door for Scherzer vs. Orioles
Closer allows two HRs, including walk-off, after righty fans 10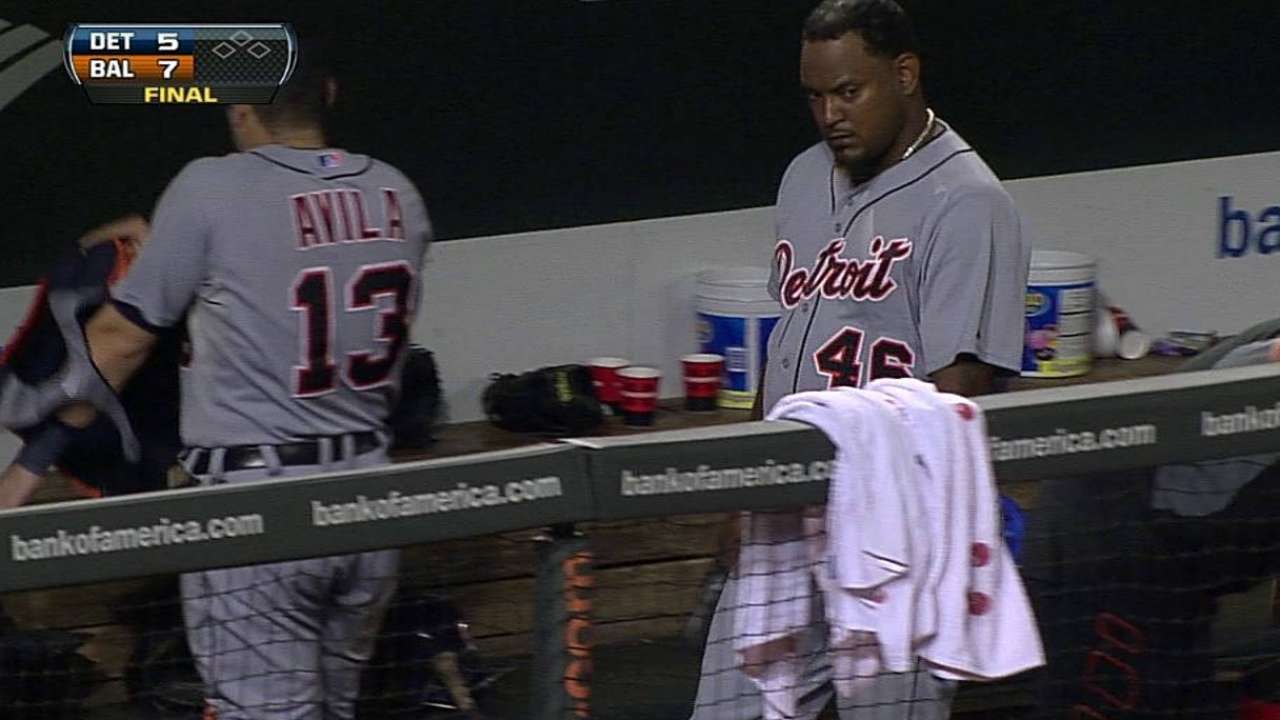 BALTIMORE -- This time, it wasn't the first run that eluded the Tigers. It was the last out.
The result was the same. In the end, the Orioles' ninth-inning rally -- capped by Chris Dickerson's walk-off three-run homer -- meant another pitching gem by a Tigers starter gone to waste.
Yet somehow, as Dickerson's drive to right-center sent a sellout crowd of 46,249 at Camden Yards into a frenzy and sent the Tigers to their fourth straight loss with a 7-5 defeat Friday, this one might have stung a little more. Just when Detroit's offense came back to life, including another home run from Miguel Cabrera, the team couldn't finish it off.
"We haven't been scoring runs. We got enough tonight to win the game," manager Jim Leyland said. "We just didn't hold it."
And just when Leyland felt like his bullpen was falling into place behind Valverde, who had seemingly settled in with some efficiency despite the drama, the Tigers lost when leading after eight innings for the third time this year.
"There's nothing you can do, just get ready for tomorrow," Valverde said. "It's over. I feel bad for us, for Max [Scherzer], because he threw a good game. He put the game in my hands."
Tigers starters have allowed eight runs on 17 hits over 29 2/3 innings with 42 strikeouts over the course of a four-game losing streak. All four losses have been by two runs or fewer, including the pair of 1-0, 11-inning losses to the Pirates. The only starter to lose in that stretch was Anibal Sanchez on Wednesday, and only after the Pirates jumped on him for four runs in a 12-pitch stretch of the seventh inning.
Scherzer was the first of those pitchers to leave the game in line for the win.
"That's baseball," Scherzer said.
Cabrera's 16th home run of the year and Avisail Garcia's second helped build a Tigers lead that Scherzer carried through the eighth inning with a 10-strikeout performance. Adam Jones' two-run homer in the third inning was the last damage Scherzer allowed, putting him in line to become just the second Tigers starter since 1939 to begin a season 8-0.
"You can't ask for anything more than he had, particularly in a ballpark like this with the power that they've got," Leyland said of Scherzer. "He was terrific."
Scherzer retired the last 16 batters he faced, leaving Valverde for the final three with a 5-3 lead. It's the situation designed for a closer. On a hot, humid evening in a small ballpark, however, it's a tricky situation for any ball left in the air, especially against a team that entered the game with three walk-off wins.
Once Nick Markakis turned on a hanging splitter on an 0-2 pitch and lofted it just out of right fielder Garcia's reach and over the fence to halve Detroit's lead, those last three outs became much more difficult.
"That was kind of the thing," Dickerson said. "If I was on the other team and I knew our team, I would have been like, 'Uh oh, here we go again.'"
There was a different sentiment from the Detroit side. It was the secondary pitch the Tigers wanted to see from Valverde when they brought him back in April. With an 0-2 count, it was the right time to throw it, even on back-to-back pitches.
"We were trying to put the splitter in the dirt, get him to chase like the previous one," catcher Alex Avila said. "He just left it up."
Valverde fell behind on the next two hitters with 2-0 counts before giving up singles. Jones' ground-ball single took Jhonny Peralta -- shaded near the middle to take away the gap -- toward the hole, leaving him no play at first.
A full-count fastball to Chris Davis resulted in a liner to right, putting Jones on third base as the potential tying run with nobody out.
As unlikely as it seemed, Valverde almost got out of it, even after falling behind the next two hitters. His 1-0 fastball to Matt Wieters sent him swinging up and popping out in front of first base. J.J. Hardy fouled off two fastballs in the zone before chasing a 92-mph heater up and popping it up behind third.
The fastball wasn't as hard, hitting 92-93 mph, but it was moving.
"He had a lot of run on it," Avila said. "He had a tough time controlling it early to the batter, and then once he got behind, he was able to make the adjustment and kind of settle down with it. But sometimes when you're behind there, it's going to be a little bit uncomfortable. If you're ahead, you have some room to play with."
Suddenly, the Tigers were an out away from escaping. Dickerson, a role player for several years in other organizations before landing in Baltimore as an early-season callup, was the only obstacle.
"Certainly we were in big, big trouble," Leyland said, "and then it looked like we were still in trouble, but not obviously as big. We just couldn't get the final one."
All four fastballs to Dickerson ran up and away. The first two missed before the next crept over the plate. Dickerson fouled that one off, but connected on the second.
"It was middle of the plate," Avila said. "Trying to go away there, 2-1. In the back of my mind, I thought about maybe going with the splitter, but you don't want to get 3-1 in that situation. It's just the result of getting behind some guys."
It was just the second walk-off homer Valverde had allowed in his career. The other came to another role player, former Reds player Javier Valentin, in 2006. He has allowed a dozen go-ahead home runs, but many of those came in home games where it wouldn't end it.
"I think everybody has a tough day. Everybody," Valverde said. "Today was my day. I have to throw this away and be ready for tomorrow."
Jason Beck is a reporter for MLB.com. Read Beck's Blog and follow him on Twitter @beckjason. This story was not subject to the approval of Major League Baseball or its clubs.