Top Draft prospects get NCAA regional action
No. 2-ranked Gray leads Oklahoma to victory; No. 3 Bryant and USD fall in L.A.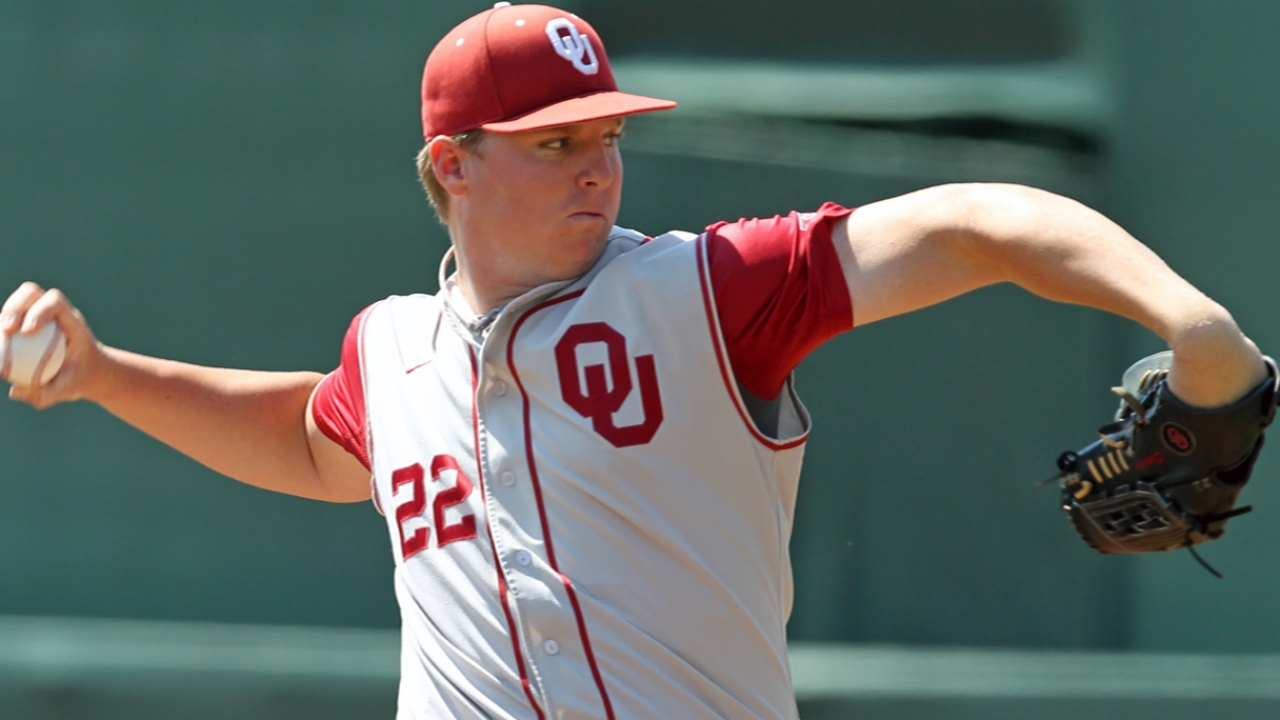 The road to Omaha began Friday with regional action around the country in the NCAA Division I baseball tournament, including some first-round thrills and some possible future Major League talent on display.
In one of the early games Friday, Oklahoma's Jonathan Gray, ranked No. 2 in MLB.com's Top 100 Draft Prospects, earned the victory for the Sooners over Coastal Carolina in the Blacksburg (Va.) Regional. The Sooners will await the winner of the Virginia Tech-Connecticut game for a Saturday night showdown in the double-elimination format being used in the 16 regionals of four teams apiece.
Gray, a right-hander among those in consideration for the No. 1 overall selection by the Astros in the First-Year Player Draft on Thursday, went all nine innings in a 7-4 Oklahoma victory over the Chanticleers in the opener. He allowed two earned runs on nine hits while striking out 11 and walking just one, throwing 129 pitches, a whopping 89 for strikes.
In other early games, Virginia eked out a 2-1 victory over Army in the opener for the No. 6 national seed. Playing at home in the Charlottesville (Va.) Regional, the Cavaliers scored a pair of runs in the bottom of the fifth and held on from there.
Troy beat Alabama, 5-2, with a five-run outburst in the fourth inning in the Tallahassee (Fla.) Regional, and Liberty claimed its first NCAA tournament victory in 13 years with an 8-3 defeat of Clemson in the Columbia (S.C.) Regional.
North Carolina third baseman Colin Moran, MLB.com's No. 6 Draft prospect, went 1-for-5 in the Tar Heels' 6-3 win over Canisius. Jumping out to a quick lead in the contest, the Heels scored four runs in the first two innings in the Chapel Hill (N.C.) Regional.
Left-hander Kevin Ziomek (No. 33) pitched in Vanderbilt's opener in the Nashville (Tenn.) Regional, holding East Tennessee State to just one run on three hits in seven frames to secure a 9-1 Commodores win.
Also in action Friday was San Diego third baseman Kris Bryant (No. 3), who leads the nation with 31 home runs. He was held hitless in three at-bats as San Diego took a 9-2 loss to Cal Poly in the Los Angeles Regional.
In the only game of the day that went to extras, Rice eeked out a 3-2 win in 11 innings over San Francisco in the Eugene (Ore.) Regional. Geoff Perrott and Blake Fox were the stars of the game for Rice. Perrott had a two-run home run in the fifth inning, before Fox had an RBI single to left field in the bottom of the 11th to secure the win.
Here are Friday's results and Saturday's schedule:
NCAA Baseball Championships
Regionals
Friday's scores
Tallahassee Regional
Troy 5, Alabama 2
Florida St. 10, Savannah St. 0
Saturday's schedule
Alabama vs. Savannah St.
Florida St. vs. Troy
Columbia Regional
Liberty 8, Clemson 3
South Carolina 7, Saint Louis 3
Saturday's schedule
Clemson vs. Saint Louis
South Carolina vs. Liberty
Blacksburg Regional
Oklahoma 7, Coastal Carolina 3
Connecticut 5, Virginia Tech 2
Saturday's schedule
Virginia Tech vs. Coastal Carolina
Oklahoma vs. Connecticut
Chapel Hill Regional
Towson 7, Florida Atlantic 2
North Carolina 6, Canisius 3
Saturday's schedule
Florida Atlantic vs. Canisius
North Carolina vs. Towson
Charlottesville Regional
Virginia 2, Army 1
Elon 10, UNC-Wilmington 7
Saturday's schedule
UNC-Wilmington vs. Army
Virginia vs. Elon
Nashville Regional
Illinois 6, Georgia Tech 4
Vanderbilt 9, East Tennessee St. 1
Saturday's schedule
Georgia Tech vs. East Tennessee St.
Vanderbilt vs. Illinois
Raleigh (N.C.) Regional
William & Mary 4, Mississippi 2
N.C. State 4, Binghamton 1
Saturday's schedule
Mississippi vs. Binghamton
N.C. State vs. William & Mary
Louisville (Ky.) Regional
Miami (FL) 7, Oklahoma St. 0
Louisville 8, Bowling Green 3
Saturday's schedule
Oklahoma St. vs. Bowling Green
Louisville vs. Miami (FL)
Bloomington (Ind.) Regional
Austin Peay 4, Florida 3
Indiana 5, Valparaiso 4
Saturday's schedule
Florida vs. Valparaiso
Indiana vs. Austin Peay
Manhattan (Kan.) Regional
Kansas St. 20, Wichita St. 11
Bryant 4, Arkansas 1
Saturday's schedule
Arkansas vs. Wichita State
Kansas St. vs. Bryant
Corvallis (Ore.) Regional
UC Santa Barbara 6, Texas A&M 4
Oregon St. 5, UT-San Antonio 4
Saturday's schedule
Texas A&M vs. UT-San Antonio
Oregon State vs. UC Santa Barbara
Starkville (Miss.) Regional
South Alabama 9, Mercer 4
Mississippi St. 5, Central Arkansas 3
Saturday's schedule
Mercer vs. Central Arkansas
Mississippi St. vs. South Alabama
Baton Rouge (La.) Regional
LSU 11, Jackson State 7
Sam Houston St. 4, La.-Lafayette 2
Saturday's schedule
La.-Lafayette vs. Jackson State
LSU vs. Sam Houston St.
Eugene (Ore.) Regional
Rice 3, San Francisco 2 (11 innings)
Oregon 3, South Dakota St. 2
Saturday's schedule
San Francisco vs. South Dakota St.
Oregon vs. Rice
Los Angeles Regional
Cal Poly 9, San Diego 2
UCLA 5, San Diego St. 3
Saturday's schedule
San Diego vs. San Diego St.
UCLA vs. Cal Poly
Fullerton (Calif.) Regional
Arizona St. 4, New Mexico 3
CSU Fullerton 4, Columbia 1
Saturday's schedule
Arizona St. vs. CSU Fullerton
Columbia vs. New Mexico
John Schlegel is a national reporter for MLB.com. This story was not subject to the approval of Major League Baseball or its clubs.